Super Deals and Discounts for 2021
Consumer prices are popping as the economy reopens, and that means finding good values is more important than ever. We uncovered bargains on everything from stocks to streaming and televisions to tablets. We even located charming, off-the-beaten-path places that will pay you to move.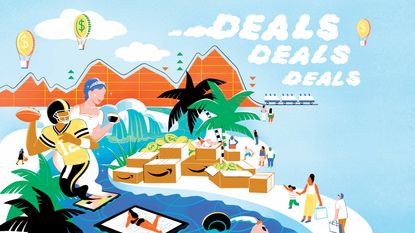 (Image credit: Illustration by Delphine Lee)
Investing
Find bargain-priced stocks in a pricey market
Since the bottom of last year's pandemic-led bear market, the S&P 500 index has nearly doubled, posting record after record along the way. The S&P 500 trades at roughly 22 times projected earnings for the next four quarters, according to earnings tracker Refinitiv—a richer valuation than the long-term average. But you can still find high-quality stocks trading at single-digit price-earnings ratios with room to run. Here are some established companies that S&P says are trading at less than 10 times next year's earnings. (Prices are as of May 7.)
Goldman Sachs (symbol GS (opens in new tab), $371), the power­house Wall Street firm, is starting to flex its muscles again. It posted blowout revenues and earnings for the first quarter and has topped profit forecasts for four straight quarters. The company is "executing on all cylinders," says Ken Leon, analyst at research firm CFRA. If markets stay buoyant and interest rates stay low, the investment bank will benefit from merger and trading activity.
For a turnaround play, consider Invesco (IVZ (opens in new tab), $28). The mutual fund company is Deutsche Bank's "top pick" among asset managers. Investor cash has again been flowing into its funds following eight straight quarters of net cash outflows, from the third quarter of 2018 through the second quarter of 2020. Invesco's earnings could jump 40% this year, Deutsche Bank says.
Subscribe to Kiplinger's Personal Finance
Be a smarter, better informed investor.
Save up to 74%
Sign up for Kiplinger's Free E-Newsletters
Profit and prosper with the best of Kiplinger's expert advice on investing, taxes, retirement, personal finance and more - straight to your e-mail.
Profit and prosper with the best of Kiplinger's expert advice - straight to your e-mail.
National homebuilder PulteGroup (PHM (opens in new tab), $62) is well positioned to profit from the post-pandemic housing boom. Demand for new homes is strong, and Pulte has been able to pass along rising material costs to buyers. Pulte reported an $8.8 billion order backlog in the first quarter, up 58% from the same quarter a year ago. According to CFRA, Pulte sees the average selling price for one of its homes climbing to as high as $455,000 for the full year, up from $430,000 in the first quarter. Adam Shell
Build a zero-cost portfolio
Two new ETFs—BNY Mellon US Large Cap Core Equity (BKLC (opens in new tab), $79) and BNY Mellon Core Bond ETF (BKAG (opens in new tab), $49)—make it possible to build a simple portfolio for free.
There are caveats. For starters, free means no management fee, but that doesn't include fees incurred by most funds in the ordinary course of business, including transaction costs when the fund buys and sells securities, among other charges. That goes some way to explain why the 47.2% gain in US Large Cap Core Equity over the past 12 month lagged its benchmark, the Morningstar US Large Cap index, by 0.2 percentage point; Core Bond, up 0.2% over the same period, trailed its benchmark, the Bloomberg Barclays US Aggregate Bond index, by 0.01 percentage point.
Also, the ETFs are just over a year old, which gives us pause—but they are index-based, which gives us comfort. Neither ETF offers international exposure.
Play around with the proportions between the two funds, depending on your time frame and tolerance for risk. Young savers with decades-long investment time frames could put 90% of their savings in US Large Cap Core Equity and 10% in Core Bond. Investors with medium time horizons might stash 60% in the US equity ETF and the rest in Core Bond.
Buy the dip during the tech-stock breather
Lately, amid ripping gains in the S&P 500 index, information technology shares have been on the sidelines. They're not screaming bargains now, but they are marked down. We think these four merit a closer look because long-term-growth drivers are still intact.
Industrywide supply constraints and intense competition from rival Intel have hobbled shares in computer chip maker Advanced Micro Devices (AMD (opens in new tab), $79), which are down 14% since the start of 2021—behind the 10% average gain for other semicon­ductor stocks. But business is good. The firm is gaining "more share than expected" in the cloud server market, says Raymond James analyst Chris Caro. Plus, AMD revenues are on track to climb 50% this year compared with a year ago. On average, analysts expect average earnings growth of better than 31% a year over the next three years, according to Zacks Investment Research.
Shares in smartphone chip maker Qualcomm (QCOM (opens in new tab), $138) have fallen 9% since the start of the year and now trade at 18 times expected earnings for the year ahead. Supply worries and regulatory scrutiny of the royalties Qualcomm earns on smartphone sales have weighed on the stock. But supply issues should be resolved by late 2021, and Morningstar analyst Abhinav Davuluri believes the company will withstand regulatory investigations and continue collecting licensing revenue. Meanwhile, analysts expect 22% average annual earnings growth over the next three years.
ServiceNow (NOW (opens in new tab), $484) shares suffered in April despite a "solid but not exceptional" quarter, says Cannacord Genuity analyst David Hynes. The company's cloud-based applications help automate business processes and workflow. When stock prices in a "best-in-class asset" fall, says Hynes, "that's when we're buyers." Growth in revenue is slowing, but analysts still expect average annual increases of more than 25% in revenues and 28% in earnings over the next two years.
Companies subscribe to Splunk (SPLK (opens in new tab), $118) for its software to gather and analyze piles of data in real time. But shares are down 48% from their 52-week high, in part because of slowing sales growth in recent years. Even so, Splunk is a top pick of BofA Global Research analyst Brad Sills. He says its platform has a competitive edge, and the company has tapped just 4% of a $57 billion market. Sills expects average annual revenue growth of 30% over the next three to five years. —Nellie S. Huang
Shopping
Score rebates and coupons
Add these extensions to your web browser to save money as you shop at online retailers.
Capital One Shopping (for the Chrome, Edge, Firefox and Safari browsers) automatically searches for coupons when you check out at eligible retailers, compares prices against those at other merchants (if it finds a better deal, it provides a link to the other retailer) and offers credits when you make purchases at certain sites. You can exchange credits for gift cards at retailers such as Walmart and eBay. You don't have to be a Capital One bank or credit card customer to use the extension.
Honey (for Chrome, Edge, Firefox, Opera and Safari) searches for coupon codes on the checkout page at popular sites. When you view an item at Amazon.com, Honey compares prices from other Amazon sellers and alerts you if a different seller is offering a lower price.
Rakuten (for Chrome, Edge, Firefox and Safari) provides cash back when you make purchases at the websites of participating retailers. Receive your cash back as a check or through PayPal.
Save on your spectacles
ZenniOptical.com (opens in new tab) offers frames and basic prescription lenses starting at $7. Frames from EyeBuyDirect.com (opens in new tab) start at $6, and standard prescription lenses are an extra $7. Use your web camera to virtually try on frames. You'll need to know your glasses prescription as well as pupillary distance. If you aren't happy with your selection, EyeBuyDirect lets you return glasses within two weeks of receiving them for a refund or a one-time replacement. Within 30 days of receiving glasses from Zenni, you can return them for a one-time-use 100% store credit or a 50% cash refund. —Lisa Gerstner
Amazon Prime Day: Two days of deals
The warehouse giant is famously secretive about when it plans to launch its annual sale, but this year's sale will be on June 21 and 22. Expect the usual discounts on Apple tech, including the third and SE generations and possibly the newest, sixth generation of the Apple Watch, along with the latest Airpods. Home cleaning and fitness gear are also expected to go on sale. You'll likely see deals on Roomba and Shark vacuums and name-brand athletic wear. If you had something more personal in mind, look for DNA testing kits to hit the sale shelf.
Also be on the lookout for an Amazon gift card bonus, says Casey Runyan, vice president and managing editor of Brad's Deals (opens in new tab), a deals roundup website. "Last year, the offer was for a free $10 Amazon credit when you purchased or reloaded at least $40 on an Amazon gift card, and Amazon has been pretty reliable about having this offer," she says. To take advantage, use any cash you had planned on spending to reload an old gift card or buy a new one. From there you can use your loaded gift card to make your purchase while also getting a bonus amount. If you don't see anything you like, buy a gift card now and save it for later. And remember, shop around. To siphon off some of Amazon's business, competitors such as Walmart and Target are likely to offer deep discounts during Prime Days. So you may be able to find a better deal somewhere else. —Rivan Stinson
Entertainment
While many concert halls, comedy clubs and other live entertainment venues have reopened, we're always looking for fun, affordable ways to spend time while relaxing at home. These deals are the answer.
Cut the cost to stream movies and TV shows. A Roku Streaming Stick+ ($50) is a cheaper option than the souped-up Roku Ultra ($100), yet it provides the same excellent picture quality (HD and 4K) to stream your favorite movies and TV shows. In addition, the Roku Channel offers Roku users a glut of free TV shows and films, including classics like Reservoir Dogs.
Want to watch new releases at home? Get an HBO Max subscription ($15 per month)—the network has an exclusive partnership with Warner Bros. that allows it to stream 17 of Warner's major 2021 films while they're playing in theaters. The list includes Dune, The Suicide Squad and The Matrix 4. You'll get access to HBO Max's original content, including such hit shows as The Flight Attendant.
Another way to save on streaming is by purchasing a Disney Bundle. You get a subscription to Disney+, ESPN+ and an ad-supported version of Hulu for $14 a month.
Some streaming networks offer free trials, such as Hulu (30 days, ad-supported) and Apple TV+ (7 days). You can get Apple TV+ free for one year when you buy a new Apple device. And if you're looking to stream live TV, you can create a free Sling account.
Stream live concerts. For $10 a month, a Bandsintown Plus membership gives you access to more than 25 exclusive live performances every month, plus live Q&A sessions with artists such as Charli XCX, Phoebe Bridgers and other indie musicians.
Let games be your escape. An escape room is a challenge in which a team of players discover clues and solve puzzles to accomplish a task within a limited amount of time. Play an at-home version like Exit: The Sunken Treasure ($13), a one-time puzzle game in which you embark on an undersea journey to secure a treasure before your oxygen or clues run out. It's a lot cheaper than an in-person escape room, which typically costs $25 to $30 per person.
Prefer to play something more active? Buy a 10-in-one table game ($150 at Wayfair) with stackable surfaces for billiards, foosball, shuffleboard and other family favorites.
Buy discounted e-books. Like to read books on your Kindle, smartphone, tablet or another e-reader? Get free and low-cost e-books through BookBub. You'll receive a daily e-mail with a selection of discounted titles that match your reading tastes. It's a great way to monitor flash sales of digital books from your favorite authors while also discovering new writers in your favorite genres.
Pick up a hobby. Tons of free videos on YouTube can teach you new skills, such as cooking, gardening or guitar. Or, if you want to learn how to do things from a celebrity, there's MasterClass (opens in new tab) ($180 per year). The site has a wide range of celebrity-led classes, including Steve Martin on comedy, Christina Aguilera on singing and Gordon Ramsay on cooking.
Enjoy virtual alcohol tastings. At-home beer, wine and liquor tasting kits and classes are a great way to try new libations from the comfort of your home (without having to tap a designated driver). Budget-conscious vino lovers can purchase Martha Stewart Wine Co., which offers $7.49 bottles and free shipping for 12 wines every 12 weeks. Whiskey drinkers will enjoy a virtual single-malt whiskey tasting with six friends from Wanderback Whiskey, a family-owned distillery in Hood River, Ore., for $25 per person (including shipping). Or treat your taste buds to a themed cocktail kit from Sourced Craft Cocktails (opens in new tab), such as a 12-drink birthday cocktail kit with Ketel One vodka or Singleton Scotch Whiskey ($71.39).
Tech
Pride yourself on keeping up with the latest tech? These gadgets and devices are among the best values. (Prices are list prices unless noted otherwise.)
TVs. 4K TVs offer the sharpest picture but many cost thousands of dollars. One set that rises to the top, at an affordable price, is the 55-inch Hisense 55H9G ($700), says Will Greenwald, senior consumer electronics analyst at PCMag. "It offers a bright, colorful picture and hands-free Google Assistant voice control." Louis Ramirez, deals editor at products review site Tom's Guide, suggests the Insignia 55-inch 4K Fire TV ($390); often on sale, this set is "one of the least-expensive big-screen TVs around," Ramirez says.
Soundbar. TVs are slimmer than ever, but that also means they have less room to fit a high-quality speaker system. The best way to turn up the volume is to purchase a sound bar. Both Greenwald and Ramirez like the Roku Smart Soundbar ($150)—it "packs both a solid sound system and a 4K Roku media streamer into a single package," Greenwald says. It can easily be paired with Roku's inexpensive subwoofer ($170) or wireless speakers for even more power, he adds.
Smartwatches. Smartwatches can monitor your health in ways that used to require trained professionals, says Jason Hiner of CNET. The most advanced option is the Apple Watch Series 6 ($299), which can detect falls, track your sleeping, activity and blood oxygen levels, and check how well you're breathing. For a cheaper smartwatch, Louis Ramirez of Tom's Guide suggests the Apple Watch Series 3 ($199).
Tablet. Jason Hiner, editorial director of technology news at product-review website CNET, recommends Apple's 10.2-inch eighth generation iPad ($330), which lets you surf the web and stream videos with ease, he says. "Most of the time," he adds, "you can also find one on sale for under $300."
Smartphone. The Google Pixel 4a ($341) is "the best cheap phone you can buy," Ramirez says. It features a top-notch camera, vibrant display and strong battery life, and it boasts a slim design.
Fitness tracker. Ramirez and Hiner recommend the Fitbit Charge 4 ($99). The device has a built-in GPS to see your pace and distance during runs, a seven-day battery, a swim workout mode, and sleep-quality monitor. Plus, it's compatible with both Android and iPhone smartphones.
Laptop. With a convertible laptop, you can flip the screen into tablet or stand mode, making it a convenient way to watch movies. "Convertible laptops are a tough crowd to compete in, with excellent entries all around from Dell, Lenovo, Microsoft and others," says John Burek, executive hardware editor at PCMag. Burek's favorite for budget-minded shoppers is the 13-inch Envy from HP ($838). This model "punches above its price class," he says, by offering fast performance, full HD resolution and stereo speakers.
Home security camera. The Wyze Cam v3 ($30) "is hard to beat if you're on a budget," according to Ramirez. The weather-resistant device records at 1080p HD resolution and features a color night vision mode that Ramirez says is "impressive for a sub-$50 security camera." Bonus: The Wyze Cam comes with 14 days of free cloud storage.—Daniel Bortz
Living
Get paid to relocate
To help bring new people to rural desti­nations that need an infusion of fresh blood, cities and states across the U.S. are paying people to relocate. And with remote work looking like it's mostly here to stay, being in the same city as your employer may no longer be a necessity. The incentives vary, from cash to help buy a home or pay for relocation expenses to student-loan reimbursement to a monthly stipend. Plus, some programs are tossing in extra perks, such as free access to a coworking space for a year and social networking to help you acclimate to your new city.
Ascend West Virginia, for example, recently offered $10,000 during your first year of residency and another $2,000 at the end of your second year to workers who relocate to Morgantown, W.V. You'll also score free skiing and white-water rafting adventures, a coworking space and access to social programs to help you meet new people and adjust to your new home. And though the application deadline just passed, more spots will be available in 2022, along with an addition of two cities to the program: Lewisburg and Shepherdstown. Tulsa Remote gives remote workers willing to relocate $10,000 to move to Tulsa, Okla., with some of the cash given up front to help with moving and the rest spread out in monthly payments. Tulsa Remote participants also gain access to a coworking space. And for those willing to live on the farm like comics hero Superman, Kansas offers student-loan reimbursement to those willing to live in designated rural zip codes. The Rural Opportunity Zone program will pay $15,000 toward student loans for up to five years. Participants also receive state income tax waivers for up to five years.
But before you pack your bags, read each program's guidelines, along with the deadline to apply; a program may prefer an applicant with a particular degree or family connection. You also may have to show that you are currently employed and can transition to remote work. The Hamilton, Ohio, Talent Attraction Program Scholarship, for example, gives preference to those with a STEAM (science, technology, engineering, arts and math) degree within the past seven years who plan to become involved with the Hamilton community. The Come Home Award, from St. Clair County, Mich., prefers STEAM degree holders and those with family ties.
Remember that these programs are funded through community grants, so spaces are limited. Plus, if you move before you've spent the time you agreed to, you may forfeit some of the cash. —Rivan Stinson