A Level Playing Field
Doug Glanville says baseball can provide a great example of teamwork, fairness and communication for the U.S.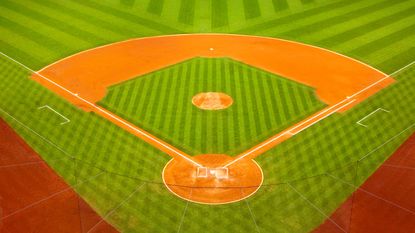 (Image credit: Getty Images)
The back page of a magazine is a position of high interest. For the most part, what's featured there is meant to reward readers, a sort of cherry to top off the contents of the issue. And for some readers it's the place they start reading. Some magazines feature a cartoon, some a crossword puzzle, some an essay. Our new back page feature, which we call "Making It Work," is an interview with someone in a profession that has been rocked by the pandemic or the recession, or both. It debuted in the August issue, when we featured a nurse anesthetist and professor who foresees a nurse shortage because her students are not getting their bedside clinicals during COVID.
Promoting diversity. For this issue, I interviewed Doug Glanville, a baseball commentator and ex-player, who also teaches a course at the University of Connecticut about sports and society. Doug has been using his "platform," as he calls it, to help promote understanding and advocate for change in the U.S.
Doug and I have been carrying on an e-mail conversation for two years. He first contacted me to dissect some of our choices for our 2018 edition of the Best Places to Retire cover story. I was impressed with his thoughtful, nonconfrontational approach and his research: He had found the percentage of the nonwhite population in each of our destinations, and the numbers did not tell a story of diversity. "As an African American," he wrote, "there are priorities on my list that would differ…because of the indelible dynamic of race in our country."
Subscribe to Kiplinger's Personal Finance
Be a smarter, better informed investor.
Save up to 74%
Sign up for Kiplinger's Free E-Newsletters
Profit and prosper with the best of expert advice on investing, taxes, retirement, personal finance and more - straight to your e-mail.
Profit and prosper with the best of expert advice - straight to your e-mail.
Doug challenged us to broaden our consideration of diversity and equity in all our content. "I contend that this sensitivity would benefit not just readers of color but all people who care about a welcoming and more equitable financial landscape."
Over the past two years, we checked in occasionally and discussed possible guest columns, but nothing gelled until we launched "Making It Work." Our conversation was wide-ranging, and I regret that space limitations prevent us from including more of it in the interview highlights.
Doug talked about his childhood in Teaneck, N.J., which his parents chose as a place to live because it voluntarily desegregated in the '60s. His mother, a math teacher, grew up in the Jim Crow South and emerged with a strong sense of activism; his dad, a psychiatrist and poet, was from Trinidad. His dad in particular gave him a view of life without barriers. "He would say, 'Hey, everybody in my country looks like me,' so he didn't have the burden of what you can and can't do," Doug says.
Growing up, Doug played baseball on a team coached by members of the Teaneck police department. He cites that as a big influence, how he experienced the positive side of police engaged with their community. He has also experienced the other side of policing: One winter, he was shoveling snow in his Hartford driveway when a police officer who did not know him and had crossed town lines stopped to harass him. In Connecticut, thanks to the efforts of Doug and a team of his supporters, it is now illegal for police officers to cross jurisdictional lines to enforce municipal laws from their own jurisdictions.
Doug is a member of the Connecticut police council, where he is an advocate of community policing. And, of course, his baseball background is paramount. He was the first African American Ivy League graduate to play in the majors. During a 15-year career as an outfielder in the majors, he played for the Chicago Cubs, Philadelphia Phillies and Texas Rangers. He says baseball can provide a great example for the U.S. as a whole—of teamwork, fairness and communication.
The video essay Doug wrote and narrated, sparked by the death of George Floyd, is a culmination of his work so far. It's called Enough, and I highly recommend it. You can find it by searching "Glanville video enough."

Editor, Kiplinger's Personal Finance
Mark became editor of Kiplinger's Personal Finance magazine in July 2017. Prior to becoming editor, he was the Money and Living sections editor and, before that, the automotive writer. He has also been editor of Kiplinger.com as well as the magazine's managing editor, assistant managing editor and chief copy editor. Mark has also served as president of the Washington Automotive Press Association. In 1990 he was nominated for a National Magazine Award. Mark earned a B.A. from University of Virginia and an M.A. in Writing from Johns Hopkins University. Mark lives in Washington, D.C., with his wife, and they spend as much time as possible in their Glen Arbor, Mich., vacation home.