Who Are the Best Small Online Brokers?
Small online brokers like Robinhood have shaken up the market for the bigger players. How do they actually stack up?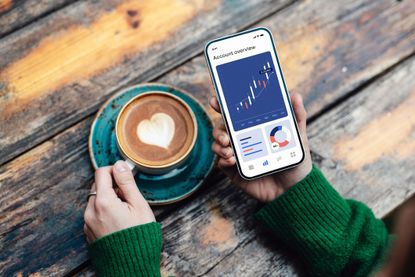 (Image credit: Getty Images)
Brokerage start-ups such as Robinhood, M1 Finance and SoFi are tiny compared with the trillions of dollars in brokerage assets at the likes of Schwab and Fidelity. But they've already made a big dent in the way things work: These small online brokers pioneered commission-free stock trading and fractional-share purchases, and now those services are standard fare at the bigger firms.
And that's one of the reasons we keep an eye on smaller brokerage firms – because they're shaking up the industry. If not for Robinhood, for instance, we might still be paying commissions on stock and ETF trades.
The smaller firms don't qualify for our annual review of online brokers because they don't offer mutual fund or bond trading. In this year's separate review of small online brokers, we looked at Betterment, M1 Finance, Robinhood, SoFi and tastyworks. All are digital-only, with no brick-and-mortar branches. Two of them have amassed billions in assets already (the others wouldn't say). We homed in on investment offerings, mobile apps and tools. Here's how they stack up in each category.
Subscribe to Kiplinger's Personal Finance
Be a smarter, better informed investor.
Save up to 74%
Sign up for Kiplinger's Free E-Newsletters
Profit and prosper with the best of expert advice on investing, taxes, retirement, personal finance and more - straight to your e-mail.
Profit and prosper with the best of expert advice - straight to your e-mail.
Best small online brokers for investment choices
Overall, SoFi and Robinhood stood out in this category, but it was a close race. None of these firms offer mutual funds or bonds, but most allow you to buy fractional shares of stocks and exchange-traded funds (ETFs). Betterment is an outlier: It's a robo advisor, and it doesn't offer the option to buy individual stocks or ETFs.
All five firms offer cryptocurrency trading, but SoFi provides access to more than 20 digital currencies, including Bitcoin and Avalanche, and Robinhood has 15 on its roster.
The pickings at tastyworks (eight) and M1 Finance (six) were slimmer. (A handful of the big brokerage firms in the main survey offer access to cryptocurrency, but we didn't give this much weight in the investment choices category.) Only one firm, Robinhood, offers a sweep account for uninvested cash to earn interest (as much as 4.65% for premium Gold customers; 1.5% for non-Gold customers).
Best smartphone apps from small online brokers
Robinhood and tastyworks sparkled in this category, in part because of their apps' bells and whistles, such as education on investing and trading strategies, as well as the ability to download account statements.
If you are looking for investing functionality, however, M1 Finance and tastyworks win. Both apps offer screeners for ETFs and stocks (Robinhood's app has a stock screener but no ETF screener). At Betterment, you can't trade stocks or ETFs.
Best small online brokers for tools
You won't find the panoply of tools that bigger brokerage firms have, but certain firms stood out in small ways.
At M1 Finance, there's a mock portfolio tool that allows you to see past performance. Robinhood and SoFi offer lists of stocks in certain thematic investment categories, which investors can use as a starting point for more research. And M1 Finance, Robinhood and tastyworks have a questionnaire that can help investors pin down their tolerance for risk.
Performance in this category was a mixed bag. Tastyworks won, Robinhood and M1 Finance were tied, and Betterment was the laggard. Its only tools are a retirement "How am I doing" tool and a risk-tolerance questionnaire.
Note: This item first appeared in Kiplinger's Personal Finance Magazine, a monthly, trustworthy source of advice and guidance. Subscribe to help you make more money and keep more of the money you make here.
Related content

Senior Associate Editor, Kiplinger's Personal Finance
Nellie joined Kiplinger in August 2011 after a seven-year stint in Hong Kong. There, she worked for the Wall Street Journal Asia, where as lifestyle editor, she launched and edited Scene Asia, an online guide to food, wine, entertainment and the arts in Asia. Prior to that, she was an editor at Weekend Journal, the Friday lifestyle section of the Wall Street Journal Asia. Kiplinger isn't Nellie's first foray into personal finance: She has also worked at SmartMoney (rising from fact-checker to senior writer), and she was a senior editor at Money.