Who Are the Best Small Online Brokers?
Platforms like Robinhood have shaken up the market for online brokers. How do they actually stack up?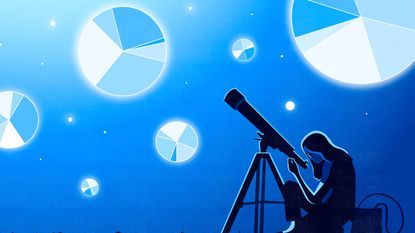 (Image credit: Illustration by Benedetto Cristofani)
Brokerage start-ups such as Robinhood, M1 Finance and SoFi are tiny compared with the trillions of dollars in brokerage assets at the likes of Schwab and Fidelity. But they've already made a big dent in the way things work: These newcomers pioneered commission-free stock trading and fractional-share purchases, and now those services are standard fare at the big online brokers.
The smaller firms don't qualify for our annual online broker review because they don't offer mutual fund or bond trading. But we put five firms—Betterment, M1 Finance, moomoo, Robinhood and SoFi—through the paces of a trimmer survey this year. For the record, Webull didn't respond to our invitations; tastyworks declined.
The overall winner is Robinhood. It dominated two key categories, mobile and investment choices. SoFi also scored well, posting above-average scores in all but one category, tools and research. M1 Finance finished third with high marks in tools and research, user experience, and investment choices. But Betterment finished last: It doesn't offer stock trading, which proved a drag in two categories, fees and investment choices. For highlights, read on.
Subscribe to Kiplinger's Personal Finance
Be a smarter, better informed investor.
Save up to 74%
Sign up for Kiplinger's Free E-Newsletters
Profit and prosper with the best of expert advice on investing, taxes, retirement, personal finance and more - straight to your e-mail.
Profit and prosper with the best of expert advice - straight to your e-mail.
Fees. Low fees (or even no fees) are the norm at these firms, so this category boiled down to interest rates on margin accounts and how well the brokers performed on getting you the best price for your trade, among a few other things.
Interest rates on margin accounts, which allow investors to purchase securities using borrowed money, varied widely. SoFi's flat 3.0% rate, no matter the balance, was the lowest. Robinhood's 3.5% fee for greater than $1,000 of margin was competitive. M1 Finance charges 5% for its fee-free customers with balances of less than $100,000, but the majority of its clients are so-called Plus members, who pay an extra $125 per year and are charged a 3.5% rate to trade on margin. And moomoo charges 6.8%.
Investment choices. Robinhood and SoFi topped the ranks in this category because both offer stock and ETF trading—including the ability to buy fractional shares—plus access to initial public offerings and multiple cryptocurrencies. M1 Finance doesn't offer crypto trading (which may not bother some prospective clients). Moomoo clients can't buy or sell fractional shares of stocks or ETFs, but they get access to IPOs and the Hong Kong exchange. Betterment lagged in this category because it doesn't offer stock trading.
Mobile app. Robinhood and moomoo stand out here among the smaller firms, mostly because you can trade options on the mobile app and get streaming, real-time price quotes—the actual price of a stock or ETF at that very moment in time. But overall, it's worth noting that the charting capabilities of the mobile apps across all five firms wasn't nearly as strong as those found at some of the bigger firms, including E*Trade and WellsTrade.
Tools and research. Fundamental research on companies, including reports on how certain firms rank on sustainability or environmental, social and corporate governance issues, is hard to find at the smaller firms. But most of the firms have some educational articles (and occasionally videos). Moomoo, Robinhood and SoFi offer extended-hours trading (before the market opens and after the market closes). Betterment scored well because it offers a number of investing tools, geared toward asset allocation, retirement and calculating tax impacts, while M1 Finance scored well mostly on research for its list of recommended and thematic stock ideas.
User experience. We weren't able to test-drive these accounts, but we posed a few questions about customer service. Here's what we learned: Don't expect in-person help at a brick-and-mortar branch at these firms; any access to a live person may be hard to find. Each firm offers an instant-chat service online; most some are robot-manned, and at M1 Finance, moomoo and SoFi, you can reach a live person eventually. The exception is RobinHood, which just launched a chat service that connects directly to a live person; it's not a chatbot, a plus in its favor. And at every firm but moomoo, you can call a service representative for assistance and get a response within a couple of minutes, sometimes sooner. But whether you get to speak with a registered representative (someone licensed to buy and sell securities) is a question mark at most firms—only Betterment and M1 Finance were willing to share how many full-time registered representatives were on staff.
Advisory services. Only two firms, Betterment and SoFi, offer advisory services. It was an even contest between the two, mostly. But Betterment held a small edge because it offers tax-loss harvesting (the practice of selling an underperforming asset, locking in a capital loss, to offset a capital gain) in its taxable accounts. SoFi doesn't.
Senior Associate Editor, Kiplinger's Personal Finance
Nellie joined Kiplinger in August 2011 after a seven-year stint in Hong Kong. There, she worked for the Wall Street Journal Asia, where as lifestyle editor, she launched and edited Scene Asia, an online guide to food, wine, entertainment and the arts in Asia. Prior to that, she was an editor at Weekend Journal, the Friday lifestyle section of the Wall Street Journal Asia. Kiplinger isn't Nellie's first foray into personal finance: She has also worked at SmartMoney (rising from fact-checker to senior writer), and she was a senior editor at Money.