James K. Glassman's 10 Stock Market Picks for 2022
Going contrarian served me well in 2021, and so that's shaping my thinking for 2022.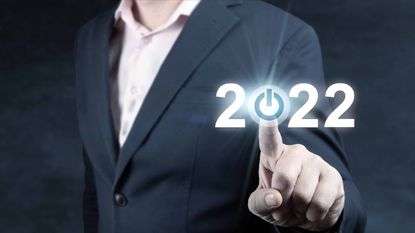 (Image credit: Getty Images)
Last December, after beating the S&P 500 index five years in a row, I wrote, "This kind of streak isn't supposed to happen, and readers should be warned that there's no guarantee it will continue."
Well, it's over. My annual selections for 2021 performed just fine, with an average return of 17.4%, but the S&P did much better, gaining 35.8%. (Returns and data throughout the story are through Nov. 5.)
Since 1993, I have offered a list of 10 stocks for the year ahead. Nine are culled from the choices of experts I trust, and I include one of my own. For 2021, I'm happy to say, my pick was the biggest winner: ONEOK (OKE), the 115-year-old natural gas pipeline company, which benefited from the rise in petroleum prices and was up 139.9%.
Subscribe to Kiplinger's Personal Finance
Be a smarter, better informed investor.
Save up to 74%
Sign up for Kiplinger's Free E-Newsletters
Profit and prosper with the best of expert advice on investing, taxes, retirement, personal finance and more - straight to your e-mail.
Profit and prosper with the best of expert advice - straight to your e-mail.
I'll get to my choice for 2022 at the end. Let's start with one from the Value Line Investment Survey, a font of succinct research that has a strong forecasting record as well. My strategy is to pick from stocks that Value Line rates tops ("1") for both timeliness and safety. That list right now is short: nine companies, including obvious ones like Apple (AAPL) and Visa (V).
The outlier is T. Rowe Price Group (TROW), the Baltimore-based asset manager, whose earnings have risen each year since 2009 despite the growing popularity of low-cost index funds. Value Line notes that "shares have staged a dramatic advance over the past year. However, our projections suggest … worthwhile appreciation potential for the next 3 to 5 years."
Parnassus Endeavor (PARWX), a socially responsible fund – one that invests with an eye toward environmental, social and governance (ESG) measures, has returned a sparkling annual average of 18.3% over the past 10 years. In 2021, Jerome Dodson stepped back from managing Endeavor and other Parnassus funds, but he's still a guiding force at the firm he founded 35 years ago. My picks from the portfolio for 2019 and 2020 were microchip companies that scored average gains of nearly 100%.
For 2022, I like PepsiCo (PEP), which Billy Hwan, the fund's new solo manager, acquired for the first time in July. In addition to its soft drinks, the company has such respected brands as Lay's, Quaker and Gatorade. Revenues have risen consistently, and PepsiCo may be able to benefit from general inflation with aggressive price increases.
Another big winner in 2021 came from Dan Abramowitz, of Hillson Financial Management in Rockville, Maryland, who is my go-to expert in smaller companies. His choice was IEC Electronics, which was purchased by Creation Technologies in October for 53% more than the stock's price when I put it on the list, noting, "IEC is also a potential takeover target."
For 2022, Dan recommends DXC Technology (DXC), a midsize in­formation technology company based in the suburbs of Washington, D.C. It is in the midst of a turnaround, Dan writes, "yet we are still in the early innings here." Profits are improving, but the stock "is valued at under 10 times current fiscal year earnings."
A few months ago, I recommended AB Small Cap Growth (QUASX), a fund that has notched a sensational 29.8% annualized return over the past five years. The fund has been adding to holdings of Louisiana-based LHC Group (LHCG), a provider of post-acute care, including home health and hospice services, in more than 700 locations. The stock appears well priced after setbacks from hurricanes and because healthcare workers were forced to quarantine due to COVID-19. As the population ages, healthcare is a growth industry.
Fidelity Advisor Growth Opportunities (FAGAX) is red-hot, ranking in the top 3% of funds in its category for five-year returns. The problem is that it carries a whopping 1.82% expense ratio and is sold mostly through advisers. Still, you can scan its port­folio for ideas. Most of the fund's holdings are tech stocks, but the only new purchase for 2021 among its top 25 holdings was Freeport-McMoRan (FCX), the minerals (copper, gold, silver) and oil and gas producer. The stock has doubled over the past year, but its price-earnings ratio, based on analysts' consensus projections for 2022, is just 11.
A disappointment in 2021 was Upland Software (UPLD), down 47%. It was the choice of Terry Tillman, a software analyst with Truist Securities whose previous selections on my annual list had beaten the S&P 500 index for an incredible nine years in a row. Tillman recently initiated coverage on Engage­Smart (ESMT) with a Buy rating. The firm, which helps healthcare professionals manage their practices, went public only in September, but it already has a market value of $5 billion, and Tillman sees the price going much higher.
It has not been a good year for China's big companies, which China's government apparently thinks have become big enough to threaten the Communist Party. As a result, my 2021 list's worst performer was Alibaba Group Holding (BABA), the e-commerce giant, with shares falling by nearly half.
Still, if you have a stomach for risk, Chinese stocks present remarkable value these days. Matthews China (MCHFX), my favorite Asian stock fund, has held on to Tencent Holdings (TCEHY), which is down by about 40% from its February peak. Tencent, with a market cap of $576 billion, operates worldwide and offers social media, music, mobile games, payment services and more.
Last year, I turned for the first time to Schwab Global Real Estate (SWASX) and was pleased with the 21% return from its choice, Singapore-based UOL Group (UOLGY), with an office, residential and hotel portfolio. The fund's third-largest holding is Public Storage (PSA), owner of 2,500 facilities in 38 states. Is there a better business? Every year, I get an e-mail notice telling me my storage-unit rental has risen in price, and what am I going to do about it? Moving my stuff out is a horrifying thought. I have always wanted to own this stock. It is expensive, but waiting may make it more so.
Over the years, the assets of Berkshire Hathaway (BRK.B), Warren Buffett's holding company, have become more and more diversified. At last report, the company owned 40 publicly traded stocks. Berkshire Hathaway's largest holding by far is Apple, at about $135 billion. Guess what's second? Bank of America (BAC), at $49 billion. I am a longtime fan and shareholder of BofA as well, and it looks especially good at a time when interest rates are rising.
My contrarian bias paid off last year when I shook off my disastrous 2019 choice of Diamond Offshore Drilling (it went bankrupt) and scored a double with ONEOK. Searching for value again, I have arrived at Starbucks (SBUX), which took a big (and to my mind, unwarranted) hit over the summer when the company warned of a slower recovery in China. So I'm taking advantage of skittish investors and recommending Starbucks, one of the world's best-run companies, growing steadily with 33,000 outlets worldwide.
I'll end with my usual warnings. These 10 stocks vary by size and industry, but they are not meant to compose a diversified portfolio. I expect they will beat the market in the coming 12 months, but I do not advise holding stocks for less than five years. Buy and hold works! Finally, these are my recommendations, but consider them suggestions for your own study and decision-making. No guarantees.
James K. Glassman chairs Glassman Advisory, a public-affairs consulting firm. He does not write about his clients. His most recent book is Safety Net: The Strategy for De-Risking Your Investments in a Time of Turbulence. Of the stocks mentioned here, he owns Bank of America, Oneok and Starbucks.

Contributing Columnist, Kiplinger's Personal Finance
James K. Glassman is a visiting fellow at the American Enterprise Institute. His most recent book is Safety Net: The Strategy for De-Risking Your Investments in a Time of Turbulence.