James Glassman's 10 Stock Market Picks for 2021
Chipmaker Intel, down nearly 19% in the past year, looks like an unusual tech bargain.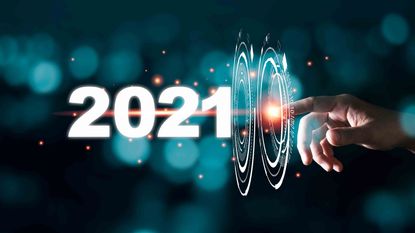 (Image credit: Getty Images)
Since 1993, I have offered an annual list of 10 stocks. Nine are culled from the choices of experts I trust, and I include one of my own. For the fifth year in a row, those annual selections beat the S&P 500 index. This kind of streak isn't supposed to happen, and readers should be warned that there's no guarantee it will continue. Still, allow me to celebrate a bit. The 2020 results again illustrate the importance of diversification. Four of the 10 stocks fell in value (including one that went bankrupt), but five rose more than 25% each (including two that more than doubled). Overall, my selections returned an average of 28.8% over the past 12 months, compared with 16.3% for the S&P 500. (Prices and returns are as of November 6.)
Once again, Terry Tillman, an analyst with Truist Securities (formerly SunTrust Robinson Humphrey), came through big-time. My annual selections from Tillman's "buy" recommendations have beaten the S&P now for nine years in a row. His 2020 choice, Okta (symbol OKTA), returned a whopping 115.5%. For 2021, I like his choice of Upland Software (UPLD, $47), based in Austin, Texas, which offers digital tools for companies to manage their customer base. This small-cap stock is risky. Profits are still elusive, but Upland has more than 10,000 customers, and revenues rose in the most recent quarter by 35% over the same period last year.
The other huge winner in 2020 was Nvidia (NVDA), maker of microprocessors for applications such as artificial intelligence and PC gaming. Returning 180.9%, it was a standout in the portfolio of another regular on my list, Jerome Dodson of Parnassus Endeavor (PARWX). Dodson, a value maven, has lately been scooping up shares of another chipmaker, Intel (INTC, $45), which moved in the opposite direction of Nvidia in the past year, falling 18.9%. Intel looks like an unusual tech bargain, with a price-earnings ratio of 10 and a 2.9% dividend yield.
Subscribe to Kiplinger's Personal Finance
Be a smarter, better informed investor.
Save up to 74%
Sign up for Kiplinger's Free E-Newsletters
Profit and prosper with the best of expert advice on investing, taxes, retirement, personal finance and more - straight to your e-mail.
Profit and prosper with the best of expert advice - straight to your e-mail.
In September, Will Danoff celebrated 30 years managing Fidelity Contrafund (FCNTX). His recent performance has not been spotless. The fund, with $125 billion in assets, has failed to beat its large-company benchmark in two of the past five years. But I am not counting Danoff out. His long-term record is what counts, and it is brilliant. For example, Danoff bought PayPal Holdings (PYPL, $203), the digital payment company, in 2015, the year it was spun off from eBay (EBAY). Since then, the stock price has more than quintupled, but Danoff is not deterred. He bought more in 2020. I consider PayPal a great bet for 2021 and beyond.
Among the hundreds of stocks analyzed by Value Line Investment Survey, very few are awarded a top ranking in each of three categories: timeliness, safety and financial strength. One is Microsoft (MSFT, $224), the world's largest software maker. Microsoft's earnings were in a rut between 2011 and 2017, but since then, they have nearly doubled. A big reason is cloud computing, which has become the firm's largest source of revenues. Value Line forecasts Microsoft's earnings to increase by an average of 15% for the next five years—nearly double the rate of the past five. And the stock yields 1.0%.
According to the Hulbert Financial Digest, a newsletter that keeps track of the performance of financial newsletters, Nate's Notes has one of the best records for the most recent 12-month period, with a model portfolio that has returned 69.3%. One of editor Nate Pile's favorites is PetMed Express (PETS, $30), a pet pharmacy. Nate writes that he is "optimistic that we will do well for ourselves over the long haul by continuing to patiently build a position."
Small-company stocks have been out of favor for at least six years, but, as I noted recently, there are still gems to mine. Dan Abramowitz, whose Rockville, Md., firm Hillson Financial Management specializes in such stocks, found a major winner last year in Chemours (CC), a maker of refrigerants and other chemicals that returned 25.7%. For 2021, he likes IEC Electronics (IEC, $10), with a market capitalization (shares outstanding times price) of just $102 million. IEC specializes in devices for the medical and defense sectors, and business has been booming. Abramowitz says he expects "some moderation in growth rates," but earnings should rise by double digits, and the price is right. Based on Abramowitz's earnings forecast for the year ahead, shares trade at a P/E of 13, and profits "could surprise to the upside." IEC is also a potential takeover target.
Staying on the subject of small caps, I have been looking closely at the portfolio of Wasatch Ultra Growth (WAMCX), a fund bucking the trend by returning an incredible annual average of 26.6% over the past five years. Wasatch is making a big bet on health care. It has been adding to its holdings of Castle Biosciences (CSTL, $52), a company headquartered outside Houston that has developed proprietary tests for skin and eye cancers. Castle shares began trading only a year and a half ago and have since doubled.
Chinese stocks have generally done well this year, but not my 2020 selection, Trip.com Group (TCOM), a top holding of my favorite Asian stock mutual fund, Matthews China (MCHFX). Trip.com suffered as travel slowed with COVID-19, and the stock was a loser. I still like it, but in 2020, Matthews took a big, new stake in Alibaba Group Holding (BABA, $300), the global e-commerce giant, making it the fund's second-largest holding. Alibaba is booming: Revenues have more than tripled in three years. The stock is booming, too, but there's room to run.
With the exception of single-family houses in the suburbs, real estate has been devastated by COVID. No wonder Schwab Global Real Estate (SWASX), which had performed well for a decade, took a dive in 2020. But for brave souls, now is the time to get back into commercial property, and a good choice is the fund's third-largest holding, UOL Group (UOLGY, $19). The Singapore-based company invests in property there, plus it owns residential and office buildings and hotels in the U.K., the U.S., China and Australia. Singapore may be the best-run country on earth, and if political turmoil and epidemics continue, it will become even more attractive. UOL shares, down one-third from their high, are attractively priced, and at last report the company had $800 million in cash to ride out the storm.
Now it can be revealed that the company that filed for bankruptcy protection, Diamond Offshore Drilling (DOFSQ), was my personal pick for 2020. It currently trades at 17 cents a share, a victim of the crash in oil prices. So, naturally, my choice for 2021 is another energy firm: Oneok (OKE, $27), the 114-year-old Tulsa natural gas refining and pipeline company. Oneok has had problems this year, but they were not nearly as devastating as those of exploration firms like Diamond, and things are looking up. Oneok kept its generous dividend intact in its October 30 payout, and earnings for the most recent quarter rose 14% compared with the same period last year. But the stock has fallen by more than half during the past 12 months. You can see why I am enticed.
I'll end with my annual warnings: These 10 stocks vary by size and industry, but they are not meant to be a diversified portfolio. I expect they will beat the market in the year ahead, but I do not advise holding shares for less than five years, so consider these long-term investments. And most of all: I am just offering suggestions here. The choices are yours.
James K. Glassman chairs Glassman Advisory, a public-affairs consulting firm. He does not write about his clients. His most recent book is Safety Net: The Strategy for De-Risking Your Investments in a Time of Turbulence. Of the stocks mentioned in this column, he owns Microsoft and Oneok. Reach him at James_Glassman@kiplinger.com.

Contributing Columnist, Kiplinger's Personal Finance
James K. Glassman is a visiting fellow at the American Enterprise Institute. His most recent book is Safety Net: The Strategy for De-Risking Your Investments in a Time of Turbulence.