Stock Market Today: Netflix's Epic Crash Clips Nasdaq
Rare subscriber loss hacks Netflix's value and weighs on its streaming rivals; Tesla reports Q1 beat after hours.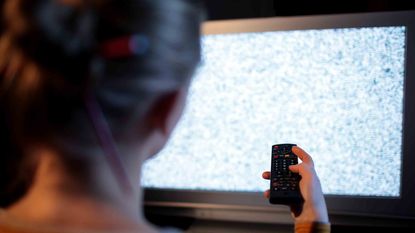 (Image credit: Getty Images)
The earnings calendar was front and center Wednesday as a mixed session for the broader indexes was easily overshadowed by a plunge in of Wall Street's most notable mega-caps.
Netflix (NFLX (opens in new tab)) suffered its worst single-day decline in 18 years – a 35.1% nosedive eroding roughly $55 billion in market value – triggered by the company's first quarterly subscriber loss since 2011.
The streaming giant, which expected to add 2.5 million net subscribers during the first quarter, announced it had lost 200,000, triggering a flurry of analyst downgrades despite an easy earnings beat. The shortfall was in part caused by Netflix's decision to pull out of Russia (opens in new tab), which cost it 700,000 subscribers, but inflation is also forcing customers worldwide to make tougher spending choices.
Subscribe to Kiplinger's Personal Finance
Be a smarter, better informed investor.
Save up to 74%
Sign up for Kiplinger's Free E-Newsletters
Profit and prosper with the best of expert advice on investing, taxes, retirement, personal finance and more - straight to your e-mail.
Profit and prosper with the best of expert advice - straight to your e-mail.
CEO Reed Hastings also said NFLX was planning to launch an advertising-supported version.
"The initial allure of Netflix was that it didn't have any ads; it's unclear if Netflix fans will be amenable to advertisements," says David Trainer, CEO of investment research firm New Constructs. "Rivals like Disney can monetize content through a variety of other channels, like merchandise and theme park revenue. Netflix doesn't have the infrastructure for those kinds of revenue streams."
Ripples were felt throughout the streaming industry. Rivals including Disney (DIS (opens in new tab), -5.6%), Amazon.com (AMZN (opens in new tab), -2.6%), Warner Bros. Discovery (WBD (opens in new tab), -6.0%), Paramount Global (PARA (opens in new tab), -8.6%), Roku (ROKU (opens in new tab), -6.2%) and even Chinese streamer iQiyi (IQ (opens in new tab), -6.7%) all finished well in the red.
These losses weighed heaviest on the Nasdaq Composite, which declined 1.2% to 13,453. Faring relatively better were the S&P 500 (down marginally to 4,459) and Dow Jones Industrial Average (+0.7% to 35,160), which were buoyed by more positive earnings news.
Sign up for Kiplinger's FREE Investing Weekly e-letter for stock, ETF and mutual fund recommendations, and other investing advice.
International Business Machines (IBM (opens in new tab), +7.1%) was the Dow's top component after it reported a 24% pop in profits and beat top- and bottom-line expectations.
"Stringing together consecutive quarters of outperformance illustrates that there is a clearer path to accelerating growth in 2022," says Morgan Stanley analyst Erik Woodring (Overweight, equivalent of Buy).
Meanwhile, price hikes helped Procter & Gamble (PG (opens in new tab), +2.7%) offset inflation-pressured margins and deliver better-than-expected sales and profits.
Tesla (TSLA (opens in new tab)), off 5.0% during Wednesday's session, was up by roughly the same percentage following a Street-beating Q1 report. Earnings of $3.22 per share easily cleared estimates of $2.26, while revenues of $18.76 billion topped the consensus mark of $17.80 billion.
Other news in the stock market today:
The small-cap Russell 2000 managed a 0.4% improvement to 2,038.
U.S. crude futures edged up 0.1% to settle at $102.19 per barrel.
Gold futures slipped 0.2% to finish at $1,955.40 an ounce.
Bitcoin was relatively calm, sliding 0.3% to $41,243.10. (Bitcoin trades 24 hours a day; prices reported here are as of 4 p.m.
Rite Aid (RAD (opens in new tab)) stock was up more than 38% at its intraday peak before paring its gain to 10.8%. Sparking the surge was a report in the New York Post (opens in new tab) that suggested the pharmacy chain rejected a late-March buyout bid from Spear Point Capital Management. According to the article, the private-equity firm offered to buy Rite Aid for $815 million, or $14.60 per RAD share – a 56% premium to its March 30 close at $9.36.
Omnicom Group (OMC (opens in new tab)) jumped 4.5% after the advertising firm reported earnings. Despite suspending operations in Russia during the first quarter, OMC reported earnings $1.39 per share and revenue of $3.41 billion – more than the $1.30 per share and $3.29 billion analysts were expecting. CFRA Research analyst Janice Quek maintained a Buy rating on OMC stock, citing the company's "good cost control" and an upward revision to its organic growth forecast.
The Time to Buy Emerging Markets?
Inflation is hardly just an American problem.
Yesterday, the International Monetary Fund said inflation was a "clear and present danger" as it lowered its 2022 global GDP forecast by 0.8 percentage points, to 3.6%. And emerging markets are expected to struggle even more than developed economies as higher prices weigh heavy on commodity importers.
That in turn has meant even worse year-to-date returns for many emerging market (EM) stocks compared to their still struggling U.S. counterparts.
But this dip might prove an ideal buying opportunity for those wishing to brave the high potential (and high volatility) of EMs, especially given expectations for emerging market growth to recover in 2023.
If you want to take the plunge, you can spread out your risk across dozens or even hundreds of stocks from numerous countries through exchange-traded funds (ETFs) (opens in new tab). Or you can narrow your bet to a single region – for instance, these five stocks and funds allow you to harness the growth of Africa (opens in new tab).
If you're looking for some of the most potent individual picks across the globe, however, look no farther than this cluster of 11 emerging-market stocks (opens in new tab). We explore the opportunity each presents, and what about them stands out to stock-research experts.
Kyle Woodley is the Editor-in-Chief of Young and The Invested (opens in new tab), a site dedicated to improving the personal finances and financial literacy of parents and children. He also writes the weekly The Weekend Tea (opens in new tab) newsletter, which covers both news and analysis about spending, saving, investing, the economy and more.
Kyle was previously the Senior Investing Editor for Kiplinger.com, and the Managing Editor for InvestorPlace.com before that. His work has appeared in several outlets, including Yahoo! Finance, MSN Money, Barchart, The Globe & Mail and the Nasdaq. He also has appeared as a guest on Fox Business Network and Money Radio, among other shows and podcasts, and he has been quoted in several outlets, including MarketWatch, Vice and Univision. He is a proud graduate of The Ohio State University, where he earned a BA in journalism.
You can check out his thoughts on the markets (and more) at @KyleWoodley (opens in new tab).