Stock Market Today: Stocks' Win Streak Snapped Despite Good Jobs News
Optimism about peace in Eastern Europe faded Wednesday, chilling a stock market that had recently heated up.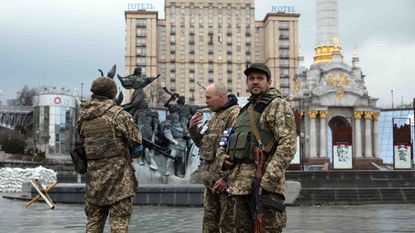 (Image credit: Getty Images)
Positive momentum in the major indexes ran out Wednesday as a resurgence in Russian military activity overshadowed good news on the employment front.
Less than a day after pledging to pull back operations in Kyiv, Russian forces reportedly shelled the Ukrainian capital and attacked several areas on the country's eastern border. The resurgent violence propelled energy prices, with U.S. crude oil futures up 3.4% to $107.82 per barrel. That in turn fueled energy stocks (+1.2%), the top-performing sector of the day.
Investors showed little interest in an ADP report that showed 455,000 new private payrolls in March – some 5,000 jobs higher than estimates, albeit the smallest gains since August of last year.
Subscribe to Kiplinger's Personal Finance
Be a smarter, better informed investor.
Save up to 74%
Sign up for Kiplinger's Free E-Newsletters
Profit and prosper with the best of expert advice on investing, taxes, retirement, personal finance and more - straight to your e-mail.
Profit and prosper with the best of expert advice - straight to your e-mail.
"Of particular interest was job growth witnessed in the natural resources and mining sector," says Peter Essele, head of portfolio management for Commonwealth Financial Network. "The large expansion in payrolls in the sector is a reaction from producers looking to quickly ramp up output to take advantage of multi-decade highs in commodity prices while they last.
"The result should be more supply in commodity-related materials as the year progresses, which could help alleviate pricing pressures over the long term."
Sign up for Kiplinger's FREE Investing Weekly e-letter for stock, ETF and mutual fund recommendations, and other investing advice.
Regardless, stocks broadly retreated after several days of gains. The Nasdaq Composite dropped 1.2% to 14,442, the S&P 500 was off 0.6% to 4,602 and the Dow Jones Industrial Average slipped 0.2% to 35,228.
Other news in the stock market today:
The small-cap Russell 2000 took a 2.0% haircut to 2,091.
Gold futures rose 1.1% to settle at $1,939 an ounce.
Bitcoin joined equities in retreating, with a 1.2% decline to $47,145.00. (Bitcoin trades 24 hours a day; prices reported here are as of 4 p.m.)
Lululemon Athletica (LULU (opens in new tab)) jumped 9.6% after the athletic apparel maker reported fourth-quarter adjusted earnings of $3.27 per share on $2.1 billion in revenue. The company's bottom line beat analysts' consensus estimate, but its top line fell short. LULU also announced a $1 billion stock buyback program. "Lululemon has a strong brand and growing direct-to-consumer sales, which we expect will lead to higher margins over the next several years," says Argus Research analyst John Staszak, who maintained his Buy rating. "In addition, we expect revenue growth from the expansion of the company's men's clothing line."
Home furnishings retailer – and member of the Berkshire Hathaway equity portfolio – RH (RH (opens in new tab)) slumped 13.3% after earnings. In its fourth quarter, RH reported higher-than-expected adjusted earnings of $5.66 per share, but the $901.5 million in revenue it brought in over the three-month period missed the mark. The company also said it will undergo a 3-for-1 stock split this spring. CFRA Research analyst Kenneth Leon downgraded RH stock to Hold from Buy after earnings. "Demand for luxury home furnishings paused in February-March due to inflation worries and the Ukraine-Russia conflict, in our view. We think U.S. household disposable income is pulling back for RH's leading luxury home furnishings," Leon says.
Should You Fear the Yield Curve Inversion?
We mentioned yesterday that the bond market saw a potential "2-and-10" yield curve inversion (opens in new tab). We say "potential" because not all data providers saw it that way, but Wall Street is nonetheless expressing worry about this respected market signal.
For the uninitiated: A 2-and-10 yield curve inversion is when the yield on the shorter-term two-year Treasury note actually exceeds the 10-year Treasury's yield – and it has predicted a host of U.S. economic recessions (opens in new tab) over the past century-plus.
But there are a few asterisks attached, and this inversion's particular circumstances have at least a few strategists saying this time, things really might be different.
"Don't fear yield curve inversion. It is not the standalone indicator of recessions as it once was," says Ethan Harris, head of global economics research at BofA Securities, who adds that this most recent signal is "heavily distorted by the Fed's massive balance sheet and extremely low bond yields overseas."
So, what exactly does this mean for the U.S. economy – and, by extension, for the U.S. stock market? We explore the history of the yield curve inversion and stocks' surprising track record in the wake of this ominous signal.
Kyle Woodley is the Editor-in-Chief of Young and The Invested (opens in new tab), a site dedicated to improving the personal finances and financial literacy of parents and children. He also writes the weekly The Weekend Tea (opens in new tab) newsletter, which covers both news and analysis about spending, saving, investing, the economy and more.
Kyle was previously the Senior Investing Editor for Kiplinger.com, and the Managing Editor for InvestorPlace.com before that. His work has appeared in several outlets, including Yahoo! Finance, MSN Money, Barchart, The Globe & Mail and the Nasdaq. He also has appeared as a guest on Fox Business Network and Money Radio, among other shows and podcasts, and he has been quoted in several outlets, including MarketWatch, Vice and Univision. He is a proud graduate of The Ohio State University, where he earned a BA in journalism.
You can check out his thoughts on the markets (and more) at @KyleWoodley (opens in new tab).