Stock Market Today: Ukraine Talks Bring Out the Bulls
Even amid skepticism of Russia's announcement that it would pull back military operations around Kyiv, Wall Street took a glimmer of peace hopes at face value.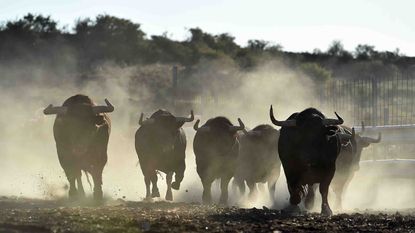 (Image credit: Getty Images)
Fresh signs of at least the potential of a resolution in Eastern Europe whetted risk appetites Tuesday, even as the ominous 2-10 yield curve came even closer to inverting.
During the latest round of talks with Ukraine today, Russian Deputy Defense Minister Alexander Fomin said his country's military would "drastically" remove its military presence from Kyiv. That triggered another day of buying from investors, who weren't deterred by a U.S. official's skeptical comment to news outlets that Russia's moves indicated "a redeployment, not a withdrawal."
Wall Street also wasn't put off by a potential inversion of the two- and 10-year Treasury rates – "potential" being the key word, as various data sources conflicted on whether the two-year's yield merely equaled the 10-year yield or surpassed it.
Subscribe to Kiplinger's Personal Finance
Be a smarter, better informed investor.
Save up to 74%
Sign up for Kiplinger's Free E-Newsletters
Profit and prosper with the best of expert advice on investing, taxes, retirement, personal finance and more - straight to your e-mail.
Profit and prosper with the best of expert advice - straight to your e-mail.
Even then, Lauren Goodwin, economist and portfolio strategist at New York Life Investments, warns against using a yield inversion as an egg timer.
"While curve inversion has historically been an important market signal of recession risk, it does not tell us much about when recession might likely occur," she says.
Sign up for Kiplinger's FREE Investing Weekly e-letter for stock, ETF and mutual fund recommendations, and other investing advice.
Real estate investment trusts (REITs) including mall operator Simon Property Group (SPG, +4.8%) and Public Storage (PSA, +3.4%) enjoyed the biggest gains Tuesday, with the sector up 2.9% to lead the S&P 500 (+1.2% to 4,631). The Nasdaq Composite had an even better day, up 1.8% to 14,619, while the Dow Jones Industrial Average recorded a 1.0% gain to 35,294.
Other news in the stock market today:
The small-cap Russell 2000 roared ahead by 2.7% to 2,133.
U.S. crude oil futures retreated 1.6% to end at $104.24 per barrel.
Gold futures fell 1.4% to settle at $1,912.20 an ounce.
Bitcoin slid 0.5% to $47,720.70. (Bitcoin trades 24 hours a day; prices reported here are as of 4 p.m.)
Shares of Robinhood (HOOD) spiked 24.2% after the financial services platform said it extended trading hours for clients. Customers on HOOD's platform will now be able to trade between 7 a.m. through 8 p.m. ET, giving them an additional four hours. This big upside move put a dent in HOOD's year-to-date deficit. Heading into today, shares were down nearly 28% for the year-to-date.
FedEx (FDX) gained 3.7% on news Fred Smith will step down as CEO, effective June 1. Smith has been overseeing the delivery giant since he founded the company in 1973. He will be succeeded by Raj Subramaniam, current president and chief operating officer of FedEx. "We anticipate a seamless transition as FedEx appears to have been grooming Mr. Subramaniam to be the company's next CEO," says Oppenheimer analyst Scott Schneeberger (Perform). "In recent years Mr. Smith appeared to have been ceding an increasing amount of operational and investor-facing responsibility to his top reports, particularly Mr. Subramaniam."
Push Back on Inflation
We'll find out March's jobs tally later this week, but another data point on Wall Street's watch list is the core Personal Consumer Expenditures (PCE) price index.
That report, due out Wednesday, represents the Federal Reserve's favored gauge of inflation – another critical factor in the market's direction from here.
"We believe it is important to point out the historical impact that inflation can have on equity market valuation," says John Lynch, chief investment officer for Comerica Wealth Management. "Specifically, high levels of inflation … have historically pressured the price-to-earnings (P/E) ratio for the S&P 500 Index. Historically, when the CPI approaches 8.0%, the average [trailing 12-month] P/E for the S&P 500 is ~12, which could bring the index to unspeakable levels."
Given that the S&P 500 currently trades at more than 26 times trailing earnings, that would be very bad news, indeed.
You can swat back at inflation via just about any investment type you like. Those looking to make concentrated bets against rising prices can consider these five stocks poised to push higher in an inflationary environment, while those who prefer a diversified approach might instead prefer these five mutual funds.
But some of the most interesting tools in the tool box are inflation-fighting exchange-traded funds (ETFs). Several of these ETFs simply happen to be positioned in areas of the market that do well as prices expand, but in some cases, an inflation-resistant portfolio is the explicit goal.
Kyle Woodley is the Editor-in-Chief of WealthUp, a site dedicated to improving the personal finances and financial literacy of people of all ages. He also writes the weekly The Weekend Tea newsletter, which covers both news and analysis about spending, saving, investing, the economy and more.
Kyle was previously the Senior Investing Editor for Kiplinger.com, and the Managing Editor for InvestorPlace.com before that. His work has appeared in several outlets, including Yahoo! Finance, MSN Money, Barchart, The Globe & Mail and the Nasdaq. He also has appeared as a guest on Fox Business Network and Money Radio, among other shows and podcasts, and he has been quoted in several outlets, including MarketWatch, Vice and Univision. He is a proud graduate of The Ohio State University, where he earned a BA in journalism.
You can check out his thoughts on the markets (and more) at @KyleWoodley.