Amazon Stock Split Puts It in Play to Join the Dow
Amazon.com's four-digit price tag is coming down as the e-tailer preps for a 20-for-1 AMZN stock split effective in June.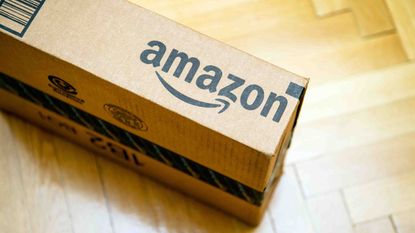 (Image credit: Getty Images)
Amazon.com (AMZN (opens in new tab), $2,135.50) is set to execute a 20-for-1 stock split in early June.
The Amazon stock split, which just received the blessing of a majority of AMZN shareholders Wednesday night, will be the fourth in the company's history, and it follows on the heels of Google parent Alphabet's (GOOGL (opens in new tab)) own 20-for-1 split announced in February.
And just as with Google's move, Amazon's stock split could open the door for its inclusion in the elite Dow Jones Industrial Average one day.
Subscribe to Kiplinger's Personal Finance
Be a smarter, better informed investor.
Save up to 74%
Sign up for Kiplinger's Free E-Newsletters
Profit and prosper with the best of expert advice on investing, taxes, retirement, personal finance and more - straight to your e-mail.
Profit and prosper with the best of expert advice - straight to your e-mail.
The Details on the Amazon Stock Split and Buybacks
Amazon, which originally announced the stock split March 9, will give each shareholder 19 additional shares for each share held (pending shareholder approval, of course) on June 3. The company said AMZN stock will begin trading on a post-split basis on June 6.
Based on current levels, shares would go for just under $107 apiece following the Amazon stock split. That should make AMZN shares more attractive to retail investors currently put off by the four-figure sticker price of more than $2,100.
"This split would give our employees more flexibility in how they manage their equity in Amazon and make the share price more accessible for people looking to invest in the company," an Amazon spokesperson said.
Despite what the textbooks say, the market loves stock splits. And that continues to be true even in an age when brokers are happy to sell clients fractional shares for free.
After all, splits might give traders and investors more flexibility, but they have absolutely zero impact on a company's fundamentals, prospects or its shares' valuation. That's because a split is essentially the same thing as making change. In this case, shareholders will effectively be swapping a $20 bill in return for 20 $1 bills.
However, a $10 billion share repurchase program, also announced back in March, is another matter entirely. It replaces Amazon's previous $5 billion stock repurchase authorized in 2016. The company bought back $2.12 billion of its shares under that plan.
By reducing its share count, Amazon's remaining shares will have greater perceived value by dint of both their increased scarcity and greater claims on future cash flows.
Amazon to the Dow?
But perhaps the most interesting perceived benefit of the split is that Amazon could be tapped for the 30-stock Dow Jones Industrial Average one day. That's because the blue-chip barometer isn't built like the other two major indexes.
The S&P 500 and Nasdaq Composite determine their weights by market capitalization (stock price multiplied by number of shares outstanding.) But the Dow – created way back in 1896 – is weighted by the company's stock price.
That price-weighted construction effectively shuts out companies with lofty share prices, such as AMZN. Indeed, at $2,100 a share, Amazon stock would skew the average into meaninglessness.
UnitedHealth Group (UNH (opens in new tab)), at roughly $500 a share, holds the greatest weight in the average today. Adding AMZN at $2,100 would turn the Dow into the "Amazon & Friends Average."
That said, while the Amazon stock split might make Amazon a more realistic addition to the Dow, don't consider its inclusion automatic. The Dow's editors at S&P Dow Jones Indices are the ultimate arbiters of that decision – and it's not a simple one to make.
Amazon is a member of the market's consumer discretionary sector. Home Depot (HD (opens in new tab)), McDonald's (MCD (opens in new tab)) and Nike (NKE (opens in new tab)) are already representatives of that sector in the blue-chip bastion.
Does one of those stocks get the boot? Amazon's post-split price would be well below that of HD or MCD. Kicking one of those names out in favor of AMZN would lower the consumer discretionary sector's weight in the Dow. Is that a problem?
Furthermore, the editors construct the Dow to reflect the broader economy. The world's largest fast-food chain and nation's largest home improvement retailer represent aspects of the economy that would be diminished with their exclusion. Besides, brick-and-mortar retailers still matter, even amid the rise of e-commerce. Nike, meanwhile, is a massive global vendor in the apparel and footwear industry.
No, the editors aren't bound by some rule that requires them to swap stocks within sectors. They could add AMZN at the expense of some other sector, for sure. But sector weightings and overall construction of the average … these can be tricky things, and they're issues the editors would have to consider.
All that said, investors should also know that being tapped for Dow inclusion is largely symbolic. Some $13.5 trillion was indexed or benchmarked to the widely used S&P 500 as of earlier this year. That means passive funds tracking the S&P 500 must own all of its components, weighted by market value. Period. Many other sector and "smart beta" funds that track all or part of the index in some way also are forced to own some or all of the S&P 500's components.
However, only $36.6 billion was indexed or benchmarked to the Dow. Mega-cap stock AMZN, by itself, is worth roughly 40 times all the money tracking and chasing the industrial average.
True, the blue-chip barometer can't be beat for brand familiarity. It might be fitting if Amazon joined the Dow. But that's about it.
What we do know about the Amazon stock split is that it should bring in loads of retail investors. That, in turn, could light a small fire under shares, at least for a while. Just be aware that volume in Amazon stock would likely also increase – and so volatility very much could too.
Senior Investing Writer, Kiplinger.com
Dan Burrows is Kiplinger's senior investing writer, having joined the august publication full time in 2016.
A long-time financial journalist, Dan is a veteran of SmartMoney, MarketWatch, CBS MoneyWatch, InvestorPlace and DailyFinance. He has written for The Wall Street Journal, Bloomberg, Consumer Reports, Senior Executive and Boston magazine, and his stories have appeared in the New York Daily News, the San Jose Mercury News and Investor's Business Daily, among other publications. As a senior writer at AOL's DailyFinance, Dan reported market news from the floor of the New York Stock Exchange and hosted a weekly video segment on equities.
Once upon a time – before his days as a financial reporter and assistant financial editor at legendary fashion trade paper Women's Wear Daily – Dan worked for Spy magazine, scribbled away at Time Inc. and contributed to Maxim magazine back when lad mags were a thing. He's also written for Esquire magazine's Dubious Achievements Awards.
In his current role at Kiplinger, Dan writes about equities, fixed income, currencies, commodities, funds, macroeconomics, demographics, real estate and more.
Dan holds a bachelor's degree from Oberlin College and a master's degree from Columbia University.
Disclosure: Dan does not trade stocks or other securities. Rather, he dollar-cost averages into cheap funds and index funds and holds them forever in tax-advantaged accounts.