Stock Market Today: Groggy Start for Stocks, But an Energetic Ending
Investors, perhaps worried that the Fed's punchbowl might be taken away, ignored a sharp decline in jobless claims early Thursday but eventually drove stocks to modest gains.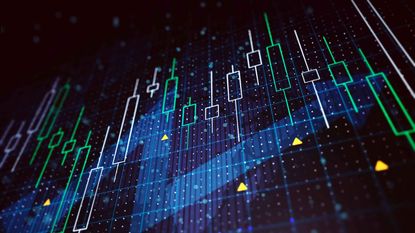 (Image credit: Getty Images)
It's the finish that counts, right?
Stocks kicked off Thursday's trading the way they ended Wednesday's – in the red – but they picked up strength throughout the day and closed with modest gains.
The morning slump ignored strong initial jobless claims data: Unemployment filings for the week ended March 20 dropped by 97,000 to 684,000.
Subscribe to Kiplinger's Personal Finance
Be a smarter, better informed investor.
Save up to 74%
Sign up for Kiplinger's Free E-Newsletters
Profit and prosper with the best of expert advice on investing, taxes, retirement, personal finance and more - straight to your e-mail.
Profit and prosper with the best of expert advice - straight to your e-mail.
"With the sharp decline in this week's data, the four-week moving average in initial claims ticked lower to 736k, from 749k previously," say Barclays' Michael Gapen and Pooja Sriram. "Labor markets softened late last year following additional restrictions on activity that went into place to counter the rise in new COVID-19 cases last fall, causing a backup in the pace of job separation that appears to have peaked in the week ending January 9. Since then, claims have been gradually moving lower, on net, as vaccinations have picked up and COVID-19 case counts declined."
However, the pair point out that "some of the fall in continuing claims might represent movement from state claims programs to federal unemployment insurance programs."
Investors might have been jittery about the possibility of the Federal Reserve eventually turning off the stimulus spigot, as Chairman Jerome Powell told NPR that "as we make substantial further progress toward our goals, we'll gradually roll back the amount of Treasurys and mortgage-backed securities we've bought."
Sign up for Kiplinger's FREE Investing Weekly e-letter for stock, ETF and mutual fund recommendations, and other investing advice.
The major indices flipped between losses and gains several times throughout the day, but broke higher for good in the afternoon, led by recovery-dependent sectors such as industrials and financials.
The Dow Jones Industrial Average erased a 348-point deficit, finishing 199 points (0.6%) higher to 32,619, helped by the likes of Boeing (BA (opens in new tab), +3.3%) and American Express (AXP (opens in new tab), +2.7%).
Other action in the stock market today:
The S&P 500 gained 0.5% to 3,909.
The Nasdaq Composite bounced from negative territory, too, closing with a small 0.1% improvement to 12,977.
The Russell 2000 mostly recovered from Wednesday, snapping back by 2.3% to 2,183.
U.S. crude oil futures couldn't hang on to yesterday's momentum, falling 3.3% to $59.19 per barrel.
Gold futures, however, ticked 0.4% higher to settle at $1,740.40 per ounce.
Bitcoin prices finished off their lows but still declined 4.8% to $52,157. (Bitcoin trades 24 hours a day; prices reported here are as of 4 p.m. each trading day.)
Try Not to Sweat the Sideways Slosh
The market continues to struggle to find direction. Wall Street might be optimistic about where the economy will go later in the year, but, in the nearer term, that rosy outlook is being blunted by COVID spikes – not just here in the U.S., but also in Europe, Brazil and India.
Analysts and other money managers say investors should keep their eyes on the prize.
"The claims numbers this morning are the latest data points that show the economy is picking up momentum," says Cliff Hodge, chief investment officer for Cornerstone Wealth. "We're getting a little softness in the markets on virus-variant jitters, but we're buyers on weakness as the economy gets closer to a full-scale reopening."
Nothing is set in stone, of course, but analysts appear to be looking at this as little more than a speed bump, especially for so-called recovery stocks. They remain optimistic about the prospects for the travel industry broadly, including the airlines, which had rallied hard for months before cooling off of late – but they also like some carriers better than others.
Read on as we take a look at nine well-traveled U.S. airline stocks; while they all should benefit from a rebound in travel, some are better positioned than others to make the most of this reopening boom.
Kyle Woodley was long BA as of this writing.
Kyle Woodley is the Editor-in-Chief of Young and The Invested (opens in new tab), a site dedicated to improving the personal finances and financial literacy of parents and children. He also writes the weekly The Weekend Tea (opens in new tab) newsletter, which covers both news and analysis about spending, saving, investing, the economy and more.
Kyle was previously the Senior Investing Editor for Kiplinger.com, and the Managing Editor for InvestorPlace.com before that. His work has appeared in several outlets, including Yahoo! Finance, MSN Money, Barchart, The Globe & Mail and the Nasdaq. He also has appeared as a guest on Fox Business Network and Money Radio, among other shows and podcasts, and he has been quoted in several outlets, including MarketWatch, Vice and Univision. He is a proud graduate of The Ohio State University, where he earned a BA in journalism.
You can check out his thoughts on the markets (and more) at @KyleWoodley (opens in new tab).