Stock Market Today: Stocks Tank as Interest-Rate Fears Persist
The 10-year Treasury yield cleared 1.5% today for the first time in a year, sparking a broad, deep selloff across the stock market.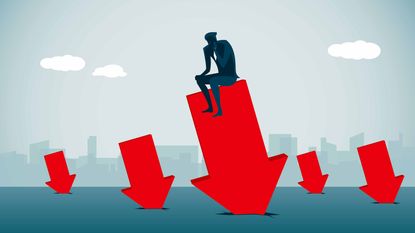 (Image credit: Getty Images)
The stock market is starting to resemble a student driver, alternating between a heavy foot on the gas pedal and hard stomps on the brakes.
Investors suffered the latter Thursday, as Wall Street largely ignored a large drop in last week's initial unemployment filings (by 111,000 claims to 730,000) and improvement in January's durable goods orders.
Instead, attention was directed toward a continued rise in interest rates, with the 10-year Treasury yield climbing above 1.5% for the first time in roughly a year.
Subscribe to Kiplinger's Personal Finance
Be a smarter, better informed investor.
Save up to 74%
Sign up for Kiplinger's Free E-Newsletters
Profit and prosper with the best of expert advice on investing, taxes, retirement, personal finance and more - straight to your e-mail.
Profit and prosper with the best of expert advice - straight to your e-mail.
"Until recently, market participants have been able to digest the upward drift in long-term rates," says Charlie Ripley, Senior Investment Strategist for Allianz Investment Management, "but it appears that the next leg up in interest rates is a bigger bite to chew."
The major indices finished with deep gashes. Declines in Boeing (BA, -5.5%), Intel (INTC, -4.4%) and Salesforce.com (CRM, -3.9%) helped drag the Dow Jones Industrial Average 1.8% lower from its record high to 31,402. Meanwhile, Apple (AAPL, -3.5%), Facebook (FB, -3.6%) and Tesla (TSLA, -8.1%) weighed on the Nasdaq Composite, which sank 3.5% to 13,119.
James McDonald, CEO and chief investment officer of alternative investment manager Hercules Investments, explains the continued pain in tech: "Unlike other stock sectors like cyclicals, stocks in the tech sector are valued on longer-term earnings. If bond yields and borrowing costs are rising, a company's longer-term earnings may be negatively affected."
Other action in the stock market today:
The S&P 500 declined by 2.5% to 3,829.
The small-cap Russell 2000 was the worst of the major indices, plunging 3.7% to 2,200.
GameStop (GME), which went on a roller-coaster trip courtesy of Reddit traders several weeks back, was at it again, surging 18.6% after more than doubling Wednesday. However, even that was well off the 101% gains it was tracking at Thursday's highs.
U.S. crude oil futures improved by 0.5% to settle at a 13-month high of $63.53 per barrel.
Gold futures declined by 1.3% to $1,775.40 per ounce.
Bitcoin prices, at $48,712 on Wednesday, finished 0.3% higher to $48,870. (Bitcoin trades 24 hours a day; prices reported here are as of 4 p.m. each trading day.)
The Silver Lining to Big Down Days
It's hard to sugarcoat a day that saw every last S&P sector decline, most by more than 1%. But Jamie Cox, managing partner for Harris Financial Group, gives it a go:
"I'm glad to see yields rise because markets can see an end to the pandemic," he says. "However, people forget that rates are still low, we still have structural unemployment, and that technical moves in bonds do not equal inflation."
Also, for optimists – more specifically, optimists who still have a little cash waiting on the sideline for better prices – days like this provide a silver lining in the form of slightly less elevated valuations.
For instance, a number of the S&P 500's best long-term bets are just too darn pricey, but strong pullbacks like these start to alleviate those excessively high valuations. Even value stocks, heavily favored by analysts in 2021, have been driven plenty higher in the year's early innings; Thursday's action helped cool them off a little bit.
The same goes for many COVID-recovery plays – travel and leisure stocks, battered in 2020, were popular picks heading into 2021 and have come roaring back as investors anticipate America's economy eventually reopening. Downdrafts like today, however, provide better opportunities to get in on some of these travel names before most Americans are vaccinated and start spending their money on experiences they were denied during COVID shutdowns.
Here are five such travel stocks worth looking into.
Kyle Woodley was long BA, CRM and Bitcoin as of this writing.
Kyle Woodley is the Editor-in-Chief of Young and The Invested, a site dedicated to improving the personal finances and financial literacy of parents and children. He also writes the weekly The Weekend Tea newsletter, which covers both news and analysis about spending, saving, investing, the economy and more.
Kyle was previously the Senior Investing Editor for Kiplinger.com, and the Managing Editor for InvestorPlace.com before that. His work has appeared in several outlets, including Yahoo! Finance, MSN Money, Barchart, The Globe & Mail and the Nasdaq. He also has appeared as a guest on Fox Business Network and Money Radio, among other shows and podcasts, and he has been quoted in several outlets, including MarketWatch, Vice and Univision. He is a proud graduate of The Ohio State University, where he earned a BA in journalism.
You can check out his thoughts on the markets (and more) at @KyleWoodley.