Stock Market Today: Disappointing Jobs Data Dings the Dow
While Robinhood and Reddit leaders testified on Capitol Hill, Wall Street spent Thursday fretting over surprisingly high initial jobless claims.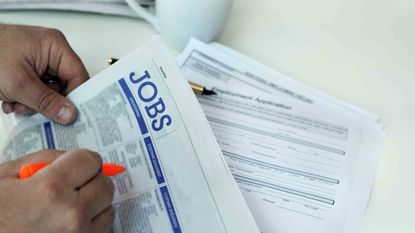 (Image credit: Getty Images)
The shiniest object in the investing universe Thursday was a House Financial Services Committee hearing that saw politicians question several major players involved in January's market mania surrounding GameStop and other battered stocks.
Its eventual impact, however, is questionable.
"It's highly unlikely that hearings on Capitol Hill will result in any regulatory changes to the investing landscape, based on the events surrounding the GameStop short squeeze," says David Trainer, CEO of investment research firm New Constructs, who called the hearing "mostly political theatre."
Subscribe to Kiplinger's Personal Finance
Be a smarter, better informed investor.
Save up to 74%
Sign up for Kiplinger's Free E-Newsletters
Profit and prosper with the best of Kiplinger's expert advice on investing, taxes, retirement, personal finance and more - straight to your e-mail.
Profit and prosper with the best of Kiplinger's expert advice - straight to your e-mail.
Of much more substance were initial jobless claims for the week ending Feb. 13, which climbed to an unexpectedly high 861,000 from the previous week's revised tally of 848,000.
"Initial jobless claims backed up following reduction in mobility and additional restrictions on activity in several states after the surge in new COVID-19 cases last fall, with many states introducing new measures for higher-risk activities beginning in mid-November," say Barclays' Michael Gapen and Pooja Sriram. "The increase in the pace of job separation appears to have peaked in the week ending January 9, when initial claims registered 927k. Initial claims thereafter moved lower, falling to 812k in the weeks ending January 23 and 30, but have now moved higher in the first two weeks of February."
The major indices managed to finish above their intraday lows, but they all still finished in the red. The Dow Jones Industrial Average snapped a three-session win streak, closing down 0.4% to 31,480. Weighing most heavily on the industrial average was a 6.4% decline for Walmart (WMT), which reported disappointing quarterly earnings and warned that sales growth could slow in 2021.
Other action in the stock market today:
The S&P 500 dropped 0.4% to 3,913.
The Nasdaq finished off 0.7% to 13,865.
The small-cap Russell 2000 was worst-off, declining 1.7% to 2,218.
U.S. crude oil futures finally cooled off somewhat, declining 1.0% to $60.52.
Gold futures slipped 0.1% to $1,775.00 per ounce.
Bitcoin prices, at $52,266 on Wednesday, finished just 0.3% lower Thursday, to $52,101. (Bitcoin trades 24 hours a day; prices reported here are as of 4 p.m. each trading day.)
Something 'Special' for Dividend Hunters
Income investing is a well-traveled and proven way to build wealth, but there's more than one way to slice that orange.
Some investors focus on assembling a portfolio of high-quality stocks with respectable yields, like these 25 highly rated dividend payers. Some put a greater emphasis on high yield, delving into special equities such as business development companies (BDCs) and real estate investment trusts (REITs) that prioritize big payouts.
Still others believe dividend growth is key to long-term success – after all, it helps counter the purchasing power-destroying effects of inflation over time – and opt for payout-raising firms such as the Dividend Aristocrats.
Yet another strategy to explore is hunting down "serial" special dividend payers.
Special dividends are typically one-time affairs, meant to share the windfall of anomalous events such as selling off one of the company's divisions. But a few stocks regularly incorporate these bonus payouts as part of a responsible, conservative dividend strategy – one in which they can reward shareholders during boom years without having to cut the regular payout in lean ones. Read on as we look at nine surprisingly reliable special dividends that often fly under income investors' radar.
Kyle Woodley was long Bitcoin as of this writing.
Senior Investing Editor, Kiplinger.com
Kyle is senior investing editor for Kiplinger.com. As a writer and columnist, he also specializes in exchange-traded funds. He joined Kiplinger in September 2017 after spending six years at InvestorPlace.com, where he managed the editorial staff. His work has appeared in several outlets, including U.S. News & World Report and MSN Money, he has appeared as a guest on Fox Business Network and Money Radio, and he has been quoted in MarketWatch, Vice and Univision, among other outlets. He is a proud graduate of The Ohio State University, where he earned a BA in journalism.