Stock Market Today: Bulls Reclaim Ground on Cheerful GDP, Jobless Data
A record rebound in third-quarter GDP, as well as better-than-expected jobless claims, propelled stocks on Thursday.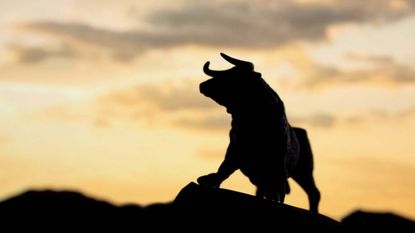 (Image credit: Getty Images)
Whether stocks would recover Thursday was in doubt in early trading as investors struggled to embrace bright tidings from recent economic data. But the loud rebound in third-quarter GDP and better-than-expected unemployment claims eventually roused some bulls.
On the latter front, the Labor Department reported that last week's jobless filings fell from 791,000 in the week prior to 751,000, comfortably below the Bloomberg consensus estimate of 770,000.
On the former, Q3 GDP predictably made its sharpest recovery since World War II (after all, it followed Q2, which suffered the sharpest drop since then). The 33.1% sequential expansion topped the consensus forecast for 32% growth.
Subscribe to Kiplinger's Personal Finance
Be a smarter, better informed investor.
Save up to 74%
Sign up for Kiplinger's Free E-Newsletters
Profit and prosper with the best of expert advice on investing, taxes, retirement, personal finance and more - straight to your e-mail.
Profit and prosper with the best of expert advice - straight to your e-mail.
However, that performance comes with quite a few asterisks and other forward-looking considerations. Some expert observations about Thursday's GDP data:
Pooja Sriram, vice president, U.S. economist, at Barclays Investment Bank: "The outsized magnitude of increases across categories was to a large extent mechanical, in part due to the low base in the second quarter and in part due to solid activity momentum in May/June, which carries a respectable weight in the Q3 GDP calculations. The imposition of stay-at-home orders caused activity to plunge in the second quarter, and their removal led to a substantial improvement thereafter."
Ryan Detrick, chief market strategist for LPL Financial: "GDP rebounded stronger than expected in the third quarter, but the big question on everyone's mind is whether the economy can remain on firm ground in the fourth quarter and into 2021. Barring a new round of fiscal stimulus, it's likely that growth will taper off in the fourth quarter, but we still don't expect a double-dip recession."
Ludovic Subran, chief economist for Allianz: "This strong rebound should be short-lived as Q4 macroeconomic conditions will be much less favorable to growth. It will probably be towards the end of 2021 before we return to previous levels of GDP, and if the next surge of COVID causes even more shutdowns, it will be longer than that. … Today's data clearly showed the impact of the CARES Act and the boost it gave to personal income. But that boost is now long gone, and it seems like a new stimulus package will not deliver cash to consumers anytime soon."
Nonetheless, the Dow Jones Industrial Average clawed back a little of what it lost Wednesday, climbing 0.5% to 26,659, while the Nasdaq Composite finished with a more emphatic 1.6% gain to 11,185.
Other action in the stock market today:
The S&P 500 improved by 1.2% to 3,310.
The small-cap Russell 2000 closed up 1.3% to 1,563.
Netflix (NFLX (opens in new tab), +3.7%) shot higher in the late afternoon following its announcement that it would raise its U.S. prices. Standard plans will go from $13 per month to $14, while premium plans are being hiked from $16 per month to $18.
Several mega-cap stocks, including Apple (AAPL (opens in new tab), +3.7%) and Amazon.com (AMZN (opens in new tab), +1.5%), report earnings this evening. Here's what analysts are expecting.
How to Steady the Boat Ahead of Election Day
Today's swing favored investors, but some might be tiring of the market's recent turbulence. A respite might be a ways off.
"The two main investor concerns over recent months have been what would happen if there is a contested election and/or a second wave of COVID-19 spread," says Canaccord Genuity equity strategist Tony Dwyer. "The markets should remain volatile and unpredictable as these two fears are upon us and playing out in real time over coming days."
Sure, some see this as a chance to make high-potential swing bets on the outcome of the presidential election – whether the winner be Donald Trump or Joe Biden – but some investors would prefer to avoid any choppiness they can.
Generally speaking, low-volatility stocks should be able to help smooth out your portfolio's performance over time. However, a few steady stocks stand out for their ability to shrug off either election outcome for short-term stability. Read on as we highlight five quality stock picks that are well-positioned to withstand any Election Day-specific market shocks.
Kyle Woodley was long AAPL and AMZN as of this writing.
Kyle Woodley is the Editor-in-Chief of Young and The Invested (opens in new tab), a site dedicated to improving the personal finances and financial literacy of parents and children. He also writes the weekly The Weekend Tea (opens in new tab) newsletter, which covers both news and analysis about spending, saving, investing, the economy and more.
Kyle was previously the Senior Investing Editor for Kiplinger.com, and the Managing Editor for InvestorPlace.com before that. His work has appeared in several outlets, including Yahoo! Finance, MSN Money, Barchart, The Globe & Mail and the Nasdaq. He also has appeared as a guest on Fox Business Network and Money Radio, among other shows and podcasts, and he has been quoted in several outlets, including MarketWatch, Vice and Univision. He is a proud graduate of The Ohio State University, where he earned a BA in journalism.
You can check out his thoughts on the markets (and more) at @KyleWoodley (opens in new tab).