A Bumpy Ride Ahead
Even if you think stocks are headed higher, there's no better time for a portfolio tune-up.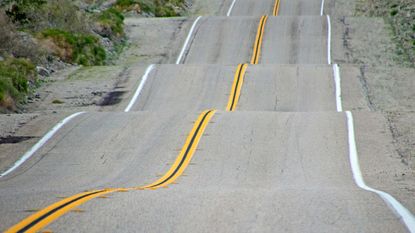 (Image credit: Getty Images)
What's up with the market? That's a question I was hearing from friends, and more than a few readers, this past summer. Stocks have rocketed skyward since March—blithely ignoring the struggling economy—but the market finally succumbed to the laws of physics in September. The dose of reality came as we were putting the finishing touches on our cover story.
When we initially scheduled the article, the major indexes were underwater, and investors were still feeling bruised from the brief bear market in February and March. Then the Nasdaq hit a new high in early June, the S&P 500 emerged from its bear in mid August, and the Dow soon followed suit. But in early September the market sprung a leak. The big tech stocks that had helped power the market higher deflated, and so did a slew of other stocks. As we go to press, the market is bouncing up and down.
Fortunately, our cover story is an all-weather guide to best practices for your portfolio, and the advice is even more timely now. "The mistakes we highlight in the cover story are missteps made all the time by investors," says executive editor Anne Smith, who directs our investing coverage. "In a market that is rising smoothly over a long period of time—as we had for years—many of these mistakes are glossed over."
Subscribe to Kiplinger's Personal Finance
Be a smarter, better informed investor.
Save up to 74%
Sign up for Kiplinger's Free E-Newsletters
Profit and prosper with the best of Kiplinger's expert advice on investing, taxes, retirement, personal finance and more - straight to your e-mail.
Profit and prosper with the best of Kiplinger's expert advice - straight to your e-mail.
But throw in some volatility, or a bear market, and some of the errors become glaring. "The risk in your portfolio is suddenly intolerable, so you're tempted to try to time the market—which almost never works out well—or you find out the hard way why diversification works." Even if stocks are headed higher, there's no better time for a portfolio tune-up.
The stomach-churning ups and downs in stocks are likely here for the remainder of the year, as Anne reports in What's Next for Stocks. The huge gains were fueled in part by FOMO (fear of missing out). Now, with yields on bonds and cash at rock-bottom, investors are turning to stocks—and further gains in the market could be supported by the TINA thesis (there is no alternative). The market looks ahead, and the economy in 2021 is looking a whole lot better than in 2020. But expect "churn" for the rest of the year, Anne writes, with the risk of a second coronavirus wave vying with the race for a vaccine, plus uncertainty about the election—and the scary prospect that we may not know for days or weeks who won.
Your feedback. The divisions in America as we approach the presidential election are reflected in the feedback we get from you. My statement about diversity and inclusion in our August issue, plus my September editor's column (opens in new tab) about baseball commentator Doug Glanville (opens in new tab) and his thoughts about race and diversity, unleashed a flood of mail, both pro and con. Some of you welcomed the affirmation of diversity; others saw a left-leaning political turn for Kiplinger.
Our mission is your money, not politics. At the same time, everyone at Kiplinger is working to reflect a greater variety of backgrounds in our photos and real-life stories, and we hope our efforts will help attract new readers. Meanwhile, my promise to you has always been honesty and transparency.
Editor, Kiplinger's Personal Finance
Mark became editor of Kiplinger's Personal Finance magazine in July 2017. Prior to becoming editor, he was the Money and Living sections editor and, before that, the automotive writer. He has also been editor of Kiplinger.com as well as the magazine's managing editor, assistant managing editor and chief copy editor. Mark has also served as president of the Washington Automotive Press Association. In 1990 he was nominated for a National Magazine Award. Mark earned a B.A. from University of Virginia and an M.A. in Writing from Johns Hopkins University. Mark lives in Washington, D.C., with his wife, and they spend as much time as possible in their Glen Arbor, Mich., vacation home.