Consumers Still Spending but Looking For Deals: Kiplinger Economic Forecasts
Consumers are shopping more during major online sales, but while total sales are up, the average purchase cost dipped.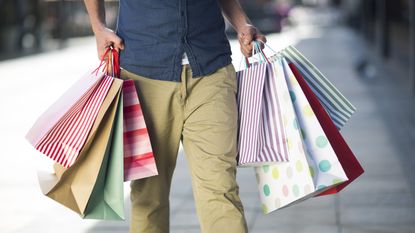 (Image credit: Getty Images)
As inflation slowly comes down, consumers are adjusting to the changing economy. To help you understand what is going on and what we expect to happen in the future, our highly-experienced Kiplinger Letter team will keep you abreast of the latest developments and forecasts (Get a free issue of The Kiplinger Letter or subscribe). You'll get all the latest news first by subscribing, but we will publish many (but not all) of the forecasts a few days afterward online. Here's the latest...
A raft of big online sales events just ended. What do they say about consumer sentiment and how people are likely to shop for the holidays? Shoppers are still willing and able to spend, based on the results of Amazon's Prime Day and competing online sales promotions by Walmart, Target, Costco and Best Buy held earlier this month.
Overall retail sales were up 6.1% in these events: A solid showing, though slightly slower growth than what those retailers logged the year before. But shoppers clearly were a bit more careful in their spending. While total sales were up, the price of the average purchase was down.
Subscribe to Kiplinger's Personal Finance
Be a smarter, better informed investor.
Save up to 74%
Sign up for Kiplinger's Free E-Newsletters
Profit and prosper with the best of expert advice on investing, taxes, retirement, personal finance and more - straight to your e-mail.
Profit and prosper with the best of expert advice - straight to your e-mail.
Electronics sales, which usually do well during such online promotions, were surpassed by appliances and home goods: A sign that more people are prioritizing basic needs over wants. Half of shoppers compared items' prices across the different online platforms before buying, and more of them used buy now, pay later options. There is reason to think that more people held off on a planned purchase, waiting for the sales event before buying, rather than spontaneously splurging.
These trends suggest consumers are doing OK, but are more value-conscious than they were six months or a year ago. People still have some extra savings built up during the pandemic, and the job outlook is strong. But inflation has taken its toll. Customers are thinking harder about their spending, looking for deals, and weighing whether they really need a given item: A mindset that is likely to persist for a while.
The back-to-school shopping season should be at least as good as 2022's, based on these midsummer online promotions. 55% of consumers are already shopping for school-related stuff, though 85% say they're not done. Back-to-college spending figures to be especially good as college students stock up on laptops and other devices.
The outlook for the holidays is a bit less upbeat. Expect a modest sales rise, similar to last year, with online sales growing a hearty 10% but in-store up just 2%.
Other takeaways from the midsummer sales events for retailers to note: Shopping on smartphones is becoming mainstream. Nearly half of consumers during the Prime Day events used mobile devices, rather than a desktop or laptop. Phones and tablets are easier to shop with, and consumers are less concerned now about the security of doing so. For retailers, a mobile-friendly website is a must-have.
Online promotions tend to pull sales forward. For example, the Prime Day event Amazon is planning for October figures to nab sales normally made after Thanksgiving. Online sales can win new customers. Vendors who took part in Prime Day said more than half of their customers hadn't bought from them in the past year. The cost of ads during such events does soar, but the jump in sales can cover the cost.
This forecast first appeared in The Kiplinger Letter, which has been running since 1923 and is a collection of concise weekly forecasts on business and economic trends, as well as what to expect from Washington, to help you understand what's coming up to make the most of your investments and your money. Subscribe to The Kiplinger Letter.

Staff Economist, The Kiplinger Letter
David is both staff economist and reporter for The Kiplinger Letter, overseeing Kiplinger forecasts for the U.S. and world economies. Previously, he was senior principal economist in the Center for Forecasting and Modeling at IHS/GlobalInsight, and an economist in the Chief Economist's Office of the U.S. Department of Commerce. David has co-written weekly reports on economic conditions since 1992, and has forecasted GDP and its components since 1995, beating the Blue Chip Indicators forecasts two-thirds of the time. David is a Certified Business Economist as recognized by the National Association for Business Economics. He has two master's degrees and is ABD in economics from the University of North Carolina at Chapel Hill.