What Pickleball Can Teach You About Investing
It's funny, but playing the great sport of pickleball recently got me thinking about how much in common chasing a plastic yellow ball around has with successful retirement planning.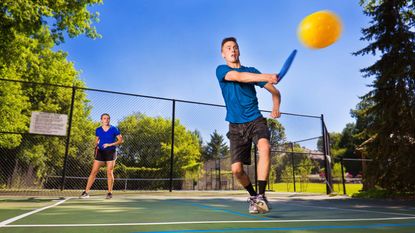 (Image credit: Getty Images)
If you had gym class in school, the teacher probably told you there are life lessons to be learned from playing sports. You learn how to succeed or fail with grace, the value of humility, the benefits of sharing, how to build your confidence, and so on. (Although, what getting hit in the face with a dodgeball is supposed to teach, other than pain, is hard to say.)
What about money? Does the ability of sports to impart knowledge extend to investing? In the game of pickleball, it just might.
For the uninitiated, pickleball is a paddle sport along the lines of tennis where players hit a plastic ball back and forth over a net. It is also one of the fastest growing sports in America. The number of active pickleball players grew by more than 21% last year alone, according to the Sport and Fitness Industry Association.
Subscribe to Kiplinger's Personal Finance
Be a smarter, better informed investor.
Save up to 74%
Sign up for Kiplinger's Free E-Newsletters
Profit and prosper with the best of expert advice on investing, taxes, retirement, personal finance and more - straight to your e-mail.
Profit and prosper with the best of expert advice - straight to your e-mail.
A major contributor to pickleball's participation growth is its popularity throughout retirement communities. The sport can help fulfill some of retirees' long-term needs, such as staying healthy, social and competitive.
This past summer, with so many activities closed because of pandemic restrictions, I finally gave pickleball a try outdoors. The game is easy enough for a newbie like me to start playing quickly. Yet, as with any sport, there are various levels of skill and techniques required to master it.
But the game offered me much more than a fun experience. Coincidentally, the nuances of pickleball can double as lessons on how to reach your long-term financial goals. No, it doesn't provide complex sabermetric data, like Moneyball, in which to create an elaborate, inimitable investment strategy. Rather, the sport of pickleball is a resource for understanding basic investment principles that can be just as valuable.
Here are six investment lessons I learned from playing pickleball:
1. Remember the whole is greater than the sum of its parts
Pickleball is a combination of three different sports: tennis, badminton and ping pong. Mixing separate sports to create one, exciting game is reminiscent of the role of diversification in your portfolio. A diversified portfolio holds a broad mix of investments across different asset classes, like stocks and bonds. Together, the characteristics of each investment determine the portfolio's overall risk and potential for growth. Essentially, you avoid the risk of putting all your eggs in one basic.
2. Get the most bang for your buck
Enjoyment from sports shouldn't come with a high price tag. Fortunately, pickleball is an inexpensive sport. Essentially, all you need is a paddle and a hollow plastic ball with large air holes. Unlike golf, there are no course fees or cart charges. Similarly, investing should also be a low-cost activity. Whereas with recreation and sports, costs can diminish your enjoyment, with investing costs can diminish your returns. The more you pay, from adviser fees to trading costs, the less of your return you will keep.
3. Practice good communication
Pickleball is played with singles or doubles. Successfully playing with a partner requires teamwork, much of which is based on good communication. The same applies to finances, where your partner is most likely your spouse. It's essential that each of you clearly understands your family's finances, including beneficiary rights for things like pensions, Social Security and required minimum distributions. In the event one spouse passes, a succession plan should be in place and the survivor should be prepared to take over investment responsibilities.
4. Don't wait to play
Pickleball is a relatively simple sport to play, which is why so many first-timers can pick up a paddle and just start playing. I'm not sure what took me so long to get into the game. Although not as simple, there really is no right time to start investing. Waiting for opportune market conditions before investing is a form of market timing, which can be a loser's game for two reasons. One, it is exceedingly difficult to consistently buy the right investment at the right time over the long run. Two, staying on the sidelines can result in missing out on some of the market's best trading days.
5. Think long term
You use your mind as much as your feet when playing pickleball. Chasing after an errant whiffle ball that takes an unexpected turn midflight or an unusual bounce is a waste of energy. Instead, it's better to follow a game plan and ignore the occasional fluke. Likewise, the market can move wildly on any given day. Those short-term stock swings shouldn't affect your long-term focus. Chasing returns – investing based on recent performance – usually results in wasted profits. You have a higher probability of achieving your financial goals by staying the course and focusing on what you can control, like your costs and your asset allocation.
6. Always be mindful of risk
In any sport, it's important to be mindful of the risk of injury; especially, as you age and it becomes harder to recover. When investing, you should be just as considerate of your age and investment risk. In retirement, for example, you likely have limited income sources and a shorter investment time horizon, making it more difficult to recover from financial losses. Therefore, it can be safer to reduce the amount of higher-risk investments, such as stocks, in your portfolio to try to preserve your wealth.
Playing sports can be a learning experience in more ways than one. There are lessons to be learned about the game as well as life. And, when it comes to pickleball, it can also teach you a few tips about sensible investing.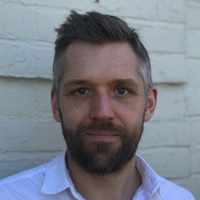 Jacob Schroeder is a financial writer covering topics related to personal finance and retirement. Over the course of a decade in the financial services industry, he has written materials to educate people on saving, investing and life in retirement.

With the love of telling a good story, his work has appeared in publications including Yahoo Finance, Wealth Management magazine, The Detroit News and, as a short-story writer, various literary journals. He is also the creator of the finance newsletter The Root of All (https://rootofall.substack.com/), exploring how money shapes the world around us. Drawing from research and personal experiences, he relates lessons that readers can apply to make more informed financial decisions and live happier lives.