Raise Money for Personal Bills on Crowdfunding Sites
Before you move forward with setting up an online crowdfunding campaign, here's what you need to know.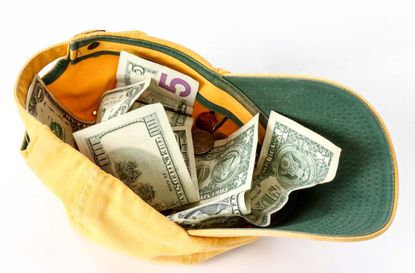 (Image credit: KaraGrubis)
Do you need money for unexpected medical and long-term-care expenses, funeral costs, or a local charitable endeavor? Maybe it's time to turn to one of a growing number of personal "crowdfunding" sites and ask the public for small donations.
That's what Laura Van Noy did in July when her uncle, Kenneth Egbert, a builder from Riverton, Utah, was suffering from brain cancer. Her aunt, who had taken off work to care for him, was struggling to pay medical bills, the mortgage and utilities. "I wanted to help," says Van Noy, 33, who lives in Logan, Utah. "I could give a little bit, but I couldn't make a dent."
Within a week after setting up a fundraising page for her aunt at the website YouCaring, Van Noy raised more than $5,500 from 95 donors. Her target is $20,000. "I'm pretty pleased, but a lot still needs to be done," she says. Her uncle died on July 31 at age 56.
Subscribe to Kiplinger's Personal Finance
Be a smarter, better informed investor.
Save up to 74%
Sign up for Kiplinger's Free E-Newsletters
Profit and prosper with the best of expert advice on investing, taxes, retirement, personal finance and more - straight to your e-mail.
Profit and prosper with the best of expert advice - straight to your e-mail.
While crowdfunding is often associated with business start-ups, many people are finding it a fruitful way to raise money for personal needs. Sites such as YouCaring, GoGetFunding, GoFundMe and GiveForward have helped individuals raise hundreds of millions of dollars to help pay bills for medical care, funerals, education, volunteer missions and veterans' needs.
But it's not enough to set up a page and wait for the cash to roll in. Kelsea Little, spokeswoman for GoFundMe, says "it's a common misconception" that good-hearted strangers are browsing websites in search of good deeds to do. Expect most donations to come from friends and family—and their friends and family. "It's up to the organizer of the campaign to share the link with their network via social media," such as Facebook, Twitter, texts and e-mail, Little says.
Pull Out All the Stops
Be prepared to spend three to five hours a week promoting a campaign, says Sandip Sekhon, chief executive officer of GoGetFunding. Besides using social media, fundraisers should consider tapping business connections, seeking out relevant online communities and contacting local media outlets, Sekhon says. "The effort needs to be continuous throughout the campaign," he says.
Last December, Ed Kane and his friends began a multi-pronged campaign on GoFundMe to raise money for a nonprofit Kane founded that distributes wheelchairs, walkers and other durable medical equipment to people who can't afford the devices. Kane, a former banker in Chicago who had ALS and was a quadriplegic, died September 6 at age 64. He had used $30,000 of his 401(k) to pay for his wheelchair. The money the site raises goes to Devices 4 the Disabled to help others, says Bob Shea, a member of the group's board.
The nonprofit's website directs donors to Kane's GoFundMe page. And more than 250 Facebook users have linked to the page—expanding the reach of the campaign. A local TV station broadcast several stories on Kane's fundraising and mentioned the GoFundMe page. "We send people to the [nonprofit's] website, and then they can connect to crowdfunding," Shea says. In eight months, more than $89,000 has been raised toward a $500,000 goal. Shea says the GoFundMe page will continue to raise money for the nonprofit.
Before you launch a campaign, browse several crowdfunding sites. Be sure the site provides step-by-step instructions on setting up a page and posting updates, photos and videos, says GoGetFunding's Sekhon. Supporters also should be able to easily link your page to their Facebook and Twitter accounts.
Ask exactly how you get the money that is pledged. You or the website typically sets up a PayPal or WePay account to accept donations. You should be able to easily transfer the funds to your bank account.
Compare the fees, too. GoGetFunding charges a 4% fee for using its platform, while GoFundMe charges 5%; the fees are deducted from your take. YouCaring advertises that it does not charge fundraisers a platform fee, but it tacks on about 5% to donor costs—unless the giver opts out. In addition, the websites typically charge a 2.9% card processing fee.

Contributing Editor, Kiplinger's Retirement Report
Susan Garland is the former editor of Kiplinger's Retirement Report, a personal finance publication whose subscribers are retirees and those approaching retirement. Before joining Kiplinger in 2006, Garland was a freelance writer whose work appeared in the New York Times, the Washington Post, BusinessWeek, Modern Maturity (now AARP The Magazine), Fortune Small Business and other publications. For 12 years, Garland was a Washington-based correspondent for BusinessWeek, covering the White House, national politics, social policy and legal affairs. Garland is a graduate of Colgate University.