5 Ways to Better Connect with Female Investors
Some financial advisers are missing the boat when it comes to helping women with their money. Here are some ways they're coming up short, and some things female investors should expect from the professional they've hired.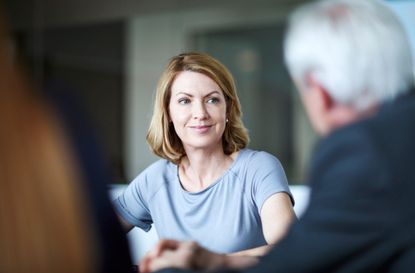 (Image credit: ©John Widgoose 2015)
It's amazing when you think about it, that in 2017, there's still a pretty broad belief out there that women aren't interested in dealing with finances — particularly when it comes to investing in their futures.
As a woman who's been in the male-dominated financial industry for more than 30 years, I can tell you that just isn't true. It isn't that women are indifferent; it's that all too often financial professionals struggle to find a way to connect in a way that's meaningful to them.
When the delivery is condescending, over-technical, or part of a too-slick sales pitch, a woman's eyes tend to glaze over, and she'll just want to scream: "But what does this have to do with my family, my fears and my goals?!"
Subscribe to Kiplinger's Personal Finance
Be a smarter, better informed investor.
Save up to 74%
Sign up for Kiplinger's Free E-Newsletters
Profit and prosper with the best of expert advice on investing, taxes, retirement, personal finance and more - straight to your e-mail.
Profit and prosper with the best of expert advice - straight to your e-mail.
Here are some ways our industry could improve the way it approaches women:
1. Don't talk at, over or down to a woman who comes to you for advice.
If she comes in with her husband, spend as much time looking at and speaking to her as you do him. She may sit there quietly, but it's likely she has opinions and questions, so draw her in and ask if she has concerns. She probably knows just as much as or more than her husband about their day-to-day family finances, and can offer information that will help you build a more realistic retirement plan.
2. Be an empathetic educator.
If a woman doesn't have a handle on her portfolio, it might be because that wasn't her role in the family. If her situation was more traditional, she probably was taking care of other things and was told over and over, "Don't worry, I'll take care of you." Then suddenly, she's a widow or divorced and is on her own without any idea about what she has or what to do with it. That doesn't mean she can't be informed. Women have great instincts. Empower her to make her own decisions by talking about retirement planning in matter-of-fact terms that calm her fears and let her know she always has a say.
3. Be reliable.
Keep the lines of communication open: Answer the phone when she calls — and call her from time to time just to check in.
4. Communicate effectively.
When you meet, make it a conversation, not a monologue, and afterward stay up to date on changes in her life. Remember the details that are meaningful to her: What does she want to do in retirement? What is her tolerance for risk vs. that of her spouse? And what kind of legacy does she want to leave for her family or her favorite charity?
5. Be honest.
Drop the ego and the sugary sales pitch; it's not about you. A woman likely won't care about what you've done for other clients — she wants to know what you can to do to help HER. How will you help keep her money safe? How will you help it grow? How will you help make sure she has enough if her spouse dies and she's living on one Social Security check and a smaller pension? How will she pay for a nursing home if she or her husband gets sick? Don't tell her what she wants to hear — tell her what she needs to know. Women appreciate transparency.
Women are actually pretty great about listening to advice, but it helps to be respectful and relevant. They want to work with someone who is technically skilled but also emotionally astute. And if they can find that person, someone they can trust, they'll stay loyal and engaged.
Investment advisory services offered only by duly registered individuals through AE Wealth Management, LLC (AEWM). AEWM and Family Focus Financial Group are not affiliated companies.
Kim Franke-Folstad contributed to this article.
President & Owner, Family Focus Financial Group
Kathleen Nolan, an Investment Adviser Representative and insurance professional, is president and owner of Family Focus Financial Group (opens in new tab) Family Focus Financial Group in Wall, N.J. The firm offers clients a wealth management process that includes investment consulting, wealth preservation, tax strategies, income planning and asset protection. Managing relationships with clients' other professionals is also an integral part of the process.