Small-Business Success Story: The BattleAxe
This retired Navy pilot teaches her civilian clients how to take command.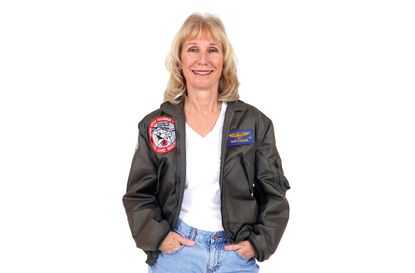 (Image credit: © Karen Pulfer Focht-ALL RIGHTS RESERVED-NOT FOR USE WITHOUT WRITTEN PERMISSION)
Kiplinger's spoke with Karen Baetzel, an Arlington, Tenn.-based leadership development consultant, about what led her to entrepreneurship after a successful career as a Navy pilot. Read on for an excerpt from our interview:
What exactly do you do? I teach and speak about leadership development and consult with clients in the corporate, government and nonprofit worlds. My clients have included Microsoft, Domino Sugar, AmeriCorps and the departments of Defense and State.
You were a career Navy pilot? I retired as a captain in 2008 after 16 years of active duty and 14 years in the reserves while I was raising my two children. I qualified to fly helicopters and propeller and jet aircraft.
Subscribe to Kiplinger's Personal Finance
Be a smarter, better informed investor.
Save up to 74%
Sign up for Kiplinger's Free E-Newsletters
Profit and prosper with the best of Kiplinger's expert advice on investing, taxes, retirement, personal finance and more - straight to your e-mail.
Profit and prosper with the best of Kiplinger's expert advice - straight to your e-mail.
What inspired your second act? I did a lot of community and nonprofit work while I was raising my family, and I realized that the civilian world was desperate for the management, leadership and "followership" principles that I had spent 30 years learning. That is, in the military, we're groomed to lead but expected to follow, too, and we're taught how.
Why is BattleAxe your brand? As I became more senior and in charge of training initiatives, my colleagues called me, with great reverence, the Old BattleAxe -- meaning an older (check), married (check), protective (check), sharp-tongued woman (check). I didn't see anything about that description I didn't love, so I embraced it. My motto is "Sharpening leaders."
What lessons do you teach? People come to me and say, "I want to develop more confidence." I say, "Stop trying to develop confidence and work on developing competence." Confidence is a lagging indicator of competence. Get good and you will feel good. There's no hack to this.
How did you launch the business? I knew I wanted to build a solo practice with complete control over my time, travel and client list. I took a job as a subcontractor for a couple of years, read a lot of books and joined Toastmasters (opens in new tab) to refine my speaking ability and presentation. I also joined a speakers bureau, Women Veteran Speakers (opens in new tab). I spent between $15,000 and $20,000, which included the cost of my website [www.truebattleaxe.com (opens in new tab)], promotional materials, 21st-century equipment to replace my old PC and dial-up modem, and a business coach.
Any missteps? I built a horrible website and a terrible one-page promotional fact sheet to market myself. Then I hired a marketing and graphic design firm, which took my money and didn't do a good job. What I needed was a competent coach with a proven track record who knew my business. Once I hired the right one, he helped me improve my marketing materials and price myself properly.
You were charging too little? Yes. My coach said, "Are you crazy? People with far fewer credentials than you are making 10 times what you're charging." Now I charge $5,500 for a one-hour keynote speech. But I also do pro bono work for veterans' groups.
Do you foresee a third act? My husband, Bernie, and I were just blessed with our first grandchild. I want to be an exceptional, if not extraordinary, matriarch.
Contributing Writer, Kiplinger's Personal Finance
Esswein joined Kiplinger in May 1984 as director of special publications and managing editor of Kiplinger Books. In 2004, she began covering real estate for Kiplinger's Personal Finance, writing about the housing market, buying and selling a home, getting a mortgage, and home improvement. Prior to joining Kiplinger, Esswein wrote and edited for Empire Sports, a monthly magazine covering sports and recreation in upstate New York. She holds a BA degree from Gustavus Adolphus College, in St. Peter, Minn., and an MA in magazine journalism from the S.I. Newhouse School at Syracuse University.