6 Surprisingly Simple Ideas That Made Millions
A winning business idea doesn't have to be complicated or technical to be successful.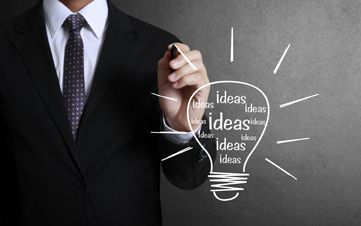 (Image credit: Thinkstock)
A winning business idea doesn't have to be complicated or technical to be successful. In fact, arduous business strategies and lengthy execution time can be a commercial inventor's worst enemy. Seeing opportunities right under your nose can reap great benefits.
Consider Arthur Fry and Spencer Silver, creators of 3M's ubiquitous Post-it Notes. Their idea for memo paper that you can stick to just about anything, which hit stores in 1980, helped contribute to the company's $29.9 billion in net sales for 2012 (Fry and Silver have since retired.) Or take Spanx's Sara Blakely, whose vision in 1998 for a new type of women's shapewear revolutionized the undergarment industry and made her a billionaire. These are examples of how commonplace business ideas can strike a chord with consumers and generate huge sales.
The six no-frills concepts featured here all helped their inventors make millions. Take a look.
1/7
Drybar
What it is: A women's salon that specializes in blowout hairstyling for less
Created by: Alli Webb and Michael Landau
Launched: 2010
Estimated annual retail sales (2014): $60 million
Webb, a Los Angeles hairstylist, quit working full-time in 2008 and was a stay-at-home mom when she came up with an idea to earn some extra cash: Why not focus exclusively on blowouts, a salon service she could take to her clients' homes? Her services were soon so in demand that she approached her older brother, Michael, about starting a brick-and-mortar salon. They would offer a blowout for just $40 (versus up to $100 at more upscale establishments) and offer some of the fancy extras that clients might expect from pricier salons: a swanky bar layout with champagne and trendy music playing. Landau was working at Yahoo at the time and admits he wasn't too keen on the idea. "I'm a man and I'm bald, so I didn't get it," he says. "But Alli felt very strongly about it and convinced me to give her [$250,000] to start the business."
The brother and sister opened their first location in Brentwood, Cal., in 2010 and generated $1 million in sales that year. Today, there are 35 Drybar locations nationwide; the shops serve 100,000 clients a month on average, according to Landau. He attributes their rapid growth over the past year to a new line of hairstyling products and tools that are sold at Sephora and on the QVC channel, as well as at Drybar locations.
Even Landau is amazed: "It was something that was never meant to be a huge business," he says.
2/7
Snuggie
What it is: A fleece blanket with sleeves
Created by: Allstar Products Group
Launched: 2009
Annual retail sales: The company declines to disclose exact sales revenue, but says 30 million blankets have been sold to date.
You've probably seen the TV commercials for the Snuggie, which retails for $14.99. "It's definitely one of those ideas that's so simple that a lot of people might say to themselves, Why didn't I think of that?" says Scott Boilen, founding member and president and CEO of Allstar Products Group, a Hawthorne, N.Y.-based consumer products company.
Allstar, which is privately-held, also produces other "as seen on TV" products, such as the Bacon Bowl and Magic Mesh, but none has the name recognition of the Snuggie. "It had actually been around in various forms for a few years with similar products available in the backs of catalogs, but nobody really knew about them," Boilen says. His company decided to create its own version, marketing it with those infamous infomercials. The campaign was so over the top that people started posting parody videos on YouTube, which attracted millions more views, boosting viral marketing. Boilen says sales have remained steady after the first-year spike.
"I think what clicked for consumers is that the Snuggie appealed to everyone," Boilen adds. "Doesn't matter if you're a kid, a senior citizen, a mom, a guy -- everyone can wear one. The market potential was limitless."
3/7
K'Nex
What it is: Creative construction/building toys
Created by: Joel Glickman
Launched: 1992
Annual retail sales (2013): $200 million
Glickman, who had worked in his family's plastic business, was fiddling around with some drinking straws at a wedding reception in 1990 when the idea for a building toy hit him, and he spent two years developing the concept. Glickman's construction set added an extra dimension of wheels, pulleys and gears to more traditional concepts pioneered by Lego and Lincoln Logs. Several companies, including Hasbro and Mattel, turned him down. But his idea clicked with Toys 'R' Us, which began carrying his line in 1993.
K'Nex quickly became a household name. Children could build miniature roller coasters and awesome mini vehicles. "No other construction-toy company at that time had a product like ours," says Michael Araten, president and CEO of K'Nex and Glickman's son-in-law.
Araten says that toys like K'Nex engender a feeling in kids "unlike anything they get from playing with a video game or prefinished product." The company's products are available in more than 35 countries worldwide.
4/7
Doggles
What it is: Protective goggles for dogs
Created by: Roni Di Lullo
Launched: 1997
Estimated annual retail sales (2014): $4 million
Sunglasses for dogs? It all happened by chance one sunny afternoon when Di Lullo was in a park playing Frisbee with her border collie, Midnight. She noticed that her pooch was squinting and having trouble catching the toy because of the glare. That sent her to the drawing board to develop a prototype based on a pair of human goggles. Midnight took to the goggles and was able to frolic outside with no issue.
Other pet owners Di Lullo would meet while out with Midnight took an interest in the invention, which persuaded her to start selling the specs online. Initially, she devoted just a couple of hours a week to product development and marketing while working full-time as a software developer in Silicon Valley. It wasn't until 2001 that she finally realized she was on to something. That year, Doggles received its first big order from PetSmart, the pet-supply store chain.
"Back then, I didn't understand all of the various eye diseases dogs suffer from, so I didn't have a grand plan," she says. With some research, she discovered that there was no other company offering protective dog glasses. Di Lullo now has a patent for Doggles, which made $3 million in retail sales last year. Her company also distributes through Amazon, Petco and 3,500 mom-and-pop pet stores and outlets worldwide. Retail cost: $13.99-$20.99. Di Lullo also now offers a line of cat products, which includes toys and catnip.
5/7
1-800-GOT-JUNK
What it is: A trash removal service
Created by: Brian Scudamore
Launched: 1992
Estimated annual retail sales (2014): $148 million
Scudamore was a struggling college student looking to make some extra cash when he bought his first truck for $700. The Vancouver, Canada, native saw a golden opportunity in hauling away the big stuff, such as furniture and appliances. Service calls picked up, so he decided to drop out of Concordia University in Montreal to run the company full-time. "I was learning more about business by actually working than being in school. My father thought I was out of my mind," says Scudamore, 44.
By 1995, he had branched out to nearby Victoria, Canada. A move to the U.S. with a Seattle operation followed in 1997. Two years later, the company became a franchisor, making its first million in profits nearly eight years after 1-800-GOT-JUNK was founded, "There's that old saying that it takes a while before you become an overnight success, and that's how it happened for us. Once we made our first million, the business really began to take off," he says. Today, there are 173 1-800-GOT-JUNK franchises, and the company posted revenues of $137 million last year.
Scudamore says that there's really no "secret sauce" when it comes to refuse disposal: "We're all consumers and we like to buy stuff. At some point, you need to get rid of that stuff." His company now also offers services such as WOW 1 Day Painting, a same-day painting service, and You Move Me, a home moving service. Both are also franchisors.
6/7
Hint
What it is: Fruit flavored H2O
Created by: Kara Goldin
Launched: 2005
Estimated annual retail sales (2014): $50 million
After leaving her job at AOL in 2001, Goldin, a wife and mother of three, developed an interest in healthy foods and beverages. A longtime diet-soda drinker, she found it difficult to give up artificially sweetened drinks. "I aspired to drink plain water but found it boring," Goldin says. So she started adding fresh fruit to her water, giving it a flavor that she, her husband and her kids enjoyed.
Goldin researched to see if there were similar beverages on the market and found none. So she invested $50,000 of her savings to launch a drink company. Her big break: A local Whole Foods store in San Francisco agreed to distribute the product a year later. By 2007, Whole Foods started distributing Hint water in all its grocery stores nationwide.
Over the years, Goldin has also developed beverage-dispensing partnerships with some of Silicon Valley's biggest tech companies, including Google, Twitter, Facebook and Square. Hint has become a popular choice among their health-conscious millennial employees, she says. The company is privately-held, and Goldin declined to disclose specific financial information pertaining to 2013 sales. However, in a recent Wall Street Journal article the company projects retail sales for 2014 at $50 million.
So, how did a sugar-free water beverage become so popular -- and profitable? Most big drink companies focus on products that are sweet, Goldin says, while Hint's pitch has always been about health. "There are lots of consumers who have to drink water for health reasons -- they absolutely cannot have drinks loaded with sugar. We're one of the very few options they have." In May, Hint is set to launch an e-commerce platform, which will allow consumers to order and ship the beverage (in large quantities) directly to their homes.
7/7

Browne Taylor joined Kiplinger in 2011 and was a channel editor for Kiplinger.com covering living and family finance topics. She previously worked at the Washington Post as a Web producer in the Style section and prior to that covered the Jobs, Cars and Real Estate sections. She earned a BA in journalism from Howard University in Washington, D.C. She is Director of Member Services, at the National Association of Home Builders.