Boehner's Resignation Makes Government Shutdown Less Likely – For Now
Bigger fights over the federal budget are in store amid divided Republicans in Congress.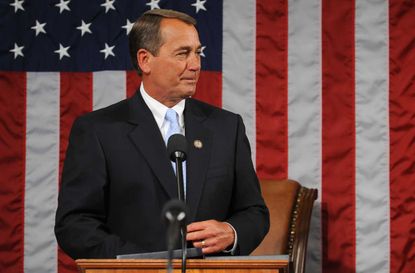 (Image credit: This official Speaker of the House photograph is being made available only for publication by news organizations and/or for personal use printing by the subject(s) of the photograph. The phot)
House Speaker John Boehner's surprise decision to quit lessens dramatically the chance of a federal shutdown next week.
Boehner, no longer needing to worry about his political future, can ignore conservative Republicans who want to block government funding for Planned Parenthood and pass a budget with the help of House Democrats and a relative handful of Republicans by the time the new fiscal year starts Oct. 1.
Before the Ohio Republican's announcement this morning, a shutdown seemed imminent. A budget that eliminated money for Planned Parenthood would have been blocked in the Senate or been vetoed by President Barack Obama, leaving the government with no money to keep nonessential programs operating.
Subscribe to Kiplinger's Personal Finance
Be a smarter, better informed investor.
Save up to 74%
Sign up for Kiplinger's Free E-Newsletters
Profit and prosper with the best of expert advice on investing, taxes, retirement, personal finance and more - straight to your e-mail.
Profit and prosper with the best of expert advice - straight to your e-mail.
But Boehner's move merely delays the inevitable. Barring more surprises, the new spending agreement will expire in December. That sets up another budget fight that will overlap with the need to raise the federal debt ceiling and a vote to reauthorize the Export-Import Bank.
And lawmakers will have to do it all over again about this time next year, just ahead of the presidential election to determine Obama's successor.
No matter who replaces Boehner, GOP infighting won't cease. The next speaker will still be on a tightrope, trying to appease both pro-business Republicans and the more strident, more vocal tea party types.
So a shutdown remains likely at some point, though it will now probably occur later rather than sooner. When it does happen, most of the blame will fall on Republicans, much to the delight of Democrats and to the dismay of many Republican lawmakers and officials. But others in the GOP welcome a prolonged argument over the party's future, even if it undercuts Republican chances of winning the White House next year.
When the smoke finally clears, a short-term agreement on the budget will boost federal spending for both defense and domestic programs. The spending caps of sequestration, which led to deep cuts in recent years, remain on the books, but they'll be breached--if not next month, then later this year, when Congress looks to settle spending through Sept. 30, 2016.
The extra money will help some businesses, especially defense contractors and the legions of subcontractors that scramble for slices of nearly every government project. But the uncertainty over spending in the coming year will sow confusion and might result in job losses. If the Export-Import Bank isn't renewed, for example, some U.S.-based companies say they will move thousands of jobs to facilities in Europe or elsewhere.
The longer Congress goes without passing a full-year budget, the more power it cedes. The short-term resolutions that have become standard in recent years allow spending priorities to be shaped by bureaucrats who have some authority to move money around inside federal agencies.
Those temporary funding measures won't end until Obama leaves office. The political atmosphere is too poisoned, and the presidential election is too close on the calendar.
A new speaker – possibly House Majority Leader Kevin McCarthy (R-CA), the current number two – won't speed up that process.
Senior Associate Editor Richard Sammon and Associate Editor Pamela M. Prah contributed to this report.
See Our Slide Show: 11 Common Medicare Mistakes

Deputy Managing Editor, The Kiplinger Letter
Morris has covered every presidential election since 1984 and has been based in Washington since 1994. Before joining Kiplinger in 2010, he directed exit polling operations for The Associated Press, was chief White House correspondent for Bloomberg News and was managing editor and executive editor of National Journal's CongressDaily. He was also assistant director of the polling unit for ABC News, worked for three Pennsylvania newspapers and directed AP's bureau in Sacramento, Cal.