The 2020 Election and Your Money
We've assessed how the presidential candidates' stances on financial issues will affect your wallet.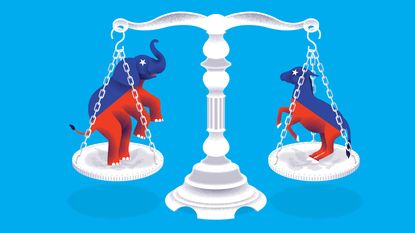 (Image credit: Illustration by Neil Webb)
Whether the upcoming presidential election is a battle for the soul of the nation or the way to keep America great is a question we will leave to you to answer. But the election will have important ramifications for your financial well-being, and we're all over that agenda. How will each of the candidates help steer the economy? What might your tax bill be? Is your portfolio headed for gains or losses? For those questions, the person living at 1600 Pennsylvania Avenue for the next four years matters.
At the start of the year, a sound economy, rock-bottom unemployment rates and a roaring bull market made it Donald Trump's election to lose. Then came the coronavirus pandemic, exacting a vast and tragic human toll, putting a dramatic end to the longest economic expansion and bull market on record, and robbing tens of millions of Americans of their livelihood.
It remains to be seen whether voters will renew President Trump's lease on the White House in November, but former Vice President Joe Biden became a more formidable contender over the summer, if you believe the polls and the betting markets. In early July, policy analysts at investment firm Raymond James gave Biden a 55% chance of winning the presidency.
Subscribe to Kiplinger's Personal Finance
Be a smarter, better informed investor.
Save up to 74%
Sign up for Kiplinger's Free E-Newsletters
Profit and prosper with the best of expert advice on investing, taxes, retirement, personal finance and more - straight to your e-mail.
Profit and prosper with the best of expert advice - straight to your e-mail.
But it bears repeating that the circumstances surrounding the 2020 election are unique, and for insights into who will ultimately claim victory, you might be better off asking an epidemiologist than a political consultant. Each of the presidential candidates faces "significant challenges," according to analysts at Wells Fargo Investment Institute. "Voter perception of how President Trump manages the pandemic and economic reopening is key to his reelection bid."
What is clear is that the country has rarely been more polarized. "The U.S. presidential election [is] set to take place against the most tumultuous domestic backdrop since 1968," write analysts at BlackRock Investment Institute in their 2020 Midyear Outlook. "The two parties are as far apart on policy as they have ever been, making the result consequential for markets."
Taxing matters. Taxes will be front and center. A Biden administration would target the 2017 corporate tax cuts for a partial rollback and float the possibility of higher rates on capital gains and dividends, as well as an expansion of payroll taxes for wealthy Americans. That would nick corporate profits and possibly dampen the animal spirits of investors, especially high-net-worth taxpayers, but would be at least partially offset by aggressive economic stimulus, says Solita Marcelli, chief investment officer, Americas, at UBS Global Wealth Management. A Trump 2.0 administration would be incrementally positive for economic growth and the stock market, Marcelli says, counterbalanced by the risk of a re-escalation of trade wars.
Although the presidential candidates loom large during election season, Congress holds the key to big policy shifts. "A clean sweep, whether red or blue, makes a big difference," says Marcelli. "In a divided government, enacting tax and spending legislation becomes more difficult. As a result, regulatory and trade policy become the main policy drivers."
The chances of a blue sweep were rising midsummer, with Raymond James giving Democrats a 50% chance of taking back the Senate and a 95% chance of keeping the House. Republicans are defending 23 seats in the Senate; Democrats, 12. Democrats need to net four seats (or three seats plus the presidency) to flip the Senate. The toss-up Senate races as of July included Arizona, Colorado, Maine and North Carolina.
Expect some heated rhetoric and volatile markets in the run-up to Election Day.
Sandra Block, Lisa Gerstner, Nellie S. Huang and Anne Smith contributed to this story.