Kiplinger's 2020 Election Forecast
For nearly a century, The Kiplinger Letter has forecasted the outcome of presidential elections to keep readers informed of what's coming and what it means for them. Here's our call for 2020.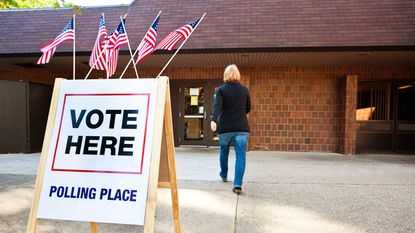 (Image credit: Getty Images)
The presidential election is days away. The likely winner: Joe Biden.
That's not an endorsement. It's just how we see this race shaping up as Biden and President Trump deliver their closing arguments to the American people. (For valuable business, investing, and political insight and forecasts every week, rely on The Kiplinger Letter. Check out a free sample issue, no information required from you.)
Reminder: The winning presidential candidate needs 270 electoral votes. So far, Biden is favored to win 290. We expect him to flip Arizona, Michigan, Pennsylvania and Wisconsin, while holding all the states Democrat Hillary Clinton won four years ago. Odds favor him picking up an extra electoral vote in Nebraska (more on that below).
Subscribe to Kiplinger's Personal Finance
Be a smarter, better informed investor.
Save up to 74%
Sign up for Kiplinger's Free E-Newsletters
Profit and prosper with the best of expert advice on investing, taxes, retirement, personal finance and more - straight to your e-mail.
Profit and prosper with the best of expert advice - straight to your e-mail.
The worst sign for Trump: He's playing defense in states he needs to win. 85 electoral votes are up for grabs -- those in Florida, Georgia, Iowa, North Carolina and Ohio, plus one in Maine (which, like Nebraska, awards some of its EVs by congressional district). Trump must win them all, plus nab at least two states that now lean Biden... tough, but doable. Polls in Arizona and Pennsylvania, for example, point to potentially tight races.
The president managed to pull this off in 2016. It will be harder this time. Democrats are more fired-up, boosting turnout among the party faithful. Biden is doing well with independents, white women and seniors, all groups that Trump won in 2016, but some of whom have soured on him over four years.
And there are fewer undecided voters this time around, reducing the odds of a late surge in Trump's favor, like the one that powered him to victory in 2016.
Could the race change? Yes. Biden must contend with his own liabilities, including ambivalence among younger voters and his son's sketchy lobbying activities. But to win a second term, Trump needs a lot of things to go right... and fast.
Swing-States Forecast
The president faces tough odds in a couple of key states:
Wisconsin, which he won by a slim margin in 2016, thanks to strong support from white working-class voters. Democrat Hillary Clinton lost Wisconsin in 2016 largely because black voters stayed home in larger numbers than normal. In our final tour of battleground states, we saw more enthusiasm in Wisconsin for Biden this time around, though nothing like the support for former President Barack Obama in 2008 and 2012.
Minnesota. Trump fell just short there in 2016 and is hoping to flip it in 2020. In rural Minnesota, Trump support is strong but not unanimous, while he is losing ground in some of the state's fastest-growing suburban areas, a recurring theme nationwide.
Trump's Path to Victory in 2020?
So what is Trump's best path to victory? First, he needs all the toss-ups that we identify on our map -- Florida, Georgia, Iowa, North Carolina, Ohio -- to go his way. Losing any of them would make his task truly daunting. Winning all of them gets him within striking distance of 270 Electoral College votes. At that point, he'll need to pick off a couple of states Biden appears to be winning. That's possible, if some of the state polls turn out to be as bad in 2020 as they were in some of the states that unexpectedly powered him to victory in 2016.
Or logistical snafus may shift a Biden-leaning state his way. In some states, the huge increase in voting by mail is going to pose problems for voters. Some ballots will inevitably get rejected because the voters didn't follow the instructions, for instance.
And there's always the chance of a late-October surprise that flips the race. Whether it's the odd Hunter Biden laptop story or something else, we just don't know. (For valuable business, investing, and political insight and forecasts every week, rely on The Kiplinger Letter. Check out a free sample issue, no information required from you.)
2020 Election Forecast for the House and Senate
With all eyes on the race for the White House, don't forget about Capitol Hill.
Democrats have a good shot at regaining control of the Senate. To do so, they need to net at least three seats if Biden wins the presidency (since vice presidents cast deciding votes when the Senate is tied), or four seats if Trump wins reelection. Given the many races where the Democrat is leading, a four-seat gain looks likely. But they'll fall well short of the 60 seats needed to overcome filibusters of legislation.
Senate Democratic candidates have bulging campaign coffers, an advantage that is helping them blanket the airwaves with ads in the closing weeks of the race. The party has recruited more-competitive candidates this cycle.
Republicans are playing defense in states they would normally win easily, such as South Carolina and Georgia. Competing in those states siphons money from the swing states.
On the House side, expect Democrats to hold the majority or even add seats. Again, they have the fund-raising edge and are making inroads in suburban districts.
Our Forecasting Methods
Readers sometimes ask: What are The Kiplinger Letter's election forecasts based on?
Polls, yes. But not just a straight reading of the polls. Some are better than others, in our view and in the view of experts we consult. So, some polls get more weighting than others, some get less, and some get thrown out. Deciding which ones to pay the most attention to is part science, part art. (After 2016, if most polls are off this year, pollsters will be looking for new jobs.)
Then, beyond the polls: Our reporters talk with many people. Some are experts on polling or longtime observers of presidential campaigns. Some are contacts from our regular reporting who happen to live in battleground states...not politicos, but smart, informed citizens who share their local observations with us.
Most important, we conduct our own reporting in swing states, talking to voters wherever we can, plus local political scientists, journalists who know the area, etc. Polls can tell you only so much. There is no substitute for knocking on doors, asking regular folks for their candid opinions. Our team covered hundreds of miles across six states in recent weeks, talking to whomever we could along the way, counting yard signs, listening to local radio…anything to get a feel for the race.(For valuable business, investing, and political insight and forecasts every week, rely on The Kiplinger Letter. Check out a free sample issue, no information required from you.)