8 Ways You Might Be Cheating on Your Taxes
Don't cross the line when it comes to your taxes. Avoid these common traps that can get you in hot water with the IRS.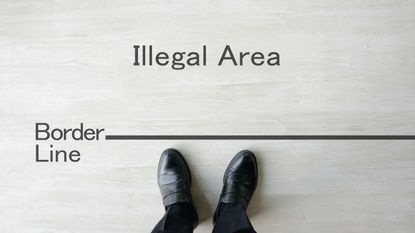 (Image credit: Getty Images)
Whether we're pointing out frequently overlooked tax breaks, explaining how retirement income is taxed, or helping you avoid an audit, the editors here at Kiplinger want you to trim as much off your tax bill as legally possible. But note the word legally. Yes, we want you to beat the IRS and save as much as you can on taxes, but only by obeying the nation's tax laws. Save where you can…but pay what you legitimately owe.
Sometimes, though, people don't always strictly follow the law when filling out their tax return. Of course, there are out-and-out tax cheats who purposely avoid paying the IRS what they owe under the law. However, in most cases, people who don't pay all the taxes they legally owe do so unintentionally. Both the tax code and IRS forms are complicated, so it's easy to make an honest mistake if you're not careful. We know our readers don't intentionally violate the tax laws. (Otherwise, you wouldn't be coming to us for advice on how to comply with the law.) But we don't want you to make any accidental errors, either. So here are 8 mistakes to avoid so you don't inadvertently cheat Uncle Sam on your taxes.
1/8
Not Reporting Taxable Income
Failing to report all your taxable income on your tax return is a big no-no. The general rule is that all income is taxable unless it's specifically exempt by law. That includes income that isn't reported on a W-2 or 1099 form. So, if you receive some odd income here or there, make sure you declare it on your return.
Taxable income can be in the form of money, property or services. (For property and services, report the fair market value.) For example, you have reportable taxable income if you received a few bucks for a side job, pocketed a fee for jury duty, won tickets to a football game as a door prize, or bartered your way to free haircuts for a year. In most cases, you'll report the cash or fair market value of noncash items as "other income" on Schedule 1 (Form 1040) or, if you're running a business, on Schedule C (Form 1040).
IRS Publication 525 lists various unusual sources of income that are taxable. Check it out if you're not sure about money, property or services you received.
2/8
Failing to Report Tips
If you're a waiter, bartender, taxi driver, caddy or other person who regularly receives gratuities, you know how important those tips are to your financial well-being. But if you're not reporting tips to your employer, or not declaring them on your tax return, then you're skirting the tax laws.
Tips are a special form of taxable income, in that it's your responsibility to report them to your employer if you receive at least $20 in tips during the month. Why? So your employer can (1) withhold federal income and payroll taxes, and (2) report the correct amount of your earnings to the Social Security Administration (which affects your retirement and disability benefits). If you don't report tips to your employer as required, you can be hit with a penalty equal to 50% of the payroll taxes you owe on the unreported tips. And that's in addition to the regular income taxes you owe. (Tips you reported to your employer are included in the wages shown in box 1 of your W-2 form.)
The IRS suggests keeping a daily record of cash and credit card tips you receive from customers or other employees. You should also keep a record of any tips you paid to other employees through tip sharing, tip pooling or other arrangements. If you keep daily records, you'll have the proof you need if the IRS questions the amount of your tip income for the year.
3/8
Paying Household Employees Under the Table
There are pages and pages of IRS rules and regulations that business owners must follow for reporting and withholding from employee wages. But what if you hire a nanny, gardener, maid or other person to do work in or around your home? Do you have wage reporting and withholding responsibilities, too? Yeah, you do if you control not only what work is done, but also how it's done, because the worker is then your employee. (If the worker controls how the work is done, he's self-employed and not your employee. If an agency or other business provides the worker and controls what work is done and how it's done, the worker is not your employee, either.) If you're not reporting your household employee's income and withholding taxes as required, the IRS isn't going to be happy.
One thing that's different from the traditional employer-employee relationship is that you're not required to withhold federal income tax from wages paid to a household employee. But you can withhold income taxes if the employee requests it. In that case, the employee will need to give you a completed Form W-4.
If you pay $2,300 or more in 2021 to a household employee ($2,200 for 2020), you're required to pay Social Security and Medicare taxes on the worker's wages. Your bill for this comes to 7.65% of the wages. The employee also owes 7.65%, which you'll need to withhold from his or her paycheck and send to the IRS (although you can choose to pay it yourself and not withhold it).
Plus, if you pay $1,000 or more in any calendar quarter to a household employee, you also have to pay a 6% federal unemployment tax on the first $7,000 of his or her wages. (You may also owe state unemployment tax.) Any wages over $7,000 to an employee during the year aren't subject to the tax.
You'll have to file Schedule H if you pay Social Security, Medicare or unemployment taxes, or if you withhold federal income taxes. You'll also have to submit a W-2 form for each household employee for whom you paid Social Security or Medicare taxes, or for whom you withheld federal income tax.
4/8
Overvaluing Charitable Deductions
You donate a bag of used clothes to the Salvation Army, and they hand you a receipt for tax purposes...but the receipt doesn't tell you how much the donated items are worth. It's up to you to figure that out. So, when it comes time to claim a charitable deduction on your tax return, you just guess at the value of your donation.
It's often a good bet that you're overvaluing the donation—and cheating the government out of tax revenue in the process. Let's say you paid $400 for donated clothes when they were new. You know they're not worth as much now, but you're not sure how much less. So you just put down $200. Half of the original price seems reasonable, right? Most likely, your estimate is way too high. Used clothes and other personal items are usually worth far less than the price you paid for them.
So how do you properly value donated items for purposes of the deduction for noncash gifts to charity? You need to determine the donation's fair market value (FMV) on the date of the contribution. The FMV is the price that property would sell for on the open market. As an example, to get a sense of the FMV of used clothing, check out the price of similar items in a consignment shop or thrift store. (Some tax software products have tools that help you determine the value of donated items.) For pricier items, you can get an appraisal. In fact, appraisals are generally required for donated property if you claim a deduction of more than $5,000 ($500 for certain clothing or household items).
If you donate a motor vehicle, boat or airplane with a claimed value of more than $500, you can deduct the smaller of (1) its FMV on the date it was donated, or (2) the amount received from its subsequent sale by the charitable organization. You'll also have to file Form 8283 (required for all noncash gifts over $500) and submit an acknowledgment statement from the charitable organization with your tax return.
Check out IRS Publication 561 for guidance on how to value a wide variety of donated property.
5/8
Improper Deductions for Volunteer Work
Speaking of charitable contributions...you can't deduct the value of your time or labor when volunteering for a charitable organization. You're cheating the government if you try to write that off.
Volunteers generally can't deduct travel expenses (including meals and lodging) while away from home, either. The exception is if there's no significant element of personal pleasure, recreation or vacation in the travel.
There's some good news for volunteers, though. You can deduct the cost of any materials you donate. If you drove to and from your charitable work, you also can deduct the actual cost of gas and oil or 14 cents per mile. Parking and tolls are deductible, too. However, don't deduct any costs that were reimbursed.
6/8
Deducting Hobby Expenses
Suppose you have a fun side activity that also brings in a little extra cash—say, for example, making and occasionally selling homemade jewelry. The money you receive from selling the jewelry is taxable income. But what about the related expenses? Are they deductible? If you write them off as business expenses on Schedule C, you might be cheating on your taxes.
Whether you can deduct the expenses depends on whether your activity is actually a business or just a hobby. If you're running a bona fide business, then related expenses are deductible on Schedule C. If it's a hobby, then no deduction is allowed. (Before 2018, you could deduct hobby expenses as an itemized deduction, up to the amount of hobby income, to the extent it exceeded 2% of your adjusted gross income.) So, you may ask, how do you distinguish between a business and a hobby? It depends on your reason for engaging in the activity. You run a business to make a profit. You take up a hobby for recreation or pleasure.
Whether an activity is a business or a hobby is judged on a case-by-case basis. But the IRS looks for certain business-like characteristics to determine if you're in it to make a profit. For example, the IRS might want to know if you maintain complete and accurate books and records, put in sufficient time and effort to make the activity profitable, depend on income from the activity for your livelihood, change your methods of operation to improve profitability, or rely on experienced advisers with the knowledge to help you carry on the activity as a successful business. The IRS will presume an activity is carried on for profit if it actually produced a profit in at least three of the past five tax years, including the current year (or two of the past seven years for breeding, training, showing or racing horses).
7/8
Forgetting to Report Gambling Winnings
You might not know that gambling winnings are taxable income. So, if you won a few bucks at the casino or had a good day at the track, you're swindling the government if you don't report your winnings as "other income" on Schedule 1 of your Form 1040 tax return. (If you win a noncash prize, such as a car or a trip, report its fair market value as income.) You may even receive a W-2G form from a casino or other gaming business if your winnings are at least $600 and the payout is at least 300 times the amount of your wager. If so, remember that the IRS gets a copy, too.
On the bright side, you might be able to deduct some or all of your gambling losses. There are some restrictions, though. You have to itemize on Schedule A to take the deduction, and you can't deduct more than the winnings you report on your return. But, hey, at least there's something to help offset the added tax from your good luck.
One other point: Gambling winnings and losses have to be reported separately. Say, for example, you placed four separate $10 bets at the racetrack and one (but only one) of those bets came through for a $50 payout. You can't reduce your gambling winnings ($50) by your gambling losses ($40) and only report the difference ($10) as income. Instead, you must report the full $50 as taxable income and, if you itemize, you can claim a $40 deduction for your losses.
8/8
Expanding the Alimony Deduction
You can deduct alimony that you pay to an ex-spouse, even if you don't itemize, as long as the divorce agreement was in place before the end of 2018. Sounds simple, but sometimes it isn't. If you're taking a deduction for payments that don't qualify as "alimony," then you're underpaying your taxes.
To qualify as alimony, payments to your ex must be required by and spelled out in a divorce or separation agreement. Voluntary payments don't count. Child support is excluded, too. Payments must also end after the death of the recipient spouse. If they don't, then it isn't alimony (whether paid before or after death). Because payments must be in cash (including checks or money orders), noncash property settlements aren't considered alimony, either. Payments that are your ex-spouse's part of community income, payments to keep up your property, and allowing your ex-spouse to use your property also don't qualify as alimony. Again, if you're deducting any of these payments as alimony, then you're not following the tax law.
Note that the 2017 tax reform law made significant changes to the tax treatment of alimony. For instance, payments under a divorce or separation agreement executed, or changed, after 2018 aren't deductible. Nevertheless, there are millions of divorced people in the United States who are still paying deductible alimony under pre-2019 decrees.
Rocky Mengle was a Senior Tax Editor for Kiplinger from October 2018 to January 2023 with more than 20 years of experience covering federal and state tax developments. Before coming to Kiplinger, Rocky worked for Wolters Kluwer Tax & Accounting, and Kleinrock Publishing, where he provided breaking news and guidance for CPAs, tax attorneys, and other tax professionals. He has also been quoted as an expert by USA Today, Forbes, U.S. News & World Report, Reuters, Accounting Today, and other media outlets. Rocky holds a law degree from the University of Connecticut and a B.A. in History from Salisbury University.