The Virtues of Volunteering
To find your niche, focus on activities that pique your interest, and don't overcommit.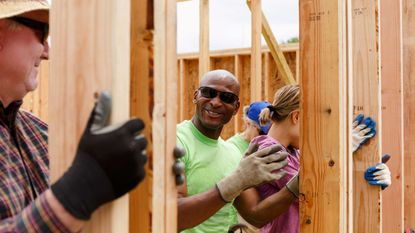 (Image credit: Getty Images )
My column on fulfilling ways to spend retirement continues to generate inspirational responses from readers, many of whom have sung the praises of volunteering. You also volunteered the names of additional service groups that you have found rewarding. I'll cite a number of them for those of you in search of a cause that strikes a chord.
Many of your efforts focus on children. After working for more than 40 years as a registered dietician in hospitals and nursing homes, reader Linda Hall volunteers for Operation Christmas Child, a project of Samaritan's Purse, which delivers gift-filled shoeboxes to children around the world. "I am using my marketing MBA and my organizational and people skills," writes Hall. "Sometimes I think that my training and experience were meant all along to be applied in my volunteer work."
Nila Whitfield, who describes herself as a "teacher wannabe" who always wanted to work with kids, has donated time to Make-A-Wish and A Kid Again, helping families with children facing critical illnesses.
Subscribe to Kiplinger's Personal Finance
Be a smarter, better informed investor.
Save up to 74%
Sign up for Kiplinger's Free E-Newsletters
Profit and prosper with the best of expert advice on investing, taxes, retirement, personal finance and more - straight to your e-mail.
Profit and prosper with the best of expert advice - straight to your e-mail.
Reader Jodie Black requests that I mention her group, National CASA/GAL Association, which has more than 950 local affiliates that train volunteers to work with children in foster care.
Reader Marty Jacobson helps people at the other end of the age spectrum: He was an original member of Seniors vs. Crime, a special task force of the Florida attorney general's office dedicated to prosecuting criminals who defraud elderly Florida residents. Now retired, Jacobson has rejoined the task force, which has 36 offices throughout Florida and more than 200 senior volunteers. "I am very evangelical about working for this group," writes Jacobson.
In addition to being president of a local symphony orchestra, Charles Dye is a mentor with SCORE, a national organ­ization of experienced business­people who counsel small businesses. Says Dye, "I'm 87 and am amazed that I'm still enjoying life."
Team efforts. Some couples have made volunteering a joint activity. Diane and Tom Howlett began renting motor homes for vacations with their kids. Now retired, they participate in Care-A-Vanners, a project of Habitat for Humanity in which RV travelers can visit sites where construction help is needed. Says Tom, "All that is required to join is an RV and a willingness to help out deserving folks who need a house." (The program was suspended because of COVID but is scheduled to resume.)
Carol and Ron Jochimsen have combined volunteering with their faith. The Jochimsens made a two-year commitment to travel out-of-state with Laborers for Christ, a project of the Lutheran Church Missouri Synod, which replaces or repairs small or outdated church structures. "It was a fulfilling activity that took away my desire to be at regular work," says Ron.
Like many of you, Steve Jansen didn't have to travel far afield to find fulfillment in religion. "I lead worship services at a summer chapel and volunteer in the music ministry at my church when the chapel is finished for the season," writes Jansen.
When you consider volunteering, focus on activities that make use of your talents or pique your interest, and don't overcommit. Choose something that allows flexibility if you'd like to travel or have regular family commitments (also a prime volunteer activity). And be on the lookout for opportunities. Says Jansen, "Each day I pray that if God wants me to do more than I am doing, He will reveal it to me and make me passionate about it."

Janet Bodnar is editor-at-large of Kiplinger's Personal Finance, a position she assumed after retiring as editor of the magazine after eight years at the helm. She is a nationally recognized expert on the subjects of women and money, children's and family finances, and financial literacy. She is the author of two books, Money Smart Women and Raising Money Smart Kids. As editor-at-large, she writes two popular columns for Kiplinger, "Money Smart Women" and "Living in Retirement." Bodnar is a graduate of St. Bonaventure University and is a member of its Board of Trustees. She received her master's degree from Columbia University, where she was also a Knight-Bagehot Fellow in Business and Economics Journalism.