Mega Millions Lottery Winners Get a Mega Tax Bill
If you win a Mega Millions jackpot, Uncle Sam will take a big tax bite out of the payout (and your state might, too).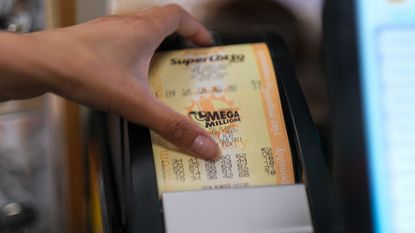 (Image credit: Getty Images)
Mega Millions lottery players are always thinking about what they would do if they won a big jackpot. Invest it? Retire immediately? Go on a shopping spree? Whatever is running through your mind, scale it back some because, in reality, the winner will end up with quite a bit less after taxes on the lottery winnings are taken out. So, if you're holding on to a Mega Millions ticket right now, read this before you come up with plans for the prize.
Federal Income Taxes on Lottery Winnings
Let's suppose a Mega Millions jackpot in 2022 is listed at $100 million. As experienced lottery players know, that's the value of annuity payments over 30 years. If you opt for an immediate lump-sum cash payment, which most people do, your payout will be considerably less. For purposes of our example, let's say the lump-sum payment for a $100 million jackpot is $47 million. That's still a huge chunk of change, but it's not nearly as much as the advertised prize.
Now let's look at Uncle Sam's cut. For 2022, the top federal income tax rate is 37% on income of more than $539,900 for a single person ($647,850 for married couples filing a joint return). If the winner of our hypothetical $100 million jackpot is single and takes the $47 million lump-sum payment, then he or she will owe a little over $17.35 million in federal income tax for 2022. (Note that the amount is less than what it would be if you just calculated 37% of $47 million. That's because, with marginal tax rates, part of the $47 million is taxed at lower rates.) As a result, the winner's spendable winnings after federal taxes are factored are reduced to about $29.65 million. Also be aware that the IRS will automatically take 24% of the winnings right off the top, and the winner will owe the rest at tax time.
Subscribe to Kiplinger's Personal Finance
Be a smarter, better informed investor.
Save up to 74%
Sign up for Kiplinger's Free E-Newsletters
Profit and prosper with the best of Kiplinger's expert advice on investing, taxes, retirement, personal finance and more - straight to your e-mail.
Profit and prosper with the best of Kiplinger's expert advice - straight to your e-mail.
If the winner opts for 30 years of annuity payments of about $3.33 million each, federal taxes will be a bit over $1.19 million in federal income tax per year for the first four years (2022 to 2025). However, the top federal income tax rate is scheduled to rise to 39.6% starting in 2026. As a result, the winner will owe around $1.26 million per year for the remaining 26 payments. All in all, the total federal tax bill will come in at around $37.77 million for the $100 million jackpot spread out over 30 years.
State Taxes on Lotter Winnings
The winner's state may want a piece of the pie, too. Residents of Alaska, Florida, Nevada, New Hampshire, South Dakota, Tennessee, Texas, Washington and Wyoming are off the hook because those states have no income taxes. (Alaska and Nevada don't sell Mega Millions tickets, but residents can buy them out-of-state.) California winners also get a break because the state exempts state lottery winnings from taxes — as long as they buy the winning ticket in California. But if you live in another state where Mega Millions lottery tickets are sold, you'll have to pay state income taxes at top rates ranging from 2.9% (North Dakota) to 10.9% (New York). Also expect some state taxes to be withheld from your jackpot payout if you bought your winning ticket in a state with an income tax.
W-2G Forms
If you win a Mega Millions or other lottery prize in 2022, you'll receive an IRS Form W-2G (opens in new tab) in the mail by January 31, 2023, with your winnings listed in Box 1. The amount withheld for federal and state taxes will also be reported on the form.
And be warned: The IRS will receive a copy of the form, too. So, don't even think about reporting a different amount when you file your 2022 tax return next year!
Senior Tax Editor, Kiplinger.com
Rocky is a Senior Tax Editor for Kiplinger with more than 20 years of experience covering federal and state tax developments. Before coming to Kiplinger, he worked for Wolters Kluwer Tax & Accounting and Kleinrock Publishing, where he provided breaking news and guidance for CPAs, tax attorneys, and other tax professionals. He has also been quoted as an expert by USA Today, Forbes, U.S. News & World Report, Reuters, Accounting Today, and other media outlets. Rocky has a law degree from the University of Connecticut and a B.A. in History from Salisbury University.