GIVE THE GIFT OF FINANCIAL WELL-BEING
Who really needs another tie, picture frame or video game for the holidays?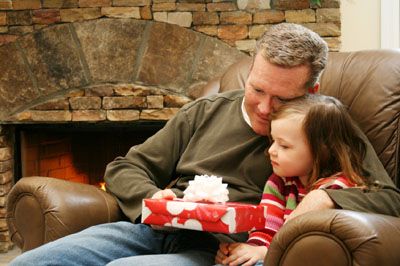 Who really needs another tie, picture frame or video game for the holidays? This year, give the people on your list a gift they really can use -- a sense of financial security.
We know what you're thinking: Financial gifts? They're about as exciting as year-old fruitcake. But stick with us. We've come up with eight creative ideas kids and adults can actually appreciate. These gifts will improve your loved ones' money-management skills, safeguard their finances -- even entertain them.
The best part: All of our picks cost less than $50. Take a look (use the navigation at your right):
1/8
Money-Smart Games
Who says teaching kids about money-management has to be boring? The classic Game of Life ($17.95; Find the best deal (opens in new tab)) has been making finance fun for decades. Kids will understand the pleasure of collecting a salary, or the pain of paying for college, by piling up or depleting stacks of money.
Monopoly is another great classic money game. Increase the "cool" factor by springing for a pop culture edition, such as Transformers Monopoly ($36) or Disney Pixar Monopoly ($30). The kids will have so much fun, they won't even notice they're learning something.
2/8
Fire-Safe Security Box
Give the gift of peace of mind and security with a portable safe for storing and protecting important documents in case of a fire or other disaster. A quality option is Sentry's Fire-Safe® Security Chest ($25; Find the best deal (opens in new tab)).
3/8
Fitness Equipment
It's no secret one of the most popular New Year's resolutions is to get in shape. Well, here's another incentive for shredding pounds: Studies show the healthier you are, the wealthier you'll become (see Want to Get Rich? Get in Shape (opens in new tab)). So a set of hand weights ($12 and up; Find the best deal (opens in new tab)) is the perfect gift for friends and family who are resolving to get healthier and richer.
4/8
Paper Shredder
Help the people you love protect their most valuable asset: their identity. Tearing up documents with account numbers isn't enough -- identity thieves can piece them back together. Look for a crosscut paper shredder so pieces are unreadable and can't be reassembled (Dynex® Crosscut Paper Shredder pictured right, $41.99 at Best Buy). Tip: Men especially love this gift.
5/8
Financial Page-Turners
Help the young adults you care about get a solid grasp of personal finance with one of our top five money book picks (opens in new tab).
6/8
Piggy Bank
Teach kids the value of a penny saved with the Money Savvy Pig from msgen.com ($15.99). The four-chamber piggy bank lets kids set aside money for savings, investing, spending and donating. Even small children will think it's fun to pick up coins lying around the house and drop them in one of these brightly colored banks. They never go out of style.
7/8
Stocks in Their Stocking
Your kids might get a puzzled look on their faces when they pull a stock certificate out of their stockings Christmas morning. But this gift can be a great way to introduce them to investing. Make sure to pick a company they're passionate about, such as the Walt Disney Co. or a video-game retailer.
OneShare.com and GiveAshare.com let you buy single shares and receive a framed stock certificate. Sharebuilder.com lets you buy one share of stock for a fee of $4 per investment (you don't get an actual certificate, just a generic certificate you can download and print).
8/8
Magazine Subscription
For a financial gift that gives all year long, how about a subscription to Kiplinger's Personal Finance magazine? For just $12, you can have 12 issues packed full of trusted financial advice delivered to a loved one's mailbox each month.
We are, admittedly, a bit biased, but we think it makes the perfect gift for any adult on your list.