Best Buys of Winter (December, January, February)
To get the very best deal, you have to know when to buy.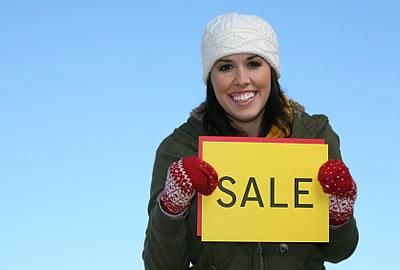 To get the very best deal, you have to know when to buy. Most things are marked down at certain times each year. So planning your purchases to get items when they're at their lowest price can potentially save you hundreds of dollars.
The weather outside might be frightful, but the deals you'll find on a large number of goods in the winter will be absolutely delightful. In particular, many big-ticket items go on sale at this time of year.
Here are 17 things that that you'll find at their lowest prices of the year in December, January and February.
1/18
Cars
Best month to buy: December
You might have heard that September is a good time to buy a car because it's the start of a new car season. This once was true, but new models arrive on car lots throughout the year now, says Kiplinger car expert Jessica Anderson. She recommends that consumers wait until December (even all the way until December 31) to find the best deal on the previous year's models and to have more negotiating room than normal on new-model prices. That's when dealers will be most anxious to achieve both monthly and annual sales goals.
2/18
Champagne
Best month to buy: December
Sometimes, prices on certain items are lowest when demand is highest. That's the case for champagne. Liquor stores mark down bottles of bubbly by 15% to 20% in December because they know people will be buying them for holiday parties, says Luke Knowles, founder of FreeShipping.org (opens in new tab). They use the discounts to get customers into their stores in hopes that they'll buy more than champagne, Knowles says.
3/18
Golf Clubs
Best month to buy: December
In most parts of the country, the winter is off-season for golfers, making it a great time to find a deal on a set of golf clubs. Brett Billick, senior vice-president of Deals2Buy.com (opens in new tab), says national retailers tend to mark down clubs by 40% to 50%.
For more ways to save money on clubs, see Ways to Pay Less for Golf.
4/18
Toys
Best month to buy: December
To get the best price on the most sought-after toys, consumers should wait until December to buy them, Billick says. Retailers typically mark down toys to their lowest prices of the season two weeks before Christmas. But don't wait until the last minute to buy toys because stores tend to raise prices as shoppers become desperate to buy gifts to put under the tree on Christmas day, according to dealnews.com (opens in new tab).
5/18
Broadway Tickets
Best month to buy: January
January and February are good months, in general, to see Broadway shows for less because it's off-season and ticket prices tend to drop. You can also score two tickets for the price of one to several popular shows during Broadway Week in January, which actually lasts two weeks. Some shows will even offer the discount for as long as four weeks, says Erich Jungwirth, chief operating officer of the Lyric Theatre (formerly Foxwoods Theatre), Broadway's largest theater and home to Spider-Man: Turn Off the Dark. This biannual event also happens in September, giving theatergoers another chance to score two-for-one tickets.
6/18
Carpet and Flooring
Best month to buy: January
There's usually a rush among homeowners to install carpet and flooring before holiday gatherings, Knowles says. When demand drops after December, so do prices. So wait until January to tackle this home-improvement project because it will be 20% to 30% cheaper, depending on the brand and type of flooring.
7/18
Caribbean Cruises
Best month to buy: January/February
Book a spring cruise in January or February to get the best deal. There are a couple of low seasons in the Caribbean, including late April through May, says Colleen McDaniel, managing editor of Cruise Critic. Travelers can save hundreds of dollars per person by booking a Caribbean cruise that sets sail in the spring rather than the peak summer or winter seasons. (The other off-peak opportunity is the fall, but you'll face the threat of hurricanes then.)
8/18
Christmas Décor
Best month to buy: January
After staring at Christmas decorations all December, it might be hard to think about stocking up on holiday items. But January is the ideal time to find ornaments, garlands, artificial trees and décor marked down as much as 80%, according to dealnews.com.
If you don't mind the red-and-green theme or chocolate shaped like a wreath, you can also load up on deeply discounted edible holiday treats in January.
9/18
Furniture
Best month to buy: JanuaryMany furniture manufacturers release new styles in February, so retailers must clear out old, bulky inventory in January. You'll see some of the most significant price cuts of the year in January, according to dealnews.com. Billick says some stores have discounts of up to 60%, and many offer incentives such as 0% financing.
10/18
Gift Cards
Best month to buy: January
Several Web sites, such as Gift Card Granny, buy unwanted gift cards from consumers for a percentage of the value and sell them at a discount. There's typically a flood of gift cards being sold to these sites after the holidays, says Knowles, who created Gift Card Granny as well as FreeShipping.org. The glut of inventory on gift-card reseller sites makes it a great buying opportunity for people looking to get better-than-usual discounts on gift cards. For example, we found a $100 gift card to popular teen clothing retailer Aeropostale for $85, a $55 Dick's Sporting Goods gift card for $45 and a $100 Petco gift card for $69.88 at Gift Card Granny (opens in new tab) in January 2014.
11/18
Linens
Best month to buy: January
Department stores and home-goods retailers have long held "white sales" in January featuring discounts on bed linens. Those sales have come to include all sorts of bed and bath products. With discounts ranging from 20% to 75%, according to dealnews.com, white sales are a good time to get sheets, towels and home goods at a great price.
12/18
Video Games
Best month to buy: January
New video games are released in the fall and highly sought after during the winter holidays, Knowles says. By January, demand diminishes, so retailers will drop prices to keep video games moving off the shelves. Knowles says discounts vary depending on how popular the game is, but you usually can expect markdowns of 25% to 30%.
13/18
Winter Apparel
Best month to buy: January
Apparel retailers aim to clear out winter gear and restock their racks by the third week of January, says Billick of Deals2Buy.com. To do so, they have clearance sales and offer plenty of coupons and merchandise promotions, such as two-for-one deals, he says. Expect sales that take up to 80% off winter apparel, and look for coupons that slash up to an extra 60% off the remaining price tag, according to dealnews.com.
14/18
Big-Screen HDTVs
Best month to buy: January/February
November -- Black Friday, in particular -- is the best month for HDTV deals, in general. But for the best prices on big-screen HDTVs (55 inches and up), you need to wait until January or February, when prices can be as much as 10% lower than Black Friday prices, according to dealnews.com. Sales are widespread because electronics retailers are competing to get consumers who are looking to upgrade their TVs before the Super Bowl, Knowles says.
15/18
Fitness Equipment
Best month to buy: January/February
Retailers know that people usually resolve to lose weight in the New Year, so they tend to have sales on fitness equipment in January. According to dealnews.com, you'll find stationary bikes, treadmills, elliptical trainers, complete home gyms, and training accessories and DVDs marked 15% to 60% off – and many deals extend into February.
16/18
Electronics
Best month to buy: February
Didn't get the gadget you wanted for the holidays? February is the time to buy the previous year's models of small electronics, digital cameras and audio equipment on sale because retailers need to unload old models to make room for new models that debuted at the Consumer Electronics Show in January.
17/18
Tax Software
Best month to buy: February/March
You'll see deals on tax software up until the April tax-filing deadline, but the best discounts last year were in February and March, says Louis Ramirez, senior features writer at dealnews.com. For instance, TurboTax Basic, which sold for $39 in January 2013, dropped to $21 in February. The Deluxe and Premier versions dropped to $35 in March from $55 in January.
18/18
Former Online Editor, Kiplinger.com
Huddleston wrote the daily "Kip Tips" column for Kiplinger.com. She joined Kiplinger in 2001 after graduating from American University with an MA in economic journalism.