7 Ways Lidl Is Disrupting Supermarket Shopping
There's a fresh-to-the-U.S.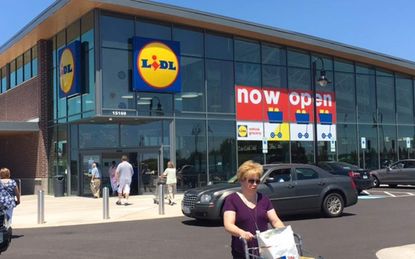 (Image credit: Photo by Bob Niedt)
There's a fresh-to-the-U.S. supermarket chain with a funny name that has some very serious plans for American shoppers. Germany-based Lidl (rhymes with needle) is a deep-discount retailer that started rolling out stores in June. Several locations are already up and running in Virginia, North Carolina, South Carolina and Delaware. Lidl's goal is to open another 100 stores along the East Coast within a year and operate 1,400 across the nation by 2023. The U.S. headquarters is in Arlington, Va.
Lidl may be new to you, but the company is no newcomer. It operates 10,000 stores in 27 countries, and has famously squared off against rival German grocery discounter Aldi in Europe, where it has found immense popularity. (Pub denizens even sing a ballad about Lidl (opens in new tab) in Ireland.) The success of Lidl's business strategy relies on small-but-attractive stores, high-quality store brands, eclectic non-grocery offerings and, above all, super-low prices. If U.S. shoppers embrace the concept, the chain could quickly become a serious threat to a wide swath of retailers, from traditional supermarkets to dollar stores, warehouse clubs to sporting goods stores.
"Lidl's entry into the U.S. is going to be the greatest thing to raise shoppers' standard of living since World War II, more than Amazon, more than plunging energy prices; Lidl will precipitate a price war of unprecedented proportions," says Burt P. Flickinger III, managing director of Strategic Resource Group, a consulting firm specializing in retail and consumer goods.
There's a lot more to learn about Lidl. Sneak a peek.
1/7
Prices Are Hard to Beat – So Far
A pricing study conducted by Deutsche Bank soon after Lidl started opening U.S. stores in June showed that Lidl's prices undercut Walmart by as much as 10% and Kroger by nearly 15%. We visited a new Lidl store in Culpeper, Va., and an Aldi supermarket in Chantilly, Va., in August to compare prices using our own shopping list of 28 common items, from ground beef and hot dogs to cereal, milk, eggs, diapers and bottled water. Lidl's prices beat Aldi's on 12 of the items. The two stores tied on nine. Aldi was cheaper with seven of the items. In all, we found Lidl to be more than 5% cheaper than Aldi.
"Shoppers, and consuming families, will save $5,000 to $5,500 per year (for a family of five) because Lidl will create dramatic, ongoing price declines," says Flickinger, whose consulting firm just completed studies of Lidl's impact in the United Kingdom, the European Union and the United States.
Don't expect competitors to take Lidl's aggressive push into the U.S. lying down. At the same time Lidl was preparing to open its first stores in June, Aldi announced plans to open 900 more stores in the U.S. over five years – it currently has about 1,600 – and spend $1.6 billion to remodel 1,300 of its existing stores.
2/7
You'll Find the Tiny Prices in Tiny Spaces
Those bargain prices are tucked into small spaces. Lidl's U.S. stores are about 21,000 square feet. The median size of a traditional full-line supermarket is about 46,000 square feet, according to the Food Marketing Institute. And that's the median, or middle point, meaning half of all supermarkets are bigger than 46,000 square feet.
You'll navigate only six aisles at Lidl, which makes finding what you're looking for a lot easier. Traditional supermarkets might have four times as many aisles. Lidl stores have high ceilings, natural wood accents and huge, bright windows. It's a stark contrast to the sparse, warehouse-like spaces you'll encounter at most Aldi stores.
A signature touch of Lidl is the front-of-the-store bakery, which Aldi doesn't have. Lidl stores bake their own doughnuts, breads, Bavarian (of course) pretzels, croissants and pastries daily. Expect free samples. You'll also be greeted at the entrance by fresh produce, though no one is paid to arrange it all pretty. As at Aldi, most of it is left in the box it was shipped in, to save time and money.
And once you've seen one Lidl, you've seen them all. There's a single store design.
3/7
Store Openings Are Hard to Miss
The initial crop of grand openings over the summer featured balloon archways, long lines and stiff competition for shopping carts. The earliest arrivals were given free shopping bags – like at Aldi you need to bring your own bags or get charged for bags at checkout – and a chance to win Lidl gift cards. Some shoppers were even greeted by costumed characters including a human-size, logo-emblazed strawberry.
Once Lidl hits in or around your market, you'll hear about it. A lot. Says Flickinger, "Lidl has the best 360-degree use of marketing and advertising we've seen anywhere in the world." The company knows how to effectively place advertising on multiple platforms (print, online and broadcast), he says, to reach its target customers.
"Other than Home Depot and Ace Hardware," says Flickinger, "Lidl is the only power retailer left anywhere in the world that looks at advertising as an investment rather than an expense."
4/7
Store Brands Rule
Ninety percent of the items in a Lidl store are store brands – one store brand to look for is Preferred Selection – with a scattering of national brands. The focus on store brands keeps prices low. It also limits selection. In other words, you won't find five brands of ketchup on the shelves. That's either a pro or a con, depending on your brand loyalty and your thirst for choice.
As at Aldi and Trader Joe's, Lidl's packaging for store brands is cleverly designed. The Lidl potato chip bags look like Lay's; the Lidl country style baked beans cans look like Bush's. I'll admit I was fooled by a two-liter bottle of "Diet Cola," for 82 cents. The label was so similar to actual Diet Coke I thought the Diet Cola was Diet Coke, which was nearby and selling for $1.56.
But low prices on store brands don't necessarily equate to low quality. What goes inside is an upgrade from the generics of yore. Otherwise, customers wouldn't be returning. I tried Lidl's store-branded dried and canned pasta, pasta sauce and two of the wines and can personally attest to the quality and tastiness.
5/7
The (Cheap) Wine Is Good and the (Knockoff) Beer Is Cold
Lidl is upping the ante in the alcohol department. Not only is the wine inexpensive, starting at $2.89 a bottle, but it's also good. Adam Lapierre, a certified Master of Wine (there are only 365 people who have that title), is Lidl's wine director. He estimates he tasted approximately 10,000 bottles of wine to settle on who would bottle Lidl's brands.
For example, Lidl's Allini Prosecco from Italy was recently named "Sparkling Wine of the Year" at a blind tasting run by Purdue University. Its Sinful Grin Petite Sirah from California was chosen best of class. In all, Lidl's wines took home 104 medals from the 2017 INDY International Wine Competition. Wines are organized on store shelves in three categories by price: Everyday Collection (typically under $5); Wine Club ($5-$10); and Sommelier Selection (above $10).
Then, there's beer.
Craving a Bud Light? You can find it at Lidl, right next to the…what's this?...knockoff Bud Light? Indeed. Lidl has its own line, in packaging that looks like Bud Light, parked next to the real thing. Maybe you're into craftier beers, like Blue Moon. Lidl has its version, dubbed Blue Key. In a nod to U.S. shoppers' tastes, beer is sold cold, which is uncommon in Europe.
6/7
You Can Buy Designer Clothing Along With Milk and Eggs
Yes, Lidl is more than a discount supermarket. It's also a house of fashion. That's thanks to style icon Heidi Klum of "Project Runway" fame. Klum's exclusive fashion clothing line, Esmara by Heidi Klum: Heidi and the City, went on sale at U.S. stores in September.
It's part of Lidl's efforts to enhance its non-grocery offerings. Like its groceries, prices are low for Heidi-wear, mostly in the $6.99 to $29.99 range (though you'll be able to strut in a real leather jacket if you pony up $60).
Leather shoes, business-wear slacks, leopard-print hoodies, blouses and more are included in the Esmara by Heidi Klum line, which is only sold at Lidl during periodic "Fashion Weeks," when collections go on sale to Lidl shoppers.
7/7
Aisles Are Full of Surprises
Twice a week, on Mondays and Thursday, Lidl rolls out what it calls "surprises" – while-supplies-last deals on an eclectic mix of non-grocery items. When I was there, the Culpeper Lidl was featuring back-to-school merchandise including notebooks, sneakers and kids' clothing.
Sometimes the surprises are seasonal; other times, just quirky. I've recently seen deep discounts in stores on pressure washers, vacuum sealers and charcoal grills. A quick scan of the latest surprises listed on Lidl.com revealed everything from paella pans for $9.99 to Esmara by Heidi Klum cardigans for $12.99.
"[Lidl is] the most revolutionary retailer I've seen in 35 years," says Flickinger. "Even Dick's Sporting Goods [is at risk], because you can get a soccer ball or baseball bat at Lidl for $3.50 and very high-quality sneakers and footwear, even basic tools that will affect Lowe's and Home Depot."
Online Editor, Kiplinger.com
Bob is a Senior Online Editor at Kiplinger.com. He has more than 40 years of experience in online, print and visual journalism. Bob has worked as an award-winning writer and editor in the Washington, D.C., market as well as at news organizations in New York, Michigan and California. Bob joined Kiplinger in 2016, bringing a wealth of expertise covering retail, entertainment, and money-saving trends and topics. He was one of the first journalists at a daily news organization to aggressively cover retail as a specialty, and has been lauded in the retail industry for his expertise. Bob has also been an adjunct and associate professor of print, online and visual journalism at Syracuse University and Ithaca College. He has a master's degree from Syracuse University's S.I. Newhouse School of Public Communications and a bachelor's degree in communications and theater from Hope College.