9 Reasons Women Will Never Retire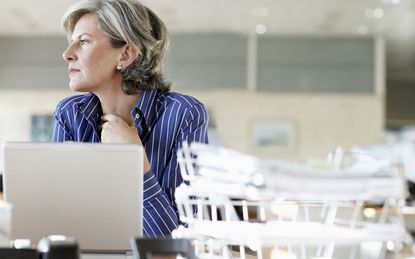 (Image credit: Thinkstock)
Whatever your gender, you'll encounter plenty of barriers on the road to retirement (opens in new tab).
But if you're a woman, you can count on extra roadblocks along the way to stall the growth of your nest egg. In fact, according to a recent Vanguard study, the average man participating in a defined contribution plan maintained by the brokerage has more than $121,000 saved, while the average woman has only about $78,000 socked away.
How can women catch up and ensure that they're saving enough? Start by recognizing the hurdles you face, and build your retirement plan around them. We identify nine reasons women may never retire and how you can get past them to reach a comfortable retirement.
1/9
1. You're Going to Live Too Long
According to the Social Security Administration, today's average 65-year-old man can expect to live until age 84.3; the average 65-year-old woman can expect to live until age 86.6. Living a long and happy life is a blessing, but it's one you'll have to pay for: The extra time on this earth drives up the amount you'll need to save for daily expenses and increasing medical costs as your health inevitably deteriorates.
What You Can Do About It
In her Rethinking Retirement column Plan for a Long Life (opens in new tab), Kiplinger's senior editor Jane Bennett Clark advises:
"You can estimate your life expectancy using calculators such as Living to 100 (opens in new tab) and the Blue Zones' Vitality Compass (opens in new tab). If the calculators put you at 95, that's reason to work longer and delay taking Social Security. (For each year you delay after full retirement age until age 70, you get an 8% bump in benefits; see Best Strategies to Boost Your Social Security Benefits (opens in new tab).) It also means you should take an annuity instead of a lump sum if you have a defined-benefit pension plan and are given the choice.
"Another strategy to fund a long life is to buy an annuity, which delivers a guaranteed payment until you die. Of the choices, a fixed immediate annuity is the most straightforward. For a bigger payout, consider a deferred-income annuity (also known as longevity insurance). You pay for it up front and delay taking the income for, say, 20 years. Get expert advice before you buy one." (Be prepared: Women's extended longevity means higher prices (opens in new tab) for most annuities and long-term-care insurance policies.)
2/9
2. You Don't Make Enough Money
Women save for retirement more aggressively than men, at a rate about 6% to 12% higher across all income levels, according to Vanguard's "How America Saves" study. But because they earn less, their efforts add up to smaller nest eggs. And there's a double whammy: Lower lifetime earnings also lead to lower Social Security benefits in retirement.
Start saving as soon as possible. Given enough time, even a relatively small sum can grow into a sizable nest egg. For example, if a 25-year-old saves just $286 a month, assuming an 8% return, she'll have $1 million by the time she turns 65. Bump it up to $573 a month to hit $2 million by age 65.
You can also try to earn extra cash (opens in new tab) on the side.
What You Can Do About It
Even better: Earn more money (opens in new tab). To make sure you're being compensated fairly, check sites such as Payscale (opens in new tab) and Glassdoor (opens in new tab) to see what other people with similar jobs in your area are getting paid. If your salary isn't comparable, be prepared to negotiate. If it is, figure out how to climb your career ladder to the next income level. For example, learning a new skill such as coding (with a free class (opens in new tab)) may make you a more valuable employee.
3/9
3. You Never Learned How to Invest
Women tend to express little confidence in their ability to invest. According to a recent Merrill Lynch study, 55.3% of women identify their knowledge of financial markets and investing as being below average. Only 27.2% of men feel the same. If your lack of confidence keeps you from investing entirely, your retirement portfolio will undoubtedly suffer.
What You Can Do About It
Increasing your financial literacy is the key to building a smart portfolio. "You need to educate yourself so you can make decisions with confidence," says Nicole Mayer, a financial planner based in Riverwoods, Ill. Kiplinger is a good place to learn the basics of investing (opens in new tab), so just reading this story means you're off to a good start.
Once you're ready to start investing (opens in new tab), we recommend going with mutual funds. They are the easiest and most cost-effective way to diversify your portfolio. If you're investing through a 401(k) or other employer-sponsored plan, you likely have a limited menu of funds to choose from. Within an IRA, all the choices might seem overwhelming. Your simplest option: a target-date fund (opens in new tab) whose assets gradually shift toward less-risky investments as you approach your retirement date. Or try various index funds (opens in new tab) to build a balanced, low-cost portfolio (opens in new tab). And consult the Kiplinger 25 for our favorite no-load managed funds.
4/9
4. You Rely on Your Husband to Make Financial Plans
An overwhelming majority of wives still defer to their husbands when it comes to money matters. Only 27% of married women report taking control of their financial and retirement planning, according to a recent survey from Prudential. (The good news is that that figure has climbed from just 14% in 2006.)
Such arrangements leave women vulnerable (opens in new tab), if only once their husbands pass away. Unfortunately, 39.4% of women over age 65 are widows.
What You Can Do About It
Make sure you play a prominent role in shaping your shared nest egg and building a retirement plan. "It is critical that every woman take personal responsibility for her financial independence through education and personal involvement rather than relying on someone else to do it for her," says Kathleen Hastings, a financial planner with FBB Capital Partners in Bethesda, Md. "No one will care more about your financial independence than you do."
You can start by asking the same critical questions you should've asked even before you got married (opens in new tab) and laying out all of your assets, income, investments, expenses and debts—whether individually or jointly held. When it comes to retirement planning, discuss your expected sources of retirement income, including Social Security, employee-sponsored plans, pensions and individual retirement accounts.
Learn about tax-planning (opens in new tab) and Social Security strategies (opens in new tab) that might benefit you as a widow.
5/9
5. You Took Time Off From Work to Focus on Family
Even if you don't become a pro bono caretaker for life, motherhood will likely shrink your nest egg. A few months of maternity leave (multiplied by the number of kids you ultimately have) or a few years at home can set back your nest egg. Even if you work part-time to bring in income, you may still miss out on benefits (such as a 401(k) match) that can help you reach your retirement goals.
Taking time to care for aging parents might strain your finances, too. According to the Women's Institute for a Secure Retirement, caregivers (69% of whom are women) are estimated to lose more than $303,000 in potential lifetime income—from lost hours and pay to decreased chances for promotions or bonuses.
During your full-time working years, maximize your retirement benefits. Most private companies offer a 401(k) plan; in the public sector, you may get a 403(b) or 457 plan or the federal government's Thrift Savings Plan. Typically, your employer will match 25% to 100% of your contributions, which are deducted pretax from your paycheck, up to 6% of your salary. In other words, your boss is giving you free money for retirement—take it.
What You Can Do About It
You can also try finding an employer who allows a flexible schedule to help you juggle work and family responsibilities. Publications such as Working Mother publish annual lists of the best companies for moms trying to strike that balance.
If you earn money from freelance work, you can also contribute to a solo 401(k) or simplified employee pension. (For more information, see Retirement Plans for the Self-Employed (opens in new tab).)
6/9
6. You Chose to Be a Stay-at-Home Mom
All the work that moms do for their families adds nothing to their retirement savings, and many of them opt to make it their single (though much-demanding) job. According to the Department of Labor, about 30% of mothers (versus just 7.2% of fathers) with children under 18 do not participate in the labor force, meaning they have no income to call their own—and no way to save for their senior selves independently.
What You Can Do About It
As long as he earns income, your husband can contribute to a spousal IRA on your behalf—up to $5,500 in 2015 (or $6,500, if you're 50 or older). If the modified adjusted gross income on your joint federal tax return falls below $193,000, you can make it a Roth IRA (opens in new tab). Contribution amounts begin to phase out for incomes above $183,000 for married couples filing jointly. (See Often Overlooked Opportunities to Save in a Roth IRA (opens in new tab).)
If you worked outside the home at some point, don't forget about any retirement accounts associated with that job. You may want to roll the funds into an IRA, but it might make more sense to let the money grow where it is. Review your options (opens in new tab) to see what is best for you.
7/9
7. You Think About Others Too Much
When setting financial priorities, women tend to consider the needs of loved ones as much as, if not more than, their own. According to the Merrill Lynch survey, 57.5% of women feel financially responsible for their children, parents and spouse. "Women need to make sure they leave something for their kids—to help their kid buy their first home or send their grandkid to college," says Mayer. "It happens for men too, but I see it as not just a want for my female clients but as a need that they work into their plans."
What You Can Do About It
Put your own needs first. Women and men alike ought to prioritize saving for retirement over other financial goals, such as the kids' college funds. And don't think of it as being selfish. "I believe the best gift you give your children is your own financial well-being and independence," says Hastings. "We need to set our children free from the burden of a parent's financial problems."
8/9
8. You Spend Too Much on Health Care
Health care costs tend to be higher for women (opens in new tab) than they are for men throughout their lives, especially in later years. In fact, out-of-pocket medical spending for women age 65 and older totaled $2,721 per person in 2010, 31% more than the average $2,073 spent by men of the same age, according to the Centers for Medicare & Medicaid Services.
While long-term-care insurance can help defray those costs, women can expect to pay 40% to 60% more than their male counterparts for new policies, according to the American Association for Long-Term Care Insurance.
As for long-term-care coverage, if you're married, you should buy a policy as a couple for the best deal. Also check the benefit options offered by your employer; you may find advantageous group rates that don't penalize you for your gender. See Options for Covering Long-Term Care Costs (opens in new tab).
What You Can Do About It
You can trim those costs using simple tactics (opens in new tab), such as switching to generic medications and using in-network providers. And take advantage of the tax savings offered by a health savings account (opens in new tab). For more information, see Strategies to Pay for Retiree Health Care Costs (opens in new tab).
9/9
9. Your Divorce Is Tearing Apart Your Finances
On top of the emotional turmoil, ending a marriage means separating once-shared household expenses, divvying up assets and letting go of the security of a spouse's income. Especially for a woman who spent decades relying solely on her husband's paychecks, the change can be financially devastating.
What You Can Do About It
Make sure you get your fair share of all the marital property, including all the cash stashed in various retirement funds accumulated throughout your marriage. (See Keep an Eye on Finances During a Divorce (opens in new tab).)
Don't forget to take stock of Social Security benefits that may be due to you: If you were married for 10 or more years and you don't remarry, you may be eligible to collect benefits on your ex-spouse's earnings record (opens in new tab).
Consider hiring a certified financial divorce analyst, who is licensed specifically to deal with this big life transition and help ensure you get an equitable division of assets. Find one near you through the Institute for Divorce Financial Analysts (opens in new tab).
Once your divorce is final, you face a whole new life and a new budget to go with it. "You might have to change your lifestyle, cut back your expenses, find a different job to make more money," says Mayer, who is a certified financial divorce analyst. "All these things are going to be thrown at you, and you have to be able to make good decisions that are in your best interest. So be sure to slow down and take care of yourself first."
Online Editor, Kiplinger.com
Rapacon joined Kiplinger in October 2007 as a reporter with Kiplinger's Personal Finance magazine and became an online editor for Kiplinger.com in June 2010. She previously served as editor of the "Starting Out" column, focusing on personal finance advice for people in their twenties and thirties.
Before joining Kiplinger, Rapacon worked as a senior research associate at b2b publishing house Judy Diamond Associates. She holds a B.A. degree in English from the George Washington University.