5 Ways to Remote-Control Your Home
You could call it the march of progress.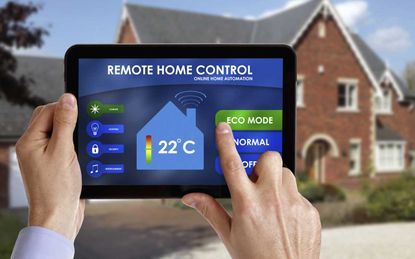 (Image credit: Thinkstock)
You could call it the march of progress. First, technology allowed you to preset your VCR, and later it let you program your TiVo. Now you can watch videos on demand on your phone or tablet. Next up: devices and apps that let you set and reset your home's systems and appliances, no matter where you are. Some can even learn your habits. Take a look.
1/5
Monitor Your Home While You're Away
Got an extra iPad, iPhone or iPod touch? Repurpose it as a home security cam. Just download People Power's Presence app to an Apple device (free from the Apple App Store; requires iOS 5.0 or higher) and plug it into an electrical outlet. Then aim the camera at whatever you want to watch remotely. (The company sells optional stands, including the $100 Galileo, which rotates 360 degrees on your command.) Motion sensors trigger the video feed; to watch, sign into Presence from another iOS device.
Presence Pro video (www.presencepro.com (opens in new tab); $5 monthly or $50 a year) adds several features, including 2 gigabytes of cloud storage for your videos and the ability to make longer recordings (five minutes versus one minute). The company says it plans to add the ability to view the feed from a Web browser soon.
2/5
Lock Up Without a Key
Copying a key and handing it to anyone who needs to get into your house isn't wise. August Smart Lock (www.august.com (opens in new tab); $250) is an innovative alternative: It's a deadbolt that unlocks via a smartphone app. The Bluetooth-enabled Smart Lock replaces the latch on the inside of your door; the outside hardware remains the same. Using your iPhone or Android phone's contacts, you send a "virtual key" that allows the recipient to unlock the door wirelessly.
Bonus: Smart Lock, which runs on four AA batteries, works with a real key if the juice runs out.
3/5
Adjust Your Thermostat
Google's Nest Learning Thermostat (www.nest.com (opens in new tab); $250) studies your habits and adjusts itself accordingly. For instance, if you lower the temperature a few days in a row at 4 p.m., Nest starts making that change automatically. The mobile app, which works with Apple and Android devices, allows you to check your energy usage and change the temperature settings remotely. That could come in handy if you forget to dial the temperature up or down before leaving on a trip.
4/5
Operate Small Home Appliances Remotely
The free Wink app (www.winkapp.com (opens in new tab)) lets you use your Android or Apple device to control more than 60 home appliances, including lighting systems, thermostats, smoke alarms and sprinkler systems. The most inventive use of the Wink technology may be the Aros Smart Window Air Conditioner ($280), which, like Nest, learns from your usage patterns. It is the product of a collaboration between General Electric and Quirky, a crowd-sourcing site for inventors.
5/5
Communicate With Major Home Appliances
Competition is heating up (and cooling down) for ranges and refrigerators that can be controlled from your smartphone. For example, GE Brillion double wall ovens ($3,100 to $3,800) and freestanding ranges ($1,600 to $2,100) let you turn on the oven and control the temperature with a mobile app for Apple or Android when you're out. You can monitor the self-cleaning progress of LG Electronics' Smart ThinQ range ($1,400) from your phone. Samsung has a high-end, smart refrigerator ($3,600), which comes with an 8-inch Wi-Fi-enabled LCD that connects wirelessly to a home network.
Our take: You may want to hold off until you have even more choices and prices come down.