9 Great Places to Retire Outside the U.S.
If a seaside cottage or a secluded cabin in Maine doesn't cut it when you envision your dream retirement home, there are plenty of opportunities abroad.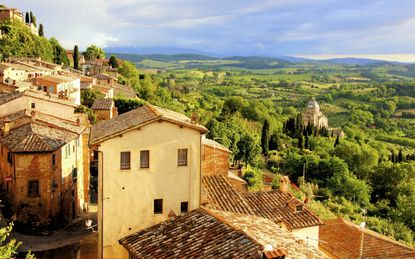 (Image credit: Thinkstock)
If a seaside cottage or a secluded cabin in Maine doesn't cut it when you envision your dream retirement home, there are plenty of opportunities abroad. You won't be alone: Some statistical measures show increasing numbers of baby boomers are looking to retire in other countries, says Jennifer Stevens, executive editor of International Living (opens in new tab). "It's easier than ever to go overseas. The global infrastructure is better, and you can be more connected than ever before, so you're never farther than a Skype call away from your grandkids." Consider that the Social Security Administration sent almost 380,000 checks to retirees living overseas in December 2014, a 1.8% increase from 2013 and nearly a 19% increase from 2009.
There can be benefits to retiring abroad. "Thanks to a strong U.S. dollar and recessed and depressed property markets, this is the best time, perhaps in our lifetimes, to be thinking about owning digs of your own in locations of particular interest to the retiree," according to the 2015 Retire Overseas Index by Live and Invest Overseas, a resource for owning real estate abroad. In many places, you can enjoy a lower cost of living without sacrificing good health care, great weather or modern infrastructure.
This is not to say that picking up and moving out of the country is a snap. You'll need to research visa and residency requirements, safety, language barriers, health coverage, and local activities and amenities. Living as an expat isn't for everyone.
But with a spare $500,000 -- give or take -- the world is your oyster. We found a log home in Canada, a luxury beachfront resort in the Philippines, and a stone house surrounded by olive trees on the Italian hillside, among others. Prices range from $300,000 to $660,000. Browse these nine properties to see how far your dollars can stretch around the globe.
Except as noted, all prices are in U.S. dollars as of May 12.
1/9
Quesnel, British Columbia
Here's luxurious living in the Great North. This yellow cedar log home was crafted by Pioneer Log Homes, featured on HGTV Canada's Timber Kings. Between vaulted ceilings, a loft, a 1,030-square-foot deck and a 1,600-square-foot heated shop (which includes an office, coffee room and heated two-car garage), there is plenty of room for guests. There are even caretaker accommodations on the ground floor. The flooring, doors, casings and trim? All wood.
The hillside house overlooks Dragon Lake, famous for its trophy-size rainbow trout. The property is about a seven-hour drive north of Vancouver, with downhill skiing, lit cross-country skiing and the gold-mining heritage town of Barkerville all nearby. A small regional airport connects Quesnel to Vancouver with an 80-minute flight. The weather is mild by Canadian standards; the temperature is 61 degrees in the summer and 23 in the winter. In-floor radiant heating and two stone fireplaces help ward off nighttime chills.
2/9
San Miguel de Allende, Mexico
Square footage: 5,630Bedrooms: 3Bathrooms: 3Acreage: 0.1Price: $450,000
The terraces of this house look out over mountains, a dam, and the 18th hole of private Club de Golf Malanquin, the oldest golf club in this charming Spanish colonial-era city in Mexico's central highlands. This gated golf-course community (club membership is optional) offers tennis courts, a swimming pool, a gym and sports classes. The house features five fireplaces, a bodega under the stairs for storage and laundry, a kitchen with quartz counters, and a wall fountain visible and audible from both the living room and dining room. A cactus garden, pond and another fountain complete the picture.
Fifteen miles away, San Miguel de Allende offers a thriving culture and arts scene embraced by expats. The climate is warm and generally sunny year-round, with high temperatures regularly averaging 73 to 88 degrees F. "There's something new to do every day," including concerts, cooking classes, art exhibitions, pottery and painting classes, hot air balloon rides, horseback riding and swimming in hot springs, says Christine von Jan, an agent for Coldwell Banker Smart. The closest airport is an hour away, but most residents prefer the Aeropuerto Internacional de Guanajuato, 90 minutes away by car. Mexico City is a four-hour drive southeast.
3/9
Ystad, Sweden
Square footage: 1,055Bedrooms: 1-2Bathrooms: 2Acreage: 0.1Price: $366,000
With this recently renovated one-bedroom townhouse plus guesthouse, you could live on the Scandinavian peninsula, with Denmark and the rest of the European continent easily accessible by car. The property is only a few minutes' walk from the main street of this quiet seaside town and also close to a hospital, parks and a bus stop. An open-floor-plan kitchen connects to the living area. The upstairs bedroom overlooks a garden. The guesthouse could double as a home office.
Ystad features pleasant summers, snowy winters and beautiful fall colors, says Jenny Löfgren, of ERA Wallin Realty. While the town is a good seven hours south of Stockholm by car, Ystad provides easy access through Malmö over the Øresundsbron bridge into Copenhagen. It's only an hour by car or via the train, which runs between Ystad and Malmö every 30 minutes.
4/9
Boracay Island, Philippines
Square footage: 1,023Bedrooms: 1Bathrooms: 1Acreage: N/APrice: $300,000
This condo is located in the Aqua Boracay by Yoo resort on a small island a little over four miles long in the Philippines' archipelago. The kitchen comes with dinnerware and linens, and a flat-screen smart television, WiFi and cable television are included. Floor-to-ceiling glass sliding doors provide a view of the white-sand beach located right outside. Other amenities include a lap pool, a spa pool (with in-pool loungers), a clubhouse, two restaurants, a gym and a 24-hour concierge, who can arrange for a private butler, a private chef and island activities.
Boracay Island has become a popular tropical tourist destination. But the eastern coast, where Aqua is located, is less congested than the western side. It also attracts kite-surfers. Manila is a one-hour flight away, accessible by the small Caticlan Airport, which is reachable by boat and undergoing an expansion.
5/9
Assisi, Italy
This country house is made of stone and contains a living room with a fireplace and a kitchen on the main floor, with bedrooms upstairs. Floor-to-ceiling windows overlook the grounds, including manicured gardens and a concrete 6x12m swimming pool and changing room. The property is dotted with 500 olive trees that produce 1,000 liters of oil per year. Lights illuminate the grounds at night.
Located in the neighborhood of La Mora di Assisi, the property overlooks the Umbrian Valley from "the hill of Assisi entrepreneurs." What's that, you say? Turns out this is a favorite locale for local business people and expats drawn to the location for its greenery, "warmth, sociability of its people, and its cuisine," says Giacomo Menghini, an agent for Coldwell Banker Italy. You get 360-degree views over the surrounding valley from the home. Summers are hot and dry, while winters bring wind chills with temps in the low 40s but not much snow. Catch a train to other parts of the country -- both Florence and Rome are less than three hours away -- or head to nearby San Francesco d'Assisi Airport for intercontinental and international flight connections.
6/9
Almancil, Portugal
Square footage: 2,895Bedrooms: 3Bathrooms: 3Acreage: 0.3Price: $597,000
This south-facing house is infused with the traditional architecture of the Algarve region, including ceramic tiles on the roof, patterned white-framed windows, and paving stones sourced from a local quarry. Natural light fills the living room. The kitchen includes a pantry. On the top floor, two verandas connect to the master bedroom, opening up views of the countryside and coast. Outside, there are a heated saltwater pool and a garden filled with local flora.
The Algarve, Portugal's southernmost region, was named the top retirement destination by Live and Invest Overseas for two years running, thanks to its low cost of living, inexpensive real estate, retiree residency program and more. Though summer temperatures rise into the 90s, winter temperatures hover in the mild 50s, and only one or two months a year are dampened by rain. Nearby are luxury resorts, golf courses, beaches, fishing and bird-watching. The nearby Faro Airport connects you to the rest of Europe.
7/9
Kerikeri, New Zealand
This north-facing waterfront home soaks up ample sunshine in Kerikeri, located in New Zealand's "winterless north." It includes a pool, a sheltered outdoor dining area and a garden. The kitchen is finished in granite and containers a dishwasher, upright stove, breakfast bar and more. The main bedroom opens up onto a balcony and deck. Views extend to the Kerikeri Inlet, which leads out to the Bay of Islands. There you can find sailing, cruising, fishing, diving and beaches.
Kerikeri has long been a popular retirement destination. "The main demographic is 60+ retirees," says Robi Quilter, sales consultant for Harcourts. "The town is set up for retired people, with many clubs and activities, and there are a number of cafes, restaurants, vineyards, and beautiful clothing and trinket stores." Airfare to Auckland, a 40-minute flight away, is $69 NZD on Air New Zealand if you pack light.
8/9
El Retiro, Colombia
Square footage: 3,412Bedrooms: 4Bathrooms: 3Acreage: 5.4Price: $652,000
Yes, that's really the name of the village: El Retiro. This rustic abode is part of a gated community of 47 properties about a 30-minute drive southeast of Medellín. All rooms, including a library, dining room and study, are contained on one level. The development has its own aqueduct system, as well as fruit trees and 250 avocado trees that put out about 10 tons of avocadoes annually (and provide plenty of guacamole). At an altitude of 7,000 feet above sea level, there are sweeping views of mountains and valleys. And for those concerned about safety, the house has an alarm system.
The climate in this part of Colombia is widely renowned as almost perfect -- the average year-round temperature is 61 degrees F. It's a pleasant climate in which to enjoy the natural reserves, native forests, shopping, restaurants, hiking and sports in the region. Live and Invest Overseas has been a fan of Medellín as a retirement destination for the past seven years due to its lush greenery, walkability, excellent real estate prospects, strong health care system and improving safety. Several U.S. airlines fly into the international airport in Medellín.
9/9
San Juan del Sur, Nicaragua
You can live in or rent out this recently updated home, part of a gated development community where cleaning, gardening and laundry services are all provided for you. (You'll pay homeowners association dues of $550 each month.) Bedrooms are divided among three separate buildings and surround a pool with a Japanese-style hot tub. Solar power heats the showers, and a battery system provides backup power during outages. Splashes of color abound inside, including walls painted orange-red or cornflower blue in the kitchen and bedrooms. Expansive windows overlook the Pacific Ocean, including one of the most popular surf beaches in the country, Playa Maderas -- which is a 10-minute drive down a private road.
Temperatures range from a temperate 75 degrees F to a tropical 100 degrees F, with three seasons (dry, wet, and windy). A small airport is only a one-hour drive away, but for flights home you'll head to the international airport in the capital, Managua, which is two hours away. Gabriela Castillo, broker and owner of Re/Max Coastal Properties, says homeowners tend to live in these homes for about two years, then rent them out for most months of the year while they travel. "We find many owners are stressed from their previous life, and they learn to relax and enjoy life again without much work and responsibility while on the property," she says.
Associate Editor, Kiplinger's Personal Finance
Miriam lived in Toronto, Canada, before joining Kiplinger's Personal Finance in November 2012. Prior to that, she freelanced as a fact-checker for several Canadian publications, including Reader's Digest Canada, Style at Home and Air Canada's enRoute. She received a BA from the University of Toronto with a major in English literature and completed a certificate in Magazine and Web Publishing at Ryerson University.