10 Great Cities to Raise Your Kids
Choosing the best place to raise your kids is pretty daunting.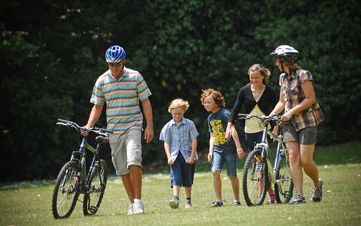 (Image credit: NelsonNZ/Flickr)
Choosing the best place to raise your kids is pretty daunting. Great schools, plenty of libraries and playgrounds, and safe, family-friendly neighborhoods all come at a cost to parents. Weighing the factors can prove challenging.
We took a two-step approach to come up with our list of the best cities to raise kids. First, we looked for metropolitan areas with high household incomes relative to living costs, a large percentage of families with children under 18, and low crime rates. We weren't seeking the cheapest places to live, but rather places where earnings potential is more than adequate to cover a family's expenses.
Then, we honed in on a specific city within each of our top 10 metro areas that's well-suited to raising kids based on educational factors (spending per student and the quality of local school districts) as well as fun factors (availability of public parks, playgrounds and libraries). We also looked at each city's average income for families -- as opposed to median income for all households -- to give a realistic sense of how much it can cost a family to live in a place with so many kid-centric benefits.
1/11
10. Stamford, Conn.
City population: 122,643
Average family income: $131,822 (U.S. avg.: $82,446)
Percentage of families with children: 29.5% (U.S. avg.: 29.8%)
Metro-area spending per student: $9,631 (U.S. median: $5,914)
Public playgrounds: 14
Stamford isn't cheap, but if you can afford to live in this preppy Connecticut stronghold, your family will enjoy some of the best living money can buy. Neighborhoods in North Stamford and nearby towns such as Darien boast big parks, wooded lots and plenty of young families. Crime is low, and schools are top-notch. Stamford boasts six magnet schools that focus on various academic disciplines, ranging from technology to the environment.
As for Mom and Dad, southwest Connecticut promises an easy commute to New York and some of the highest wages in the country. Companies such as UBS, General Electric and the Royal Bank of Scotland rank among the area's largest employers. In fact, the Stamford region contains more millionaires per capita than any other metropolitan area in the U.S. except Naples, Fla., and Los Alamos, N.M.
2/11
9. Corona, Calif.
City population: 152,374
Average family income: $97,618
Percentage of families with children: 45.2%
Metro-area spending per student: $5,917
Public playgrounds: 25
Corona sits on the fringes of Los Angeles and Riverside, right where the dense cities of California's "Inland Empire" start to fade into suburbs. The city is, in part, a bedroom community for these larger locales. While Southern California traffic jams are infamous, parents can commute comfortably enough from Corona to Riverside, San Bernardino, Irvine and L.A.
Corona's public schools enjoy a solid reputation, especially toward the south of the city. Santiago High, a public high school of about 3,300, earned accolades from U.S. News and World Report for its high test scores and college prep programs. Outside of school, families can take advantage of their proximity to the Cleveland National Forest. The nearby Santa Ana Mountains not only make Corona a pretty place to live, but they provide plenty of hiking and camping opportunities for kids.
3/11
8. Middletown, N.Y.
City population: 28,086
Average family income: $70,842
Percentage of families with children: 34.0%
Metro-area spending per student: $11,194
Public playgrounds: 10
More money is spent per student in this metropolitan area than in almost any other place we looked at, allowing Middletown schools to offer impressive arts and Advanced Placement programs. For families, the Hudson Valley promises more than just a solid education. Because Middletown is a distant suburb of New York – the city is an hour and a half away by car, a little less by train – parents stand to bring home decent paychecks, while living in a quiet environment far removed from the bustle of the Big Apple.
Kids in the Hudson Valley can also look forward to the area's amusement parks, zoos, nature centers and children's museums, not to mention all the outdoor activities along the Hudson River. There are 34 state parks in the region, including some of the largest parks in the New York State system.
4/11
7. Sunnyvale, Calif.
City population: 140,081
Average family income: $123,647
Percentage of families with children: 32.6%
Metro-area spending per student: $7,345
Public playgrounds: 25
Silicon Valley may not be the most intuitive place to raise kids, but the area has more going for it than shiny condos and trendy tech jobs. The average family income is well above the national average, as are living costs. But when it comes to raising families, those costs can be worth it: Sunnyvale has one of the lowest crime rates in the nation.
Two of the city's elementary schools were named "Distinguished Schools" for 2012 by the California Department of Education, and the neighboring Cupertino Union and Fremont public school districts boast some of the best test scores in the state. When they're not studying, kids in Sunnyvale enjoy 476 acres of neighborhood parks and playgrounds, and one of the country's largest children's museums is in nearby San Jose. San Francisco is less than an hour away by car.
5/11
6. Appleton, Wis.
City population: 72,623
Average family income: $79,909
Percentage of families with children: 31.3%
Metro-area spending per student: $6,047
Public playgrounds: 27
Appleton's living costs are low enough to keep a family of any size comfortable – in fact, a four-bedroom home goes for one-quarter to one-third less in Appleton than it does in the average U.S. town. But this small, sleepy Midwest city promises something a bit more personal than low costs. Case in point: Appleton's 40-year-old "Newcomer's Club" sponsors playgroups, potlucks and family outings for its members.
Crime rates are unsurprisingly low here, and public schools are solid, if not stellar. Outside of school hours and weather permitting, kids can swim, fish and play tennis in one of Appleton's 24 neighborhood parks. Parents won't want for occupation, either: The area's unemployment rate is 6.8%, well below the national average and among the lowest rates in Wisconsin. Thrivent Financial and Kimberly-Clark are among the city's largest employers.
6/11
5. East Grand Rapids, Mich.
City population: 10,694
Average family income: $142,329
Percentage of families with children: 44.1%
Metro-area spending per student: $5,748
Public playgrounds: 8
Great schools are a big draw in East Grand Rapids. The public system has earned top rankings from the state, the College Board and the educational nonprofit GreatSchools.org for its high exam scores and focus on advanced classes. Grand Rapids' upscale neighbor isn't a bad place to make a living, either. The average family income is substantially higher than the national average, and the fat paychecks seem even fatter thanks to western Michigan's ultra-low living costs.
Families will find big yards and familiar neighbors on the tree-lined streets around Reeds Lake, the popular park near the city's center. There's even more family-friendly stuff to do outside of town. Grand Rapids is home to a zoo and a children's museum, and the Lake Michigan shoreline lies a mere 30 minutes away.
7/11
4. Thousand Oaks, Calif.
City population: 126,683
Average family income: $138,313
Percentage of families with children: 33.4%
Metro-area spending per student: $5,947
Public playgrounds: 40
Thousand Oaks started life as a planned community -- an origin story you can see in the city's extensive park system and radiating subdivisions, each replete with arching driveways and in-ground pools. In fact, Thousand Oaks is one of the wealthiest cities in Ventura County, an area that also includes Oxnard, Ventura and the Conejo Valley.
Living here is pricey -- about 30 percent higher than the national average. But high salaries and good schools can more than make up for the expense. Kids can attend top-rated schools such as Lang Ranch, Colina Middle and Thousand Oaks High, which California ranks among the top 10% of schools in the state. Despite the city's proximity to Los Angeles, crime rates are low.
8/11
3. Suwanee, Ga.
City population: 15,355
Average family income: $104,813
Percentage of families with children: 40.3%
Metro-area spending per student: $6,008
Public playgrounds: 4
Suwanee sits in Atlanta's moneyed northern suburbs: Think big yards and small crime rates. The town's highly regarded schools make it a particularly good place for raising children. The education non-profit GreatSchools.org rates every school in the district an enviable 9 or 10 (out of 10). Kids in northern Georgia also benefit from proximity to the Blue Ridge Mountains and Lake Lanier, a reservoir popular with boaters and vacationers. The city itself boasts a massive public playground called PlayTown and a downtown fountain called Big Splash, where kids are encouraged to play. (One of the rules: "Smile!")
Meanwhile, Mom and Dad can expect low living costs and solid incomes at one of the many manufacturing firms that call the area home. Atlanta is a commutable 45 minutes away.
9/11
2. Richland, Wash.
City population: 48,058
Average family income: $95,620
Percentage of families with children: 28.7%
Metro-area spending per student: $8,528
Public playgrounds: 29
Richland and its neighbors, Kennewick and Pasco, make up the heart of Washington's Tri-Cities region, a northwest technology hub surrounded by farmers' fields and sitting just north of the Oregon border. While the area might sound like no man's land to outsiders, it's actually anything but. The Department of Energy runs several major operations in the Richland area, and the DOE's Pacific Northwest National Laboratory is the city's largest employer. That means families can earn a very comfortable living.
Students at schools such as Lewis & Clark and White Bluffs Elementary perennially outperform their peers on state standardized tests. Plus, there's plenty to keep an active family entertained. The region boasts a family fishing pond, a splash park, a quarter-acre "playground of dreams" and 300 sunny days a year.
10/11
1. Omaha, Neb.
City population: 408,958
Average family income: $78,466
Percentage of families with children: 28.3%
Metro-area spending per student: $6,077
Public playgrounds: 157
The city that bore Warren Buffett is a great place to raise children -- though there's no guarantee they'll grow up to be billionaire investors. Southwestern Omaha, in particular, is an idyll of good schools, tended sports fields and tidy cul-de-sacs. The Millard School District, home to Nebraska's only K-12 International Baccalaureate program, features sky-high standardized test scores, a top-ranked music program and one of the country's best school library systems (according to the American Association of School Librarians, which awarded Millard top honors in 2003). In the western suburbs especially, crime rates are low enough for kids to walk to school worry-free.
And there's plenty to do in the city itself: A zoo, a children's museum and a 64-year-old children's theater anchor Omaha's kid-friendly offerings. Parents, meanwhile, enjoy living costs 10.5% below the national average, a modest 4.7% unemployment rate and well-paid jobs at major companies, including Union Pacific and the aforementioned Buffett's Berkshire Hathaway.
11/11