7 Bargain Stocks in Today's Pricey Market
Investors can rummage through the cheapie bin, looking for stocks with ultralow price-earnings ratios.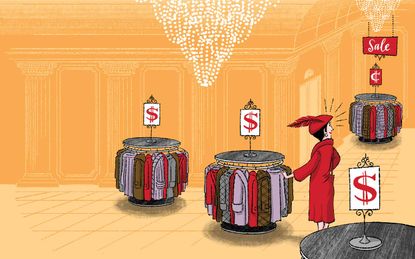 (Image credit: Illustration by Edwin Fotheringham)
Investors can rummage through the cheapie bin, looking for stocks with ultralow price-earnings ratios. But buying so-called deep value stocks isn't for the faint of heart: Their shares tend to be inexpensive because of a downturn in their business, and they may not rebound soon.
Yet bargain hunters aren't entirely out of luck. Banks and other financial firms, for instance, trade at an average 36% discount to Standard & Poor's 500-stock index, based on the stocks' book value (assets minus liabilities), according to Bank of America Merrill Lynch. Some media companies also look inexpensive, along with technology firms that aren't as pricey as the stars of the tech world but still have strong prospects.
The following seven stocks are bargains you can bet on for the long term. Our picks are profitable and leaders in their fields, but their shares trade at reasonable prices because of pressures in their industry or company-specific challenges. Eventually, we think those issues will subside. And for now, investors can buy these stocks at an attractive discount to the broad market or to industry averages. That should help set up strong returns, even if the stocks' prices rise only enough to get back to long-term average valuations.
Data is as of December 8, 2017. Sources: Thomson Financial, Yahoo Finance, Zacks Investment Research. Earnings per share are based on estimated earnings for the next four quarters. Stocks are listed in alphabetical order. Click on symbol links in each slide for current share prices and more.
Senior Associate Editor, Kiplinger's Personal Finance
Daren joined Kiplinger in July 2015 after spending more than 20 years in New York City as a business and financial writer. He spent seven years at Time magazine and joined SmartMoney in 2007, where he wrote about investing and contributed car reviews to the magazine. Daren also worked as a writer in the fund industry for Janus Capital and Fidelity Investments and has been licensed as a Series 7 securities representative.