8 Great Dividend Mutual Funds
Funds that hold dividend-paying stocks aren't just a safer harbor in troubled times.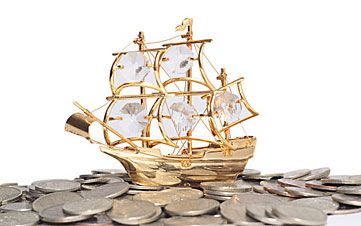 (Image credit: Thinkstock)
Funds that hold dividend-paying stocks aren't just a safer harbor in troubled times. The best of these mutual funds offer exposure to some of the strongest companies and some of the steadiest value-minded managers, qualities that tend to pay off over the long haul.
"Dividends provide a sense of security," says Barry Fennell, senior research analyst at fund tracker Lipper. He points to a variety of studies showing that reinvested dividends are a major component of stock market returns.
Our search for some of the best dividend mutual funds insisted on low investing minimums, no load charges, reasonable expenses, and a combination of attractive yields and above-average returns, both in the short term (over the past 12 months) as well as the long run (the past 10 years, with one exception for a fund that launched in late 2009). We found eight worthy and diverse funds for your portfolio.
*All yields and returns are as of June 18. Yields were calculated by adding up a fund's distributions over the past year and dividing the total by a fund's net asset value.
1/8
Vanguard Dividend Growth
Yield: 1.8%
10-year annualized return: 9.1%
1-year return: 16.6%
Expense ratio: 0.31%
Manager Donald Kilbride from Wellington Management has helmed Vanguard Dividend Growth (symbol VDIGX) since early 2006, delivering impressive performance. Over the past decade, the fund, a member of the Kiplinger 25, has returned 1.3 percentage points more than Standard & Poor's 500-stock index per year, on average. What's more, it has done so with volatility below that of the market and similar funds, leaning heavily on large-cap stalwarts such as recent top holdings United Parcel Service and McDonald's.
Rather than chasing yield, Kilbride has focused on long-term business value and dividend-increase opportunities. During the first quarter of the year, Dividend Growth was an aggressive buyer of BG Group, nearly doubling its position in the U.K.-based liquefied natural gas shipper ahead of the expected growth spurt from Australian gas exports, according to Morningstar analysis. It also initiated a sizable stake in Canadian National Railway, which should benefit from an eventual U.S. home-building recovery.
BG and Canadian Railway currently offer below-average dividend yields, but Kilbride plays a longer game. Dividend Growth is the cheapest fund to own on this list and second to none in delivering long-term value while controlling risk. The minimum initial investment is $3,000.
2/8
Cullen High Dividend Equity Retail
Yield: 3.8%
10-year annualized return: 7.8%
1-year return: 17.1%
Expense ratio: 1.00%
Cullen High Dividend Equity Retail (CHDEX) has just about matched the S&P 500 over the past ten years with much lower volatility and risk. It tends to lag in great years for stocks and make up the difference in rocky ones, notably in 2008, 2011 and again this year. The fund's 8.4% gain so far in 2014 is one percentage point ahead of the S&P 500.
This is the flagship of a value fund family and the right pick for investors seeking a low-volatility portfolio with a relatively high current yield. For more than a decade, manager James P. Cullen has stuck to a philosophy of seeking out stocks with above-average yields and low price-earnings and price-book ratios. Not only do the stocks need to be inexpensive, but Cullen must also see a catalyst that will drive above-average earnings growth for years to come.
The portfolio has an annual turnover rate—a gauge of how quickly the holdings in a fund are traded—of just 10% and a distinct tilt toward the mega-cap pharma names that are doing particularly well lately. Merck, Eli Lilly and AstraZeneca are among the top holdings. The minimum investment is $1,000.
3/8
Harbor International Investor
Yield: 1.7%
10-year annualized return: 9.9%
1-year return: 15.8%
Expense ratio: 1.11%
Harbor International's near-double-digit annualized return over the past decade is more than two percentage points ahead of its overseas benchmark index and places it in the top 9% of large blend foreign funds over that span. ("Blend" funds are willing to invest in both growth and value stocks.) After lagging slightly in 2013, the fund is outperforming again this year, thanks especially to European drug stocks such as Roche and Novo Nordisk.
Like Cullen High Dividend Equity, this large international fund favors companies with low price-earnings ratios, and like Cullen it invests for the long haul, keeping turnover to a minimum. More uniquely, the experienced management team of Harbor International Investor (HIINX) has been willing to pay up for businesses with improving competitive positions. It's also been more willing than most large-cap international funds to dabble directly in emerging markets and in volatile sectors such as mining, according to Morningstar's analysis.
The portfolio continues to make big bets on Europe at the expense of Asia. Keep in mind that it was an underweighting in Japan this past year that hurt the fund's performance and prompted us to replace Harbor in the Kiplinger 25 with the promising but low-yielding Cambiar International Equity (CAMIX). Harbor's minimum investment is $2,500.
4/8
Commerce Value
Yield: 2.3%
10-year annualized return: 7.9%
1-year return: 16.9%
Expense ratio: 0.66%
Manager Joseph C. Williams III has steered this fund since its inception in 1994 and has been with the Commerce Bancshares subsidiary that offers it since 1975, when U.S. inflation topped 9% and the Dow Jones Industrials finished the year at 852.
The long tenure has not hurt recent performance: Commerce Value (CFVLX) has modestly outperformed the S&P 500 over 3-, 5- and 10-year spans, while accumulating a significant lead over most funds in its large value category with lower volatility. Last year, it nearly matched the S&P with a 32.1% return, despite the fact that large-cap value funds trailed the smaller, growth-oriented rally leaders.
So far this year, the fund is up 5.9% (versus 6.9% for the S&P), thanks to top-performing holdings such as Wells Fargo, ConocoPhillips and Merck. Williams was buying industrials in the first quarter, adding to the fund's General Electric stake and opening a sizable new position in 3M. The primary objective of this stock fund, which has a minimum investment of $1,000, is capital appreciation, but income from dividends is an important secondary goal.
5/8
Fidelity Select Wireless Portfolio
Yield: 6.0%
10-year annualized return: 10.5%
1-year return: 20.4%
Expense ratio: 0.86%
Fidelity Select Wireless Portfolio (FWRLX) has consistently delivered stronger returns than most communication sector funds, while drawing on Fidelity's deep bench of managerial talent. The fund's 10-year annualized return of 10.5% is nearly three percentage points above that of the S&P 500. Still, investing in a single-sector fund can be hazardous business, and never more so than in 2008, when Select Wireless lost nearly half of its value, losses it didn't fully recoup until 2013.
The 6% yield, which includes the fund's distribution of 47.2 cents in dividends in April, is a bit misleading because the bulk of it was financed by one-time payouts. The forward-looking yield of 2.6% calculated by Morningstar might be a better indicator of the fund's potential to generate income.
The wireless industry is always in the throes of technological and competitive change, but through it all the attractive income earned from the growing number of subscribers has translated into hefty dividends for investors willing to brave the risks.
The portfolio can shift rapidly: Verizon Communications, by far the largest holding at 17% of fund assets as of March 31, was merely a 1% position seven months earlier. Manager Kyle Weaver, who's been with the fund since 2009, recently initiated positions in European service providers BT Group, Orange and Telecom Italia. He's also maintained an allocation of nearly 4% to Google, which helped last year's performance even as it underscored the fund's focus on capital appreciation over dividends. So far, Select Wireless has managed to deliver both. The minimum investment is $2,500.
6/8
T. Rowe Price Real Estate
Yield: 2.1%
10-year annualized return: 9.9%
1-year return: 12.4%
Expense ratio: 0.79%
Lee invests by the old maxim that real estate is all about location, according to Morningstar analysis, looking for spots with strong demand and constrained supply while shunning commoditized data-storage server farms and health care offices. Despite the retail sector's recent struggles, Lee has argued that Simon Property Group has malls in some of the best locations and has invested nearly 10% of the fund's assets in that REIT.
This is a longtime outperformer among funds focused primarily on real estate investment trusts, or REITs, which are companies that own income-generating properties. T. Rowe Price Real Estate's (TRREX) annualized return of 10.2% since the fund launched in 1997 beat its peers by a full percentage point, placing it in the real estate fund category's top quartile, according to Morningstar.
Manager David Lee is another firm believer in the rewards of patient value-hunting, seeking out investments trading below fair value in areas of high future demand and holding them as long as need be for that demand to materialize. The turnover rate as of March 31 was a mere 2.5%. After treading water last year amid interest-rate worries, REITs have played catch-up so far this year. Lee's fund, which has a minimum initial investment of $2,500, has been slightly ahead of the pack throughout, gaining 13% in 2014 thanks to bets on high-end office space and upper-end apartments in the Sunbelt.
7/8
Lazard Global Listed Infrastructure Open
Yield: 2.3%
10-year annualized return: NA*
1-year return: 26.8%
Expense ratio: 1.32%
Lazard Global Listed Infrastructure Open (GLFOX) has only been around since the end of 2009, and after returning little in its first two years it gained 18% in 2012, more than 26% last year and 14% so far in 2014. Volatility has been well below average, one of the stated goals of a fund that strives to pick monopoly-like companies that provide essential services. The minimum initial investment is $2,500.
While many of the large-cap value funds are hard to tell apart given broadly similar portfolios stuffed with the usual suspects, this off-the-beaten-path infrastructure fund, which is invested mostly overseas, can help diversify your stream of dividends. Holdings span the planet and include electric and gas utilities on four continents (36%), European airports (15%), toll roads in Italy, Australia, Korea and the U.S. (24%), communications (7%), U.S. railroads (7%), water supply (7%) and so on. The fund is managed from Sydney with the help of analysts based in London and New York.
*The fund launched on Dec. 31, 2009. Since inception the annualized return is 13.6%.
8/8
T. Rowe Price Dividend Growth
Yield: 1.2%
10-year annualized return: 8.2%
1-year return: 18.6%
Expense ratio: 0.66%
Manager Thomas Huber has helmed this long-term winner since 2000, and even though "dividend" is in the name, his focus on overall company health over current yield has paid off handsomely for longtime investors. While T. Rowe Price Dividend Growth (PRDGX) has delivered middle-of-the-pack performance in this bull market, it has outpaced the S&P 500 index over the past decade and topped four out of five competing funds over the same 10-year stretch.
Pfizer, U.S. Bancorp and Visa are recent top holdings, and Huber has also been building stakes in PepsiCo and Tyco International. Annual turnover of just 13% is typical for this low-volatility fund, which has a $2,500 investment minimum. The portfolio as a whole boasts noticeably faster sales growth than other funds in its category, a good sign in today's low-inflation environment that makes it hard for many companies to raise prices.
Igor Greenwald is chief investment strategist of MLP Profits and managing editor of The Energy Strategist, both owned by Investing Daily. He also serves as an investment analyst at Investing Daily's Personal Finance newsletter and contributes to a blog at Forbes.com. A former financial columnist, newspaper editor, foreign correspondent and online producer, he lives in Massachusetts.