6 Tips to Get the Best Price on a New Car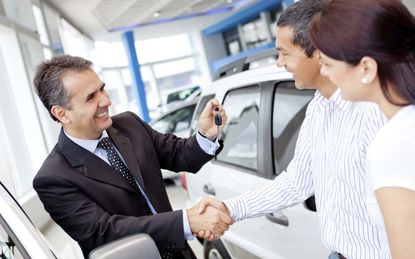 (Image credit: Thinkstock)
You'll find the best deals on vehicles near the end of the model year (late summer or early fall), but here are six tips to help ensure you'll get the best price possible any time.
1/6
Time Is On Your Side (So Do Your Research)
For any vehicle you're considering, go to TrueCar.com to compare the average transaction price in your area with the sticker price. Next, head to Edmunds.com, and enter the make, model and trim level to see the dealer invoice price. Click on "Incentives and Rebates" to view current manufacturer offers. That way you'll know if the automaker is offering cash back or cut-rate financing. Dealer offers show how much money dealers get from the carmaker when they make a sale, which is a good bargaining chip for you.
2/6
Be Prepared to Cross Swords
Salespeople have a host of tactics to boost the car's price — and their commission. They will try, for example, to focus your attention on the monthly payment; to keep it low, they may push you to extend the loan term or to lease instead of buy. Insist on negotiating the price of the vehicle, whether you're buying or leasing. If the salesperson asks about your trade-in, steer the conversation back to the new car. Lumping the purchase and the trade-in together means the dealership can give you a lower trade-in value and still look as if it's giving you a good deal.
3/6
Stand Your Ground
If the price is at or near invoice, the dealership is making a profit. Don't waver on your price if the salesperson leaves the room to "get approval from my manager" only to return and say, "We can't do it." Bottom line: Walking away is the best tool in your arsenal. There are nearly identical cars at other dealers.
4/6
Skip the Showroom Showdown
Once you've taken a test-drive and decided exactly what you want, go home. Contact the Internet managers at several dealers and ask for bids. Let them know you're shopping around, and get firm offers via e-mail. If you're a repeat buyer, ask for the "loyalty discount." If you're new to the brand, ask for the "conquest discount." Then take your old car to several dealers and CarMax and sell it to the highest bidder.
5/6
Let a Pro Do It
A car-buying service lets you skip the haggling and the stress. Free services, such as those from TrueCar.com and Edmunds.com, offer prices from participating dealers that are guaranteed but may not be the lowest possible. CarBargains, the buying service of the nonprofit Consumers' Checkbook, charges $250 to hire its professional negotiators to shop for your car at a minimum of five local dealers. Leasing? Check out LeaseWise; for $350, you will get at least five bids.
6/6
Get Out of F&I Alive
The finance-and-insurance office is where dealers make a chunk of their profit, so keep your wits about you (and prepare to be there for a while). Come with loan preapproval from your bank or credit union; unless there's a special interest rate from the manufacturer, the bank's financing may be better. Resist pitches for paint sealant, fabric protection and extended warranties; they aren't worth the money. Review the contract to make sure extras you didn't approve weren't added. Fees for shipping and regional advertising are standard, but document fees are suspect. Never pay a floor-plan fee (the cost to hold inventory at a dealership) or a vehicle-preparation fee for cleaning the car, removing plastic and checking fluids.

Associate Editor, Kiplinger's Personal Finance
Anderson has been with Kiplinger since January 2004, when she joined the staff as a reporter. Since then, she's covered the gamut of personal finance issues—from mortgages and credit to spending wisely—and she heads up Kiplinger's annual automotive rankings. She holds a BA in journalism and mass communication from the University of North Carolina at Chapel Hill. She was the 2012 president of the Washington Automotive Press Association and serves on its board of directors. In 2014, she was selected for the North American Car and Truck Of the Year jury. The awards, presented at the Detroit Auto Show, have come to be regarded as the most prestigious of their kind in the U.S. because they involve no commercial tie-ins. The jury is composed of nationally recognized journalists from across the U.S. and Canada, who are selected on the basis of audience reach, experience, expertise, product knowledge, and reputation in the automotive community.