10 Features Your Car Will Have By 2020
The 1980s classic film, Back to the Future, depicts a future with flying cars and \"skyways.\" The year: 2015.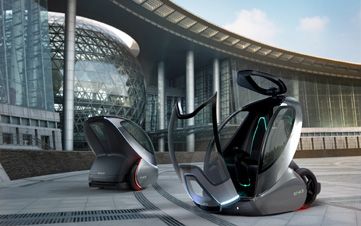 (Image credit: Copyright GM Corp)
The 1980s classic film, Back to the Future, depicts a future with flying cars and \"skyways.\" The year: 2015. We don\'t have a time machine, but we can guarantee that in four years we'll still be using earthbound roads.
And we peered a little further into the future of automotive technology -- to 2020, to be exact -- to see what features are likely to be big sellers.
Safety will always be a top concern, and car companies will continue to develop technology to help reduce accidents. Government mandates to increase fuel economy and reduce pollution will lead to smaller, less thirsty vehicles, with a high percentage of electrified vehicles on the road. And you\'ll likely be able to tell your car to check your Facebook page.
What features will your car have in 2020? Read on to find out more.
1/11
1. Warnings Galore
Your car won't drive itself, but its technology will help make you a safer driver. For example, current collision-mitigation systems use radar to sense when you're getting too close, going too fast, and give you a visual and auditory warning.
They then either \"precharge\" your brakes to give them more power when you step on the brake pedal or -- like some systems from Hyundai, Lexus and Mercedes -- tighten your seat belts and automatically apply the brakes. Prices run $1,200 to $1,500 now, but the systems may be included in more-expensive option packages.
Lane-departure warning systems and blind-spot monitoring systems use cameras and radar to determine whether you\'re straying from your lane or about to move into a lane that's occupied. Infiniti\'s latest system combines the two and will steer you back into your lane. Each system costs $500 to $700 as a stand-alone option, but they are often packaged together.
Expect to see such safety monitoring systems become standard on upscale models and optional on all but the cheapest vehicles. Prices for systems that aren\'t standard equipment will drop from a grand or two to a few hundred dollars.
2/11
2. Eyes All Around
Rearview cameras are likely to become standard equipment, thanks to a proposal by the National Highway Traffic Safety Administration that would require all light passenger vehicles to have the technology by 2014.
The additional cost by the deadline will likely be $50 or less for vehicles equipped with displays (such as a navigation screen) and about $150 for those without one. By 2020, however, the cost will be negligible.
More technologically advanced cameras will be widely standard or inexpensive options (a few hundred dollars). Cross-path cameras, like those from Ford, Chrysler and BMW, show a 180-degree view from the back or front of your vehicle and alert you if another car is approaching as you back up or pull out of a blind drive.
Infiniti\'s Around View monitor gives you a 360-degree view, using a computer to stitch together four camera feeds. The cost of camera systems varies widely, but expect to pay at least $1,000 -- the full complement on BMW\'s 5 and 7 series cars costs $1,200, and Infiniti\'s Around View is available only in a $2,500 option package.
3/11
3. Pedestrian Detection and Night Vision
A pedestrian-detection system, such as the one on Volvo\'s S60, brings the car to a full stop if it detects a pedestrian in your path; if you\'re going faster than 22 miles per hour, the vehicle won\'t be able to stop fast enough to avoid hitting the pedestrian. (The automakers City Safety feature works the same way for a car that stops short in front of you.)
Night-vision systems, like the ones BMW and Mercedes are offering on their top-of-the-line vehicles, detect infrared light or amplify available light to help you see a person who wanders into your intended path but is out of range of your headlights.
Right now, both systems are pricey options. Volvo\'s Technology Package, which includes pedestrian detection, lane-departure warning and collision warning with full automatic braking, is $2,100. BMW\'s Night Vision with Pedestrian Detection is $2,600. But in the future, these systems will be standard on high-end vehicles and available on more-mainstream vehicles for a grand or less.
4/11
4. Easy Cruising
Adaptive cruise control uses radar to help you keep a safe distance from the car in front as you cruise at highway speeds so that you don\'t have to constantly hit the brakes and reset your cruising speed.
Currently, it\'s optional on BMW\'s cars ($2,400) and on Audi\'s A4 ($2,100); it\'s available on mainstream cars like the Ford Taurus ($1,200), too.
By 2020, it will be a nearly ubiquitous option and a standard feature on all top-of-the-line vehicles. It will likely evolve to work at low speeds and help you avoid collisions in stop-and-go traffic, much like Volvo\'s City Safe feature.
5/11
5. Vehicle-to-Vehicle Communications
Wouldn\'t it be nice if cars could talk to each other in order to avoid accidents?
In the future, they will. Ford is currently engineering an intelligent vehicle system that uses advanced Wi-Fi technology; it transmits your vehicle\'s location and recognizes other vehicles surrounding you.
The system will warn you of an oncoming car when you\'d like to pass a vehicle on a country road, or alert you to a car about to blow through a red light, or tell you when a vehicle several cars ahead has stopped short. This technology will be available as an option by the end of the decade, although it\'ll be much longer before it\'s standard. Because the concept is so new, there's no way to estimate what it will cost.
6/11
6. A Better Way to Connect
Finding your way, finding your music and finding your friends will continue to get easier. Bluetooth will be standard at every level, and pairing your phone with the hands-free system will be much less complicated.
A voice prompt will be all you\'ll need to make a call or change the song. Likewise, widely standard in-car communications systems, such as Ford\'s Sync, will read incoming text messages. If you have a built-in navigation system, you\'ll easily be able to speak destinations or ask the system to find a stop along your route. More systems will work like Ford\'s MyFord Touch (available now on the Edge and Focus models for about $1,000).
For example, you can ask \"What\'s playing?\" to hear the song title and artist, or say \"I\'m hungry\" to get a list of restaurant choices nearby. Many more carmakers will offer this technology, and the price tag will come down.
7/11
7. App Central
In-car Wi-Fi is available now from General Motors for a few hundred dollars, plus a monthly subscription fee, and widespread rollout is imminent.
That means surfing the Web on the way to work will probably be par for the course by 2020. And despite government concerns about distracted driving, it\'s a good bet that apps for Pandora radio, Facebook and Twitter will soon be standard fare in your infotainment system.
The systems will rely on voice commands. GM has already started testing audio Facebook updates through its revamped OnStar communications link. Toyota's Entune system, previewed at this year\'s Consumer Electronics Show, also responds to voice commands and can use the driver\'s smart phone to bring apps such as OpenTable, MovieTickets.com and Bing to the dashboard.
8/11
8. Fuel-Sipper Tech
President Obama\'s latest fuel-economy proposal calls for an industry-wide average of up to 62 miles per gallon by 2025, so look for automakers to embrace fuel savings wherever they can.
To get to the 62 mpg mark, experts estimate it will require widespread electrification, adding up to $10,000 to the cost of a new vehicle. Regenerative brakes, which recharge the battery when you step on the brake pedal, will be standard equipment for gas-engine as well as hybrid vehicles. A stop/start feature, similar to that on today\'s hybrids, will become standard for gas-engine vehicles, improving fuel economy by up to 10%.
When your vehicle is stopped, such as at a light or in heavy traffic, the system turns off the engine and restarts it when you take your foot off the brake. Ford will begin offering this on some vehicles next year.
So-called economy modes, like those on the Honda Civic and Hyundai Sonata, will be standard fare, too. Selecting the econ mode on the Civic, for example, improves fuel efficiency by making throttle response more gradual, altering shifting slightly for automatic-transmission models, and modifying the climate control.
9/11
9. Advanced Engines
Hybrids will become a much bigger percentage of cars sold, as will \"mild\" hybrids, such as Buick\'s LaCrosse with eAssist, which uses a small lithium ion battery to power a stop/start system and regenerative brakes. The remaining gas-engine models will rely on turbocharging and direct-injection.
Engine size will be a factor, as well. Ford\'s newest EcoBoost engine is a turbocharged 1.0-liter three-cylinder with direct injection that will offer up to 20% better fuel economy than a traditional four-cylinder with the same amount of power. (No pricing is available yet for the three-cylinder engine, but on the 2011 Ford Flex, the six-cylinder EcoBoost engine costs $3,000 more than the regular one.)
You'll also see transmissions with more gears, which will help improve fuel economy by up to 6%. Eight speeds is the new six.
10/11
10. Exotic Materials
Making cars lighter is one way that automakers can meet higher mileage standards. So instead of high-strength steel and aluminum, carmakers are looking at carbon fiber, the strong, durable and ultralight material found in tennis rackets, bicycles and even airplanes.
Lightweight carbon fiber pieces will be featured on many upscale vehicles, like BMW's forthcoming line of electric cars, which will hit the road in 2013. Although manufacturing the material is costly now, prices will come down as advances in manufacturing are made. Using carbon fiber to reduce weight could improve fuel economy by 7%.
11/11
More From Kiplinger
SLIDE SHOW: Best Cars for Your Road Trip
SLIDE SHOW: Best Cars for Young Drivers
SLIDE SHOW: Best Cars for Families
SLIDE SHOW: 10 Cheapest Cars to Own
2011 New Car Rankings: Compare Cost and Performance Data