Cuba Today and After Castro
Editor's note: In light of this week's news that the U.S.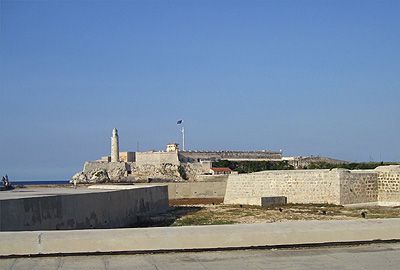 Editor's note: In light of this week's news that the U.S. and Cuba intend to normalize relations, we are refeaturing this 2007 slide show to give you a glimpse into everyday Cuban life. Not much has changed in decades. But it soon might—read our forecast to discover the first beneficiaries of eased business restrictions in dealing with Cuba.
With once fiery revolutionary Fidel Castro in his waning days, I accepted an invitation recently to join a group of journalists on a trip to the Cuban capital of Havana.
We met with Cuban trade officials and others eager to see an end toU.S. restrictions on trade and travel between the two nations—a move that would benefit U.S. businesses and Cuba. During our trip, we viewed many facets of Cuban life. We also toured some of the island-nation's famous landmarks, including El Morro Castle (pictured here), a fortress built in 1589 at the mouth of Havana Bay and the entrance to Havana Harbor. Its mission: Protect the city against pirates. What follows are a few glimpses into daily life in the largest city in Cuba and the Caribbean.
1/13
Havana's Capitol (and Capital)
A view of downtown Havana with Havana Bay, the entrance to the port of Havana in the foreground. The domed building in the middle of the picture is El Capitolio, the seat of government before Castro took power in 1959. If the dome looks familiar, it's because the building, built in the 1920s, is patterned after the U.S. Capitol in Washington, D.C. It's now home to the Cuban Academy of Sciences.
2/13
Ever-Present Policia
In a totalitarian police state, police officers are never far away.
Ordinary Cubans are under constant physical and electronic surveillance, and they know that any suspicious interaction with foreign visitors will most likely be checked out and could lead to detention. Dissension is quickly dealt with, a policy that is at the root of the U.S. hard-line against Cuba. But, on the streets, most people don't appear bothered. Humor is one popular coping mechanism.
Is change in the air? Possibly. Acting President Raul Castro recently invited university students to debate "fearlessly." A more open Cuba will lead to more open relations with the U.S.
3/13
Sending a Message
Hard to miss this billboard just over the shoulders of Cuban teens jaywalking lazily across Havana's main seaside drag...the Malecon...where people go to see and be seen. Located near the U.S. Interests Section (formerly the U.S. Embassy in pre-Castro days), the sign faces across the Florida Straits to the U.S., 90 miles away. It depicts Uncle Sam standing on U.S. soil and growling at an armed man in Cuba. The Cuban's reply: "Mister Imperialist. We have absolutely no fear of you."
As for the kids, it was clear that their minds were more on fun than on politics. Note: With heavy traffic a rarity just about any day of the week, jaywalking isn't much of a risk.
4/13
El Presidente Es Un....
Yes, old American cars thrive in Cuba. In fact, they're now a cultural attraction, marveled over by visitors from South America, Europe, Canada and elsewhere. Cubans are resourceful mechanics out of necessity, able to keep just about anything running—from cars to vacuum cleaners.
The billboard equates President Bush and ex-CIA agent Luis Posada Carriles with Adolf Hitler. Posada, currently in jail in Texas, is blamed by Cubans for blowing up a Cuban airliner near Barbados in 1976, killing 73 Cubans.
5/13
Dear Hugo, Thanks for the Gas
Fairly light traffic spells short or no waits at gas stations—state owned, of course, as most Cuban businesses still are, though there's increasing talk of allowing more private ownership and increasing incentives for workers to boost productivity. Odds are that such changes will come under the leadership of Raul Castro.
Cubans are entrepreneurial by nature. Younger Cubans, in particular, are hopeful that they'll soon be allowed a greater measure of independence. But many still expect the socialist state to continue providing free education and health care. Much of the gasoline in Cuba is courtesy of subsidized shipments from President Hugo Chavez of Venezuela, a huge Castro admirer.
6/13
Don't Forget Your Che T-Shirt
Ahh... tchothkes for the tourists, who are coming to Cuba in ever larger numbers from many countries—except the U.S., of course, because Uncle Sam puts high hurdles in front of Americans who seek to visit Cuba. The travel ban is under increasing attack in Congress, and Cuban government officials fervently wish for its end. American tourist dollars would be a big boost for the Cuban economy.
Currently, the biggest numbers of visitors are from Canada. Cubans think Americans would spend—and tip—more than others. But one Havanan told me she frets that once Americans start arriving, Starbucks and McDonald's won't be far behind. "It'll look just like Miami."
7/13
Where Hemingway Drank
Well, I confess to being a big Hemingway fan—and I'm not alone. Cuba fell in love with him when he lived here, and he and his legacy remain a huge tourist draw. Pictured here is one of his favorite haunts—El Floridida—in old Havana, where Papa enjoyed many a daiquiri. Yes, they're very good, thank you.
8/13
What's for Sale? Not So Much
A farmer's market in downtown Havana, featuring vegetables, fruit and meat—and relatively few shoppers. That's because shopping here requires hard currency, which isn't all that readily available to most Cubans. Cubans with access to hard currency giving them access to fancier goods typically work in the tourist industry or receive money from relatives abroad. Most folks must rely on ration books for regular allotments of food—some of which is supplied by U.S. farmers under special permission from Congress.
A thriving black market also exists for food—with vendors even going door to door under cover of night.
9/13
Socialism's Infrastructure
The concepts of worker ownership and private management—likely to take firmer root after Castro's death—have their roots in the post-revolutionary era in farm co-ops such as this one near Havana. The manager, Luis Lopez, said the co-op has 384 worker-members. It grows grapefruit, mangoes and other fruit plus vegetables (using Israeli-developed drip irrigation for the vegetables grown under huge mesh tents to protect against the heat.) The benefits of the private sector notwithstanding, the co-op is named Sept. 9—a storied date in Cuba's revolutionary history.
Note the aging equipment. Lopez's eyes lit up when asked whether he'd welcome the chance to buy tractors and other farm machinery from the U.S. But only if he could be assured of parts and service, too, he added.
10/13
Real Estate Realities
A fairly typical residential street scene in "middle class" Havana. Housing is a mix of Soviet-style architecture and buildings that date back much, much further. Housing is a huge problem throughout Cuba—there isn't nearly enough of it to meet demand. Many families live in crowded, dilapidated conditions. The government has a plan for a major building campaign, but the task is a daunting one. It will be one of Raul Castro's biggest headaches in coming years.
11/13
Keeping It Rolling
Saturday morning at the neighborhood auto and bicycle tire repair shop.
12/13
Common Ground: The Diamond
Cubans love baseball, of course, and they're very good at it. Here's a group of young men warming up to play a softball game on a Saturday morning. Though just a pickup game, they took it seriously and showed well-schooled fielding and hitting mechanics that left this old Little League coach very impressed.
Cubans are also very knowledgeable about major league baseball in the U.S.; they follow teams, players, standings, etc. One dream: a major league franchise in Havana someday.
13/13
Symbolism Central
138 huge black flags, each bearing a white star, block the view of a building housing the U.S. Special Interests section. The building—formerly the U.S. Embassy—has a large electronic sign on an upper floor, beaming news and political messages. Angered by the sign, the Cuban government last year erected the flags, which stand for the number of Cubans killed in the Bay of Pigs invasion, by the bombing of a Cuban airliner and in Havana hotel blasts they blame on the U.S. This tit-for-tat display has heightened U.S.-Cuba tensions.

Deputy Managing Editor, the Kiplinger letters
As Deputy Managing Editor of the Kiplinger Business Forecasting Group, Sfiligoj helps to plan, write and edit The Kiplinger Letter as well as content for other Kiplinger publications and Kiplinger.com. Before joining Kiplinger in 1987, he covered the energy and aerospace industries in Texas and Washington, D.C. With Kiplinger, he spent many years covering politics and business-related developments on Capitol Hill and in the executive branch. He holds a BS in journalism from Kent State University.