10 Ways Uncle Sam Wastes Your Tax Dollars
The federal government is in the midst of implementing the sequester — automatic spending cuts that will save $85 billion this year and more than $100 billion each in future years.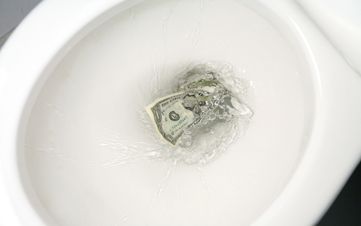 (Image credit: istockphoto)
The federal government is in the midst of implementing the sequester — automatic spending cuts that will save $85 billion this year and more than $100 billion each in future years. But when the watchdogs and overseers finish running the numbers for 2013 and get their first look at spending plans for next year, they will no doubt find examples of government spending that will lead to head-scratching — or fist-pounding. When you find your favorite national park closed for a day to save money, remember some of these recent examples of your tax dollars at work.
1/11
Extraterrestrial Cuisine
Will astronauts eat pizza on Mars?
NASA is spending about $1 million a year to study menu options for U.S. visitors to the Red Planet. Never mind that manned flight to Mars is years, perhaps decades, away because of the, um, astronomical costs. And never mind that right now NASA has no money to send astronauts anywhere. Researchers at Cornell University and the University of Hawaii are hot on the trail of what they will eat, whenever they get there. We're fairly certain that 30-minute delivery guarantees won't apply.
2/11
Robotic Squirrel
Why do rattlesnakes rarely attack a squirrel that wags its tail? Scientists at San Diego State University and the University of California at Davis won a $325,000 research grant from the National Science Foundation to build a robotic squirrel to try to find out. RoboSquirrel is designed to look, act and smell like the real thing, but, of course, it isn't. On the plus side, researchers won't have to worry about offending animal rights activists, since no live squirrels will be harmed during the experiment.
3/11
Paying the Dead
Maybe you can take it with you. Some federal workers keep getting paid long after they die, and their relatives keep cashing the checks. The Inspector General for the Office of Personnel Management said in 2011 that payments to workers who have, shall we say, permanently retired, add up to as much as $150 million per year. Checks for one cemetery resident kept coming for 37 years, until the son who was cashing them died. Without a forwarding address for the bill, the government has no way to collect the more than $500,000 that it paid out.
4/11
Pondering the Imponderable
Should we want to be happy? The National Endowment for the Humanities offered $25,000 from its Enduring Questions grant program to create a college course aimed at finding the answer. As part of the course at New Mexico State University, students will open a booth on campus to take questions. You can be the first to ask, Is this really necessary?
5/11
Making Beer
The next round's on you. New Hampshire brewer Smuttynose used a $500,000 community block grant for sewer connections and brewery equipment to benefit its $5-million-a-year operation. The check was written by the Department of Housing and Urban Development, one of many aimed at helping local businesses.
6/11
Public Television …. In Other Countries
How does Elmo say "that tickles" in Urdu? Thanks to a $6.7-million grant from the U.S. Agency for International Development, an arts organization in Pakistan started producing 78 episodes of Sesame Street in Urdu and 13 shows in four regional languages. Something got lost in translation, though. The total grant was supposed to be for $20 million over several years, but Uncle Sam suspended the payments in 2011 to investigate allegations of corruption.
7/11
Too Much Self-Esteem
How many programs for at-risk youngsters is too many? That's what the Government Accountability Office, the investigative arm of Congress, wondered. GAO questioned the need for a $5-million-a-year Army program designed to help troubled students boost self-esteem, improve social skills and take an interest in math and science. Trouble is, the program is one of more than 200 across the federal government that target the same youths, at a cost of about $3 billion a year.
8/11
The Whys of Social Networking
Here are three questions that we know you're dying to have answered: Do folks who are unhappy spend more time on Facebook or Twitter than happier humans? Can you trust your Twitter feed? And how do college freshmen use social networking skills? The National Science Foundation provided $198,000 for researchers at the University of California Riverside to answer the first question, $492,000 for Wellesley College to study the second and $760,000 to Notre Dame to weigh in on the third. Apparently, no one is studying a fourth question that comes to mind: Why do we need to know this?
9/11
Flying Feces
It's a dirty little fact of life: Some chimpanzees throw their feces at humans.
Do we really need to know why? The check writers at the National Institutes of Health apparently believe the answer is yes. They gave researchers nearly $600,000 to study the practice and try to get to the bottom of it. So far, they report, the best throwers have better communication skills than other primates.
10/11
Sculpture Garden
The next time you hit a pothole, think of long-ago first lady Lou Henry Hoover.
Waterloo, Iowa, used $145,000 in federal highway funds last year for a sculpture garden honoring the wife of the 31st president. It's not a lot of money, to be sure, but a six-figure check sure seems to be enough to pay for at least some road improvements.
11/11