5 Reasons NOT to Fear China (and 3 Reasons to Still Worry)
In the 1980s, many Americans feared that fast-growing Japan would supplant the U.S.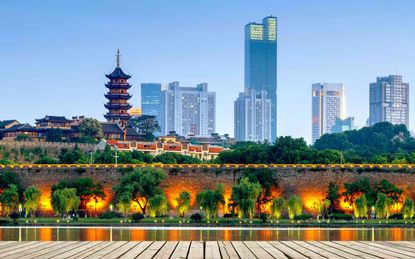 (Image credit: Getty Images)
In the 1980s, many Americans feared that fast-growing Japan would supplant the U.S. as the world's biggest, most dynamic economy. Those fears abruptly disappeared when the Japanese economy stumbled in the 1990s, only to be resurrected in the new century with a new rival: China.
With the world's largest population and an economic boom unleashed by the end of Communist controls, China seemed destined to overtake America as the world's richest and most powerful nation. But just as the threat posed by Japan 30 years ago turned out to be overblown, the threat China poses today may be less dire than it appears, despite ominous headlines these days about the trade war between Washington and Beijing.
Long a juggernaut, China is slowing now. The era of double-digit GDP growth is over. Last quarter's 6% growth rate -- which some analysts believe to be overstated by Beijing -- was the lowest in three decades. Growth will downshift to 4% of less by 2030.
The country faces several major challenges. Consider:
1/8
Adverse Demographics
China's population of working-age people is shrinking. Last year's level of 897 million people in that age bracket was down from 925 million as recently as 2011. For decades, China's growth rate was goosed by a favorable ratio of young, working people to older, retired people. Now, that's reversing, cutting down on available labor.
China's population may start falling in 2027 -- an outright decline in all people, not just workers. Chalk it up to Beijing's former one-child policy, which recently became a two-child policy.
2/8
Subsidies of State-Controlled Businesses
Increasingly, bank loans in China go to inefficient, state-sponsored companies, rather than the private sector. (Private firms got about 50% of bank credit in 2013. By 2016, the share was just 10%.)
Productivity suffers because Beijing subsidizes state-controlled businesses at the expense of private companies. The return on capital from state-run enterprises is roughly half that from private firms, a major factor in China's slowing GDP growth.
Note that this represents a turnaround from the policy that fueled China during its rapid-growth phase earlier this century. Back then, Beijing cut investment in state-run businesses, freeing capital to go to the companies that could use it best. But when the Great Recession hit in 2008, the government staved off painful job losses by funding wasteful stimulus projects and directing credit to big, state-backed firms. That trend has intensified since President Xi Jinping began his rise to power in 2012.
3/8
A Crackdown on Shadow Banking
The crackdown on shadow banking is further constricting China's economic growth. Faced with mounting risks in its financial system, Beijing has sought to curb the role of nonbank lenders in supplying credit. That means less capital available to the most productive firms in China's private sector, which had been the largest recipients of loans from the shadow banking system. By contrast, China's big, inefficient, state-subsidized industries tend to soak up the loans from traditional banks, because those borrowers have an implicit guarantee that Beijing will prop them up if their finances deteriorate.
4/8
America's Continuing Dominance in Semiconductors
Can China chip away at America's dominant position in semiconductors? It faces a tough challenge, as it still buys 90% of its chips, worth $200 billion, each year from foreign companies, including such U.S. firms as Intel and Qualcomm.
But that doesn't mean Beijing won't try, spending hundreds of billions in the process. The Chinese government recently unveiled a $28.9 billion fund to support semiconductor development, only the latest in a series of such efforts.
With traditional chips, China will continue playing catch-up with leaders of the semiconductor industry, such as Intel, Qualcomm and Micron Technology.
But Beijing still has an opportunity to capitalize on the industry's future: Artificial intelligence chips, specialized semiconductors that are designed for complex machine learning. Also known as AI accelerators, they are more efficient and powerful than traditional CPUs, thanks to their ability to divide up processing and perform parallel computations. For example, a Google "deep learning" experiment that took 16,000 CPUs to recognize a cat needed just 48 graphics-processing AI chips.
Though AI chips account for only 1% of global semiconductor sales, that number is expected to grow quickly along with artificial intelligence, which is expected to deliver $13 trillion in additional economic output by 2030. For now, expect U.S. firms like Intel and Nvidia to dominate in AI chips. But China has its foot in the door. HiSilicon, Huawei's semiconductor arm, has made considerable strides on AI chipsets for the company's new 5G smartphones.
5/8
The FCC Isn't Letting Up on Chinese Telecom Gear
The Federal Communications Commission will soon forbid U.S. wireless and wired firms to use any federal money to buy equipment from Huawei and ZTE. The agency says there is ample evidence to conclude that the two Chinese vendors pose a national security risk to Americans, and points to similar efforts by the Trump administration and support from Congress.
The FCC is targeting $8 billion in yearly spending used for telecom services in rural areas, low-income folks, schools, libraries and rural health care. The subsidies ultimately come from monthly consumer fees on wired and wireless phone bills. Once the FCC's new rule takes effect, none of the money can go to Huawei and ZTE.
Coming efforts to rip out Chinese gear from rural networks will be costly, likely running into the hundreds of millions of dollars. The FCC will collect data on how widespread Chinese gear is inside certain networks and how much it will cost to replace all of it. Much of the low-cost equipment is found in small rural networks. Congress may eventually step in to help pay for the work. It's possible that the FCC may find the funds, but it's more likely extra funding will be needed. Expect state and local governments to follow suit in banning Chinese gear.
The two biggest beneficiaries of the coming FCC ban: Ericsson and Nokia, which sell telecom products necessary for wired and wireless networks, including 5G. They'll be able to ramp up sales in the U.S. while keeping prices a bit higher.
6/8
Reason to Fear: China's 5G Superiority
China's 5G strategy increasingly worries U.S. officials, who see Chinese telecom gear as a national security threat that could allow Beijing to spy on communications or help developing nations censor parts of the web, as China does. There's growing fear that China's leading companies are poised to out-compete and out-innovate U.S. tech giants. That has riled U.S. lawmakers, who point to years of stolen intellectual property by China and unfair conditions imposed on U.S. firms doing business in the country.
China's main weapon for global 5G superiority: Huawei, a state-backed telecom giant with a stockpile of valuable 5G patents. The company aims to spread its equipment in China and around the world. The U.S. can't compete with Huawei's telecom gear since no U.S. company makes comparable wireless radio systems. (Europe's Ericsson and Nokia do manufacture radio gear.)
China sees 5G as a key technology for its larger ambitions to become a global technology leader. For China, 5G's more-robust wireless broadband will support other emerging fields, ranging from advanced artificial intelligence to the Internet of Things, thus fueling its overall tech strategy and growing its economy.
7/8
Reason to Fear: China's Increased R&D Spending
China is an emerging scientific power, closing the gap with the U.S. Since 2000, Beijing has upped spending on research and development by an average of 18% annually, including investments in such key emerging technologies as artificial intelligence, robotics and quantum computing.
China won't surpass the U.S. in all those fields, maybe not in any of them, but its technological achievements will rival America's. Expect Beijing to catch up with Washington in overall R&D spending sometime in the next decade--something that will also help China increasingly attract and retain top-tier scientific talent.
8/8
Reason to Fear: China's Military Ambitions
China is already an economic juggernaut. Its leaders have an even bigger ambition: Make China the world's dominant nation...economically AND militarily...within the next 30 years.
The U.S. military is still second to none. But Beijing is catching up fast. Its spending on defense is rising by 10% per year, on everything from jet fighters to new space-based weaponry.
The navy is a particular priority. In 2017, China opened its first naval base on Africa's coast and is building more on the islands it has developed in the South China Sea, a vital waterway for a third of global shipping. The plan: Turn the Indian Ocean and the western Pacific into a Chinese lake of sorts. Ties to smaller regional powers are growing as China holds more military exercises with nations such as Thailand and sells arms around the world. (China trails only Russia and the U.S. on that front.)