5 Defense Stocks to Buy to Toughen Up Your Portfolio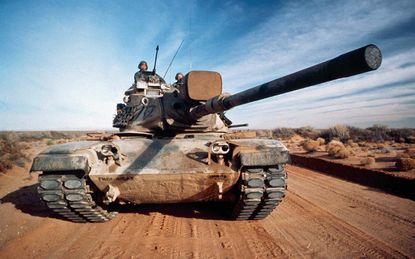 (Image credit: Getty Images)
Hold on to your hats, brace yourself for an uptick in volatility … and perhaps give defense stocks a look this October.
Goldman Sachs' equity derivatives strategist John Marshall, in a recent report to clients, writes that, since 1928, volatility has been 25% higher on average during the month of October.
"Not only are earnings day moves rising relative to average daily moves, but October tends to be the quarter with the largest absolute earnings day moves for U.S. stocks," Marshall writes. And it's no coincidence. "We believe it is a critical period for many investors and companies that manage performance to calendar year-end."
How should investors play this potential bout of choppiness? Get defensive – with defense stocks. Aerospace, defense and other companies that have a hand in national security are traditionally more defensive investments. They also offer notably low exposure to Chinese trade war tensions.
Encouragingly, the iShares U.S. Aerospace & Defense ETF (ITA (opens in new tab)) is currently trading up 30% year-to-date. That's better than the S&P 500 (+18% YTD) and Dow Jones Industrial Average (+15%).
Here are five intriguing defense stocks to buy for … well, defense. We turned to TipRanks (opens in new tab) for analyst ratings across the industry. All five of these stock picks score a Moderate Buy or Strong Buy consensus based on ratings from the last three months.
Contributing Writer, Kiplinger.com
Harriet Lefton, originally from the U.K., began her career as a journalist specializing in the niche world of metal markets. She graduated from the University of Cambridge before becoming a qualified U.K. lawyer. Now she has turned her attention to the world of financial blogging, covering U.S. stocks, analysts and all manner of things finance-related.