9 Ways to Earn Extra Cash This Summer
Maybe you're a teacher, with a couple months of downtime before the new school year in the fall.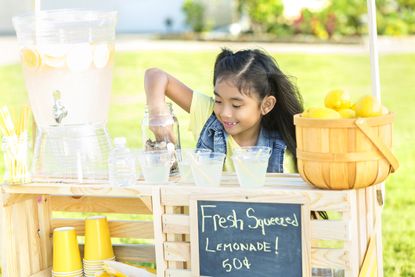 (Image credit: Getty Images)
Maybe you're a teacher, with a couple months of downtime before the new school year in the fall. Or a student, hoping to pocket some summer spending money or get a jump-start on your retirement savings. Or, heck, just a hard-working 9-to-5er trying to fund an overdue beach trip or looming holiday gifts. You want extra cash, and you want it now.
Consider these legitimate moneymaking opportunities that you can get started with right away. Some require skill; others only demand time and effort. Our list includes resources and tips to help you get started earning extra money. Take a look.
1/9
Get Paid for Your Opinions
Market-research firms are hired by big businesses to get inside the heads of consumers. Participation in an in-person focus group led by a moderator, such as those run by Focus Pointe Global (opens in new tab), can earn you between $45 and $250. Focus Pointe Global also has opportunities for telephone or online surveys.
In exchange for taking online and phone surveys, firms such as Harris Interactive (opens in new tab) and Schlesinger Associates (opens in new tab) offer rewards points redeemable for gift cards and merchandise. Beware scams, though. Legitimate firms won't charge a fee or ask you to cash a check and wire back part of the money.
Lawyers are getting in on the act, too. "Online jurors" can earn cash for giving their opinions on legal cases. EJury.com (opens in new tab) pays $5 to $10 per case. You'll need a PayPal account. At OnlineVerdict.com (opens in new tab), where fees range from $20 to $60, payment is made by check.
2/9
Be a Tour Guide
If you live near an historic site overseen by the National Park Service, you could become a licensed guide. For example, the Licensed Battlefield Guides of Gettysburg (opens in new tab), the Pennsylvania site of one of the greatest battles of the American Civil War, are licensed and regulated by the National Park Service and are the only individuals legally allowed to conduct visitors around the national park for a fee. Rates for a two-hour basic battlefield tour range from $62 to $132 depending on group size, with prorated fees of $31.50 to $66 per hour for additional time. Tips are not required but often given.
Are you a runner? Consider earning extra bucks as a running tour guide. City Running Tours (opens in new tab) – "sweat and sightsee simultaneously" – is one company offering "sightrunning" (it's a thing) services in 13 (and counting) U.S. cities, including Washington, D.C., and Honolulu. The company offers personalized or group tours. Tips aren't required, but permitted.
"Our tour guides make on average about $20-$40 per tour plus incentives based on seniority, type of tour, distance, number of participants, referrals and positive reviews," Michael Gazaleh, president and CEO of City Running Tours, tells Kiplinger's.
—Bob Niedt
3/9
Tutor
If you have a special skill -- whether it's the ability to play an instrument well, paint like Picasso or explain calculus in a way anyone can understand -- you may be able to make money sharing it with others. For example, you could earn $10 to $75 an hour tutoring individual kids or college-bound students if you speak a second language or have great math, science or writing skills.
Advertise your services on school, campus and community bulletin boards, or tutoring web sites such as Wyzant (opens in new tab) and Tutor.com (opens in new tab). And take advantage of social media sites, such as Facebook, to let people know about the lessons you're able to teach.
4/9
Join a Street Team
Street teams need energetic, outgoing helpers to promote products, summer blockbusters, albums, events and more by handing out samples, interacting with people on the street, or dressing as mascots, representing products and companies as a "Brand Ambassador," work trade show and more. To get a job earning $20 to $25 an hour, sign up with a company such as Street Team Promotion (opens in new tab), which handles promotions in big cities nationwide. Make sure you get a contract that specifies when you'll get paid. Sign up at MyStreetTeam.com (opens in new tab).
5/9
Be a Babysitter
Babysitting can be a fun way to put money in your pocket if you like kids. In big cities such as New York and Washington, expect to earn up to $20 an hour as a babysitter or nanny. (In smaller towns and cities, such as Holland, Mich., and Schaumburg, Ill., the going rate is $13.00 to $14.50 an hour). Advertise your services on community bulletin boards, the public library or houses of worship. You can also place a listing or search for jobs on sites such as Care.com (opens in new tab) and Sittercity (opens in new tab).
6/9
Walk Dogs
Get a little exercise while you earn anywhere from $15 to $45 an hour. Working folks will pay plenty for you to take Rover or Scruffy on a daily stroll while they're at the office. Or consider pet-sitting for people while they're on vacation for a daily fee of $55 or more. Advertise your services in veterinarians' offices, on Craigslist (opens in new tab) or on sites such as Care.com (opens in new tab).You can also team up with an existing dog-walking operation that handles client recruitment and scheduling. To find one, ask other dog walkers you encounter whether they're part of a group, or check Craigslist.
7/9
Profit From Your Garden
If you grow your own vegetables or raise chickens in your backyard, you might have an overabundance of produce or eggs that you hate to see go to waste. So profit from it, instead. Kiplinger's office manager, Glen Mayers, sells eggs from his 12 hens to colleagues for $3 a dozen, on Craigslist for $4 and at a farmer's market for $5. He also sells honey from his bees for $9 per 1-pound jar.
Mayers also recently started selling meat. "The cost is anywhere from $20 to $25 for an organically, cage-free-raised bird fully dressed like you get at the store," Mayers says.
He puts the cash he earns in a jar at home, and his family uses it for fun outings together. The family's next project is raising turkeys.
8/9
Rent Out Your Home
Looking to fund your beach getaway by renting our your city home while you're away? Websites including Airbnb make it easy to rent out a spare room, a wing of your house or a backyard cottage.
Beth Everett and her husband, Glenn, built a cottage in their backyard in 2014 for their son Jordan to live in when he's home from college. But while the studio sits empty, visitors to Portland, Ore., can rent the cozy space through Airbnb for $99 a night.
Fox Lair, as it's known, offers heated floors, a small sitting area decked out with guitars and bongos, and plenty of eclectic artwork. Everett estimates that in 2015 they earned about $9,000 from a steady stream of visitors, money she used to help pay for editing and cover designs for her self-published books, the Lee Harding mystery series. "It was the easiest money I ever made," she says. "And it was fun."
You can list your space free on Airbnb (opens in new tab), then pay 3% to the site when you receive successful booking. (Airbnb will reimburse you up to $1 million for damage to your property.)
—Miriam Cross
9/9
Drive Other People
If you've ever found yourself in need of a quick ride, you may have turned to Uber (opens in new tab), the anytime, anywhere ride service that has gained popularity over the last several years. But have you ever considered becoming an Uber driver? If you are at least 21 years old, own a car made after 2005 or newer (depending on the city), and pass background and driving checks, you could earn cash by driving people around in your free time. According to Uber, drivers' average earnings per hour are about $19. But don't forget to factor in the costs associated with using your own car, such as gas, maintenance, insurance and cleaning.
Uber's competitor Lyft (opens in new tab) helps people interested in driving for Lyft estimate their income via a calculator on its website. I punched in 20 hours per week driving for Lyft, which said I'd earn $400 a week in the Northern Virginia town I call home. That's about $20 an hour. Like Uber, Lyft has age, vehicle and background-check requirements for drivers.
—Meilan Solly