New Retirement Normal: Today's Trends Shaping Tomorrow
Learn what current retirement trends will mean for those retiring tomorrow.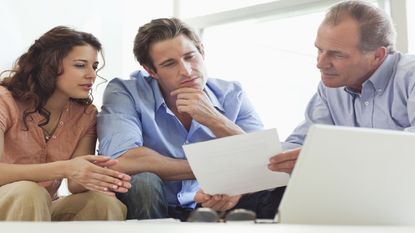 (Image credit: Getty Images)
If you've only just begun your career, retirement can seem so far away that it's not worth thinking about. However, no matter what stage you are at in your career, you can't afford not to think about retirement and saving for the future — that day when you finally clock out for the last time.
What makes retirement planning now more challenging than in the past is the expectation that today's trends may lead to dramatic changes in the landscape by the time you actually retire, whether that's in 10 year or 40 years. The retirement savings industry could be on track to change significantly by as soon as 2030, according to a recent survey of financial professionals and employers from investment firm Principal. Here are some trends you may want to keep in mind as you plan for retirement.
Beware the growing savings gap
There's a growing gap in retirement savings, a number of recent studies have shown, meaning that the amount being saved, if anything, is not sufficient relative to the amount that will be needed.
Subscribe to Kiplinger's Personal Finance
Be a smarter, better informed investor.
Save up to 74%
Sign up for Kiplinger's Free E-Newsletters
Profit and prosper with the best of expert advice on investing, taxes, retirement, personal finance and more - straight to your e-mail.
Profit and prosper with the best of expert advice - straight to your e-mail.
A U.S. News report showed that more than 40% of Americans didn't save anything for retirement in 2022 because of soaring inflation that hit 40-year highs. A survey from Allianz Life showed that more than 50% of Americans reduced or fully discontinued their retirement savings in 2022 due to inflation.
The savings gap is expected to continue growing over the next decade. However, the SECURE 2.0 Act, which was signed into law in December, could help with that due to the incentives it introduced. Among the updates are:
Changes to the age when retired minimum distributions from retirement accounts must begin
Increased catch-up contributions for 401(k)s
Automatic enrollment changes
Increased flexibility for emergency withdrawals from retirement accounts
Guaranteed life income and other offerings will become more common
Surveys suggest people are generally cognizant that they're not saving enough for retirement, which is leading to evolutions in the types of benefits that could be offered in the future. For example, 82% of the professionals surveyed by Principal expect guaranteed lifetime income to become more common by 2030.
Professionals also expect managed account service to become more common. A managed account is a portfolio of stocks, bonds, or other securities that's managed by a professional on behalf of an investor. Sixty percent of professionals also predict increases in environment, social, and governance (ESG) offerings and digital assets like cryptocurrency.
Additionally, 75% of financial professionals and employers expect personalized investment portfolios to become a common investment offering by 2030. Finally, the Zoomer generation, which consists of those born between 1997 and 2012, is starting to enter the workforce and impact the future of retirement through the rapid adoption of various digital tools.
The workforce is aging
It's been no secret that the U.S. population has been aging over the last decade or so as more and more Baby Boomers reach retirement age. However, this trend is triggering multiple changes, and not just in the age of the workforce.
There is essentially a push and pull occurring right now. On one hand, a large number of people are reaching retirement age simultaneously, suddenly triggering labor shortages in many of the more traditional industries (meaning non-tech sectors). On the other hand, some people are staying in the workforce longer because they didn't save enough for retirement.
Additionally, people are living longer. According to the World Economic Forum, life expectancy rose from an average of 48 to 73 years between 1950 and 2019. This is further pressuring the retirement savings gap and has raised the full retirement age in the U.S. to 67 for those born in 1960 or later.
Saving for retirement is now part of a holistic financial wellness plan
More than 90% of the financial professionals who participated in the Principal survey reported that they expect offerings for financial wellness to increase by 2030. Since the COVID-19 pandemic, there has been a clear shift from simply saving for retirement to a more comprehensive plan that involves more benefits and education.
Decades ago, saving for retirement was generally seen as something everyone had to do. However, it was often kept separate from any other potential investments because the average worker couldn't afford or didn't know how to invest on their own.
Fortunately, today's technology has democratized investing, making it easier than ever before for anyone to invest, even without the help of a professional. As a result, many people who in past generations might only have invested through their retirement accounts are now getting more involved in the markets.
Bottom line
Over the last century and a half, saving for retirement has changed dramatically, morphing from pensions in some of the earliest days of retirement savings to dependence on the government after the Social Security Bill was signed into law in 1935. Today, future retirees are now having to plan for a future in which Social Security might not even exist.
As the times and technology have evolved, changes in saving for retirement have accelerated. Thus, future retirees must always be on their guard and monitor today's trends that will mean big changes for their retirement in the future.
Related Content
Jacob is the founder and CEO of ValueWalk. What started as a hobby 10 years ago turned into a well-known financial media empire focusing in particular on simplifying the opaque world of the hedge fund world. Before doing ValueWalk full time, Jacob worked as an equity analyst specializing in mid and small-cap stocks. Jacob also worked in business development for hedge funds. He lives with his wife and five children in New Jersey. Full Disclosure: Jacob only invests in broad-based ETFs and mutual funds to avoid any conflict of interest.