Smart Money Management: The Best Trends and Tools
Manage your money better using the best tools technology has to offer.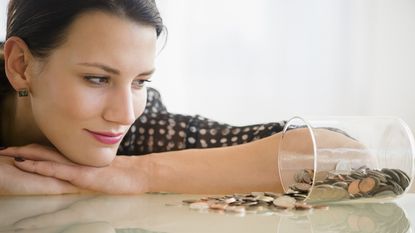 (Image credit: Getty)
Over the decades, the basic meaning of the term "personal finance" has remained the same, but the ways we go about managing our finances have changed with technology. Many years ago, customers had to go to their local bank to do anything from deposit money to cash a check to apply for a mortgage or personal loan.
However, these functions have largely shifted online over the last 10 years or so — even to the point where internet banks without local branches are common. Of course, today's technology has done much more than just move banking functions online. The many available tools and technology have made money management easier than ever before.
Fintech
One word that gets thrown around a lot these days is "fintech," short for "financial technology." Anyone who trades stocks has probably heard a lot of companies use that word to define their services because it attracts quite a lot of attention among investors. Fintech is hot, and companies that have anything to do with personal finance want to link themselves to this trend.
Subscribe to Kiplinger's Personal Finance
Be a smarter, better informed investor.
Save up to 74%
Sign up for Kiplinger's Free E-Newsletters
Profit and prosper with the best of expert advice on investing, taxes, retirement, personal finance and more - straight to your e-mail.
Profit and prosper with the best of expert advice - straight to your e-mail.
However, fintech encompasses many different areas and captures all parts of personal finance and money management. Now that most people carry a smartphone with them everywhere, the necessary tools to take care of every aspect of money management are as close as your purse or pocket, starting with financial literacy. Unfortunately, the current trends are not good.
Financial Literacy
Nearly 75% of U.S. teens are not confident in their knowledge of personal finance, according to a survey from Greenlight, a debit card and money app geared toward kids and families. A majority of those surveyed want more education in this area. On a broader scale, 25% of Americans don't have anyone to ask for financial guidance, and 23% of U.S. adults between the ages of 18 and 29 have credit card debt that's more than 90 days past due. In fact, the latest data from the Federal Reserve Bank shows that Americans have racked up a record amount of credit card debt — approaching $1 trillion.
With these trends in mind, we can take a look at some of the best tools for personal finance by breaking them down into the four major areas of money management: income, savings, spending and investing.
Income
Income is where everyone starts because you can't do anything else until you start bringing money in. The most basic tools are your bank's website and smartphone app, but fintech has much more to offer.
A key part of managing your income is making a budget, and there are a plethora of options to choose from.
Mint is a highly recommended budgeting app that's good for just about everything. Mint offers a free way to sync all your checking and savings accounts, credit cards, bills, investments, and loans. Then it tracks your expenses and categorizes them, assigning them to different parts of your budget. While Mint works on a backward-facing basis, other apps are better for those who want to look forward.
YNAB motivates users to plan ahead with their financial decisions rather than just track what they've already done. When you get paid, you tell the app how much you want to budget for each category. Unfortunately, YNAB costs about $15 a month or $99 a year, although a free 34-day trial is available. However, many of the best tools come with user fees that are worthwhile for those who make the most of them.
While making a budget is the first step, those who have never done this might not even know where to start. Traditionally, many experts suggested budgeting half your income for needs, 30% for wants, and 30% for either savings or debt repayment. However, in today's world of soaring inflation, things have gotten much trickier.
With prices shifting so much so fast, sometimes there's nothing better than a simple spreadsheet on your computer or even tracking everything using pencil and paper. For a more high-tech approach, tools like EveryDollar can help you organize your spending habits. The makers of the app claim it will help users "find an extra $332 hiding in plain sight" and cut their "monthly expenses by 9%."
Savings
A critical aspect of budgeting involves setting aside savings each month. As the saying goes, it is essential to prioritize paying yourself first before allocating your income towards expenses. However, implementing this principle can be easier said than done.
Acorns is a tool that can provide significant assistance in this regard. Acorns functions by rounding up each debit or credit card charge to the nearest dollar and depositing the spare change into an investment account. Additionally, Acorns offers the option of establishing recurring investments, albeit at a cost of $3 per month. Another similar platform, Stash, allows users to arrange recurring deposits directly into their investment accounts. Notably, Stash bills itself as an investing app for beginners. Large brokerage firms like Vanguard and Fidelity Investments provide the same feature at no additional cost.
Spending
Many companies have begun to push for recurring revenue from customers, which means many consumers may have lost track of where they've handed out their credit card information. It's incredibly easy to rack up hundreds of dollars in recurring charges every month, especially when so many companies offer a "free" trial but require credit card information to get that trial.
Having your credit card on file enables them to automatically charge you once the free period is up — and after you've forgotten that you gave out your credit card information. Even if you don't sign up for a lot of subscriptions, it can be easy to spend virtually your entire paycheck without really realizing where your money is going. As a result, it may help to use one or more tools to get your spending under control.
For example, Chase Account Manager allows users of Chase credit cards to see where they've saved their credit card information online. Capital One offers a similar tool called Eno, which enables its customers to monitor their accounts, track spending, and prevent fraud.
Some spending tools even help you get better rates for the services you use. For example, Hiatus helps users track their spending and account balances across all their accounts while monitoring for unfair rates on the services you use and helping eliminate unwanted subscriptions. Similarly, Trim by OneMain can help you negotiate lower rates for the services you use.
Investing
If you want to retire one day or establish any level of financial security, you'll need to invest some of your savings. However, the average consumer may not know where to start, which is where some of the best tools come in.
For example, Fidelity offers a wide range of investing tools to help you with investing and planning for retirement, trading stocks, exchange-traded funds, and options, and managing your investments with longer-term financial goals in mind. There are also many excellent online brokerages, including WeBull, Charles Schwab, and Ally Invest.
Finally, Empower provides investing advice and access to over 150 mutual funds, while FundRise makes it easy to invest in real estate and other private assets like venture capital.
Bottom Line
When it comes to managing your money, it can seem like an uphill battle to cover all four of the major aspects, from income to investing. Setting a budget and sticking to it has become more important than ever before with today's inflation rates, and of course, there is no such thing as a risk-free investment. However these tools and others can help you make wiser decisions than you might be able to on your own.
Related articles
Jacob is the founder and CEO of ValueWalk. What started as a hobby 10 years ago turned into a well-known financial media empire focusing in particular on simplifying the opaque world of the hedge fund world. Before doing ValueWalk full time, Jacob worked as an equity analyst specializing in mid and small-cap stocks. Jacob also worked in business development for hedge funds. He lives with his wife and five children in New Jersey. Full Disclosure: Jacob only invests in broad-based ETFs and mutual funds to avoid any conflict of interest.