Why Retirees Who Don't Consider ESG Investing Are Making a Big Mistake
More investors are taking into account environmental, social and governance principles when making decisions. That's because of the potential for lower risk and outsized returns.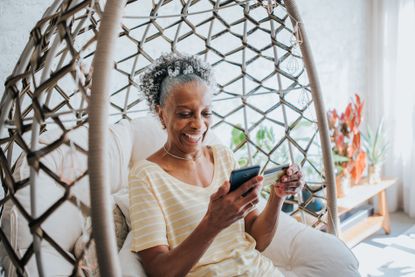 (Image credit: Getty Images)
You've spent your entire life fighting for a cause -- perhaps it's donating to environmental groups or protesting for police reform or even pushing for equal pay in the workplace. Now those causes seem to matter more than ever. "Older people may feel a greater urgency because it's their legacy," says Fran Teplitz, executive co-director of business, investing and policy at Green America, a Washington, D.C., nonprofit that promotes ethical investing. "They aren't going to be in the workforce working to correct what needs to be fixed in society much longer, but their assets can continue working for a better world."
Nevertheless, the companies you invest in could be the antithesis of your ideals. "Are you funding what you are fighting?" asks Brian Haney, founder of the retirement plan consulting firm The Haney Co. in Silver Spring, Md. If so, maybe there's a better way to invest, one that lets you support the causes you believe in without sacrificing your financial goals.
That's where environmental, social and governance -- or ESG -- investing comes in. These investments have been gaining steam and not just for advocates of clean environments and social justice. Mainstream investors like ESG investments because of the potential for lower risk and outsize returns. "We now have hundreds of studies that show integrating ESG criteria into the investment process can match and sometimes exceed the financial performance of their conventional counterparts," Teplitz says.
Subscribe to Kiplinger's Personal Finance
Be a smarter, better informed investor.
Save up to 74%
Sign up for Kiplinger's Free E-Newsletters
Profit and prosper with the best of expert advice on investing, taxes, retirement, personal finance and more - straight to your e-mail.
Profit and prosper with the best of expert advice - straight to your e-mail.
The Case for ESG
In 2020, a volatile year for investing markets by any measure, 11 of 12 large-cap U.S. ESG funds walloped the S&P 500 index. The 12 ESG funds, including the one that didn't beat the S&P 500, returned an average of 22.35% last year versus 18.37% for the iShares Core S&P 500 ETF, according to Morningstar.
Over the long term, the median returns between sustainable and traditional funds were comparable, often within 2 percentage points of each other, according to a 2019 report from the Morgan Stanley Institute for Sustainable Investing, which analyzed the performance of more than 10,700 funds over 15 years. The same report also found that ESG investments were more stable during sharp market swings, with significantly less downside risk than traditional funds.
In fact, a company focusing on ESG initiatives has a lot going for it. Because governing bodies are more likely to trust socially conscious firms, they may be able to enter new markets more easily and benefit from less regulatory oversight, according to a 2019 McKinsey report on why ESG creates value. Other advantages that can boost bottom lines, McKinsey says, include greater productivity from employees who have more reason to be motivated and consumers willing to pay extra for green products and services. Socially conscious businesses are also more likely to pay attention to energy conservation, thereby reducing operating costs.
Whatever your beliefs, don't overlook ESG investing as a way to hedge your bets in a rapidly changing, deeply uncertain world. A climate change skeptic, for example, would be foolish to ignore the portfolio risks of global warming as well as the potential rewards of companies that stand to profit from global warming's solutions. As BlackRock CEO Larry Fink wrote in a letter to CEOs earlier this year: "We know that climate risk is investment risk. But we also believe the climate transition presents a historic investment opportunity."
ESG investing isn't only stocks. An older investor may want to consider ESG bonds, says Elliot Pepper, co-founder of Northbrook Financial in Baltimore. The value of green, social and sustainability bond issuances totaled $321 billion in 2019, up 52% from the prior year, according to a 2020 report from Environmental Finance. "You could incorporate ESG investing into a more fixed-income portfolio to maintain that more conservative approach," he says.
Beware of 'Greenwashing'
Socially conscious ideals aren't easily captured on a balance sheet, and investors can't always gauge a company or fund's commitment to ESG values. "There is a lot of greenwashing," says Matt Orsagh, senior director of capital markets policy at CFA Institute, which helps educate investment professionals. Greenwashing is a marketing gimmick that promotes a product as ecofriendly when it really isn't. "Not all funds advertised as ESG friendly really are. You have to investigate whether they walk the walk." For instance, you might check an ESG fund's prospectus for the investing criteria, Teplitz says. Do the investments reflect the fund's values? Does the fund put its mouth where its money is? See how the fund votes its proxy ballots on social or environmental issues.
Outside organizations can help quantify an investment's compliance with ESG principles. Sustainable investing advocate US SIF provides data, such as financial returns and screening criteria, for mutual funds and exchange-traded funds offered by its institutional members. Investors also can check the bona fides of specific mutual funds and ETFs on fossilfreefunds.org, which lists the financial performance of each fund and how well it scores for the companies it invests in, such as whether they manufacture weapons or promote gender equality within their own business.
Virtually any financial adviser can help you with ESG investing, even if it's not their specialty. If you want a specialist, US SIF has a directory of planners, advisers and brokers who specialize in ESG.
Keep It Balanced
Basic investing principles still apply for an ESG-based portfolio. "Don't short-circuit the process because you are emotionally more engaged," Haney says. Consider your financial goals, risk tolerance and how long you will hold the investments, adds Teplitz. Periodically rebalance your portfolio to maintain an appropriate investment mix and amount of risk.
Your ESG investments should be diversified across different industries, sectors, countries and asset classes, says Rick Smyers, head of Fidelity ESG Pro, which helps financial advisers grow their ESG investing practices. Like any investments that aren't diversified, an ESG portfolio that is not well balanced and highly concentrated in certain areas can spell trouble, he says.
Senior Retirement Editor, Kiplinger.com
Jackie Stewart is the senior retirement editor for Kiplinger.com and the senior editor for Kiplinger's Retirement Report.