Niche Retirement Communities Are Growing — Are They Right for You?
From RV enthusiasts to Jimmy Buffett fans to yogis, there's a niche retirement community for almost everyone.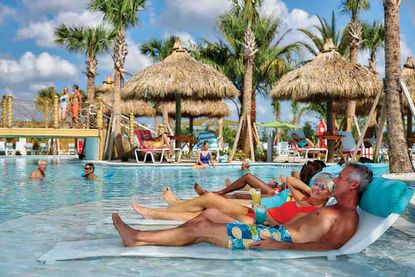 (Image credit: COURTESY OF AEGIS)
Moving famously like a pig-in-a-python through the economy for seven-plus decades, Baby Boomers have been shaping consumer goods and services since they were in onesies. Now, history's most influential generation is fueling the growth of the next logical sector: the niche retirement community.
Niche retirement communities are exactly what they sound like. They're residential developments, urban, suburban and even seafaring, designed to appeal to narrowly cast affinity groups–from Jimmy Buffett fans to yoga practitioners. And they come in almost every type of senior accommodation — from active to independent, assisted living through continuing care.
Niche projects account for a small percentage of the nation's 50,000 or so senior communities and facilities. But they are "the segment to watch," says Andrew Carle, an adjunct lecturer on aging and health issues at Georgetown University, and a consultant to the field. There are five to six dozen university-based retirement communities for retirees who want to return to the student and academic life. There are some two dozen properties focused on lesbian, gay, bisexual and transgender seniors. There are retirement communities for retired postal workers, equestrians, environmentalists, RV enthusiasts and Parrot Head fans of singer Jimmy Buffett. Even Disney is getting in on the action; it's about to launch Storyliving, a planned community in California "for the next chapter of your life" that includes a 55+ neighborhood.
Subscribe to Kiplinger's Personal Finance
Be a smarter, better informed investor.
Save up to 74%
Sign up for Kiplinger's Free E-Newsletters
Profit and prosper with the best of expert advice on investing, taxes, retirement, personal finance and more - straight to your e-mail.
Profit and prosper with the best of expert advice - straight to your e-mail.
Boomers, who are hitting 65 at the rate of 10,000 people a day, are buying in.
In November 2017, when Buffett announced his first Latitude Margaritaville in Daytona Beach, Fla., an active-living property for people "55 and better," more than 150 fans and other lovers of the flip-flop life camped out overnight at the sales-office for first dibs on 300 properties. Today, Latitude Daytona Beach is a planned community of 7,000 people and there is a waiting list for homes under construction. There is another Latitude in the Florida panhandle, one in North Carolina, and two or three planned for Texas.
In 2016, when the Delaware-based Kendal Corp. announced Enso Village, a life-plan community devoted to Zen tradition in Northern California's wine country, 1,194 people put down $1,000 for a priority reservation; when the 275 units went on the market in 2020, they sold out in four months; Kendal is now developing a second Enso Village in Southern California.
Nalanda Estates near Sarasota, Fla., which describes itself as an Active Indian Retirement community of 83 homes, states on its website it is sold out.
Florida's The Villages–renown as a hotbed of conservative politics and libertine social lives–has sold some 70,000 houses.
"A developer could open a Grateful Dead community and fill it quickly" says Carle. "I can virtually guarantee it."
A Lot of Niches
Sheer numbers dictate there simply could never be a one-size-fits-all answer to Boomers' retirement years. Boomers account for a fifth of the country's population–that's 73 million people looking for places that reflect their personal preferences. For developers, that equals a lot of niches and a lot of niches that are both sizable and scalable, especially as the traditional 55+ active community of golf, tennis and clubhouses matures.
"The old model was very leisure centered," says Lindsey Beagley, Director of Lifelong University Engagement at Arizona State University, which has a retirement complex on campus. But, she says, "People can't golf for 30 years."
Niche retirement communities, of course, are not for every Boomer or Gen Xer, and most people's preference is still to age at home. Niche properties can also be pricey and geographically inconvenient, since finding one that aligns with your exact interests may mean moving far from family. But perhaps the more powerful impediment is attitudinal.
"The idea of living in a retirement city doesn't appeal to me," says Nancy Farkas, a sixty-something derivatives lawyer in New York City who is weighing her retirement options. "I don't want to be in a place that's only old people." Her first choice right now? The MV Narrative, a luxury residential yacht scheduled to launch in 2025, then sail from port to port on a year-round basis. "I just want to mix things up and keep it interesting," says Farkas.
The senior-living landscape has been fragmenting almost as long as it has been in existence. Starting in the 1950s, residential builders began developing age-restricted communities for active adults — such as Del Webb's Sun City Arizona — where 55+ homeowners could live in self-contained communities with resort-style amenities. By the 1990s, university-based retirement communities (UBRCs) had started popping up, allowing retirees to live on or near a college campus, and a sprinkling of other special-interest communities followed.
Talking 'Aches and Pains'
When Arnold Victor, a retired pediatrician, moved to Sun City in Northern California a decade ago, it seemed to offer everything he needed. As a recent widower, he would have a built-in social life, resort-style amenities at his fingertips, clubs, trips and more.
After 10 years of having to drive everywhere, feeling cut off from the outside world and worried his cognitive abilities were declining, Victor began looking into continuing care. In 2021, once he stepped foot inside The Mirabella at ASU, a 20-story luxury apartment complex and UBRC on the campus of Arizona State University in Tempe, he knew he'd found his new home. "It was, 'oh, yeah, this is the place,'" he remembers thinking.
In the two years since moving in, Victor has taken classes in film, art and philosophy. He participates in a mentoring program for pre-med students, attends concerts, lectures and movie nights. One favorite part of his day is dinner time, when instead of discussing "the way things used to be, medications, and aches and pains," as he did in Sun City, "we're talking about what we're doing next — what concert we're going to, what lecture, and what classes we're going to take."
In contrast, Mary Van Dyke wanted a community of like-minded spiritual souls, though she wasn't exactly sure what that looked like. What the 75-year-old widow from San Mateo, Calif., did know was that between the isolation of the pandemic and the wildfires filling the California skies with smoke, she no longer wanted to live alone. She began touring active-living developments — "looking for chemistry." Instead, she mostly found a "country club feel" and "lack of intention." When Van Dyke would ask administrators about one of her priorities, a meditation group, "They said they would start one," she recalls, "but sometimes I got the feeling that what they mostly did was dress for dinner."
Then a friend mentioned Enso Village, the Zen-focused continuing-care facility planned for Sonoma County. The community was to include a Zendo meditation hall; there would be 20 retired monks in residence to teach and lead workshops; there would be two-miles of hiking paths, acupuncture services, yoga classes and a contemplative care curriculum to help train residents in helping each other age.
Van Dyke was one of the almost 1,200 people who put down $1,000 to reserve a spot, and when the units became available, she secured a two-bedroom flat. Enso won't open its doors until the fall/winter of 2023, so Van Dyke has a few months to wait to move in, but she's certainly found her community. During the pandemic, Van Dyke contacted every future resident from San Francisco to Santa Cruz (about 40 in all), and organized monthly get-togethers in Menlo Park. There, the group meditated, shared poetry, and discussed the challenges of downsizing. "We met for two years and ten months," she says. "I know my neighbors."
COVID Took a Toll
For developers of senior accommodations, retirees like Victor and Van Dyke are offering some hope to an industry buffeted by staffing shortages and rising prices — not to mention the lingering impact of COVID.
"COVID was catastrophic for the industry," says Adam Clark, president of Aegis Development, an affiliate of Aegis Living, which owns and operates high-end assisted living and memory care properties on the West Coast.
Aegis business has picked up and its properties (some geared to the general public, but others for people of Chinese and Asian descent or who are concerned about the environment), have attracted so many inquiries from other developers that in late 2022, Aegis opened a consulting affiliate to offer advice on site selection, design and financing of senior properties. "I think there is going to be demand all over the world," Clark says.
You hardly have to convince Terri Whitsel of that. The 57-year-old bet her career on the Florida slice of the pie. Back in 2020, Whitsel was living in State College, Pa. and had just been laid off from her job in the automotive industry, when her husband dragged her to Florida to check out Buffett's Latitude Daytona.
Beyond having heard "Margaritaville" on the radio, Whitsel knew nothing of Jimmy Buffett or his real estate empire, and was unenthusiastic about an age-restricted community. "I was not ready for 55+," she says. "I'm thinking, wheelchairs and walkers." But when the couple drove around Latitude during the visit, they were so impressed with how friendly everyone was, they bought a cottage on the water. Moving in a few weeks later, Whitsel could not have been happier with her new life. "You stand in the pool and congregate with the other residents with floaties," she says. "It's like kindergarten."
Then she went all in, getting her real estate license, selling homes in the development, and in 2021 she moved with her husband to Buffett's newer Florida property, Latitude Watersound, near Pensacola. The community is in its early stages — it's just sold its 1,000th home, and is zoned for 150,000 — and Whitsel is at the ready. She now knows all of Buffett's songs by heart, loves the nearby sandy beaches, and is excited to bring new members into the singer's version of paradise. As she puts it, "I found my niche."
How to Select a Niche Community
Do a Self Inventory. Start with understanding what you want and need in retirement. What medical support will you need? Are you outdoorsy or bookish? The answers to these questions will shape your search.

Consider Prices. Niche communities are on the expensive side. Many go by the entry fee model, where residents pay somewhere between $100,000 to $1 million or more, depending on the location and size of the home or apartment, plus a monthly fee for maintenance, taxes, meals and other services, which in 2021 averaged $3,555, according to the National Investment Center for Seniors Housing & Care. (By comparison, the median monthly cost of an assisted living facility is $4,500 a month, while the median monthly cost for a private room in a nursing facility is $9,034, according to Genworth, a long-term care insurance company.)
Create a Budget. Do you want to rent or buy? What can you afford? Will the sale of your home cover the entrance fees required by some properties? Plan for monthly fees to cover medical care and other amenities.
Go on Tours. When you visit a property, don't just go once, go multiple times, at different times of the day and different days of the week, suggests consultant Andrew Carle. Talk to the staff and the administrators. Try the food, not just the special of the day, everything. Attend a few meetings of groups that interest you. Are there three people at bridge, or 10?
How Is It Managed? Make sure the property is economically viable. Ask what kind of financial reserves the community has. Is there a board of directors? Who is responsible for the community's finances? Is it a non-profit? If not, who are the owners?
Note: This item first appeared in Kiplinger's Retirement Report, our popular monthly periodical that covers key concerns of affluent older Americans who are retired or preparing for retirement. Subscribe for retirement advicethat's right on the money.