Sandwich Generation Faces Caregiving Challenges
The sandwich generation has it tough in the best of times. The pandemic has made it even tougher.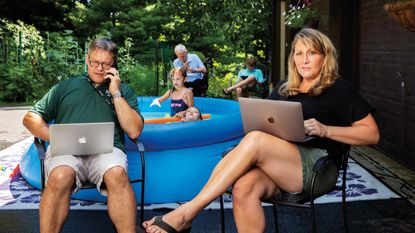 (Image credit: Photo by Gina LeVay)
Things were hard enough for Jennifer Galluzzo before the pandemic hit. Four years ago, the full-time working mother of three became a full-fledged member of the "sandwich generation" when her father-in-law joined their household in Brewster, N.Y. But things got harder in March, when schooling for her three children, ages 5, 8 and 10, abruptly went online in response to the spread of the coronavirus. Galluzzo, a digital marketer, and her husband, David, a lawyer, started working from home. Her child care disappeared, as did her cleaning help.
Her father-in-law, who has Parkinson's and dementia and is used to spending most days quietly at home with his caregiver, was increasingly agitated by the full house. "He doesn't like loud noises, and we were all here 24/7," says Galluzzo, 46. "I had Zoom calls. My husband had Zoom calls. Someone needed to make sure the kids got their work done. I had a schedule that didn't work very well—it was more about who needed what fire to be put out at that moment."
Sandwich generation caregivers are typically in their thirties, forties or fifties, taking care of younger children and parents at the same time. But the definition can be far broader: About 11 million people nationwide are multigenerational caregivers, helping full- or part-time with children and parents, grandchildren and grandparents, siblings with special needs, even extended family, friends and neighbors. And during the COVID-19 crisis, the usual stresses of multigenerational caregiving have been exacerbated.
Subscribe to Kiplinger's Personal Finance
Be a smarter, better informed investor.
Save up to 74%
Sign up for Kiplinger's Free E-Newsletters
Profit and prosper with the best of expert advice on investing, taxes, retirement, personal finance and more - straight to your e-mail.
Profit and prosper with the best of expert advice - straight to your e-mail.
Be realistic
Galluzzo had thought her father-in-law's stay at their house would be temporary, lasting only until they could figure out their next steps. That is typical—and usually wrong, says Chris Cooper, a certified financial planner in California who often consults on the needs of the elderly and disabled.
Families "start out thinking they'll take care of Mom for a year or two," says Cooper, "and 10 years later they are still together." Such situations can lead to divorces, family estrangement and financial devastation, he says. That's why he suggests that before you make a major decision about selling a house or moving in together, you should discuss your options with a third party, such as a social worker, a minister or a financial planner—or all three.
A 2019 report by the National Alliance for Caregiving and Caring Across Generations produced some sobering statistics: Sandwich caregivers spend an average of 22 hours a week—the equivalent of a part-time job—providing help while often simultaneously juggling work. One-third report emotional distress, and one in five say they have a high level of financial strain.
Cheryl Albright, 40, of Bradenton, Fla., found herself suddenly responsible for making long-distance care arrangements for her ailing father and a brother with severe autism. After her father became seriously ill, she spent nearly six months going back and forth between New York and Florida. Albright, who runs her own business as an occupational therapist, thought she would have her father live with her and her husband, "but he needed 24-hour supervision," she says. Eventually, she found respite care for her father, and she was able to move her brother from his group home in New York to one near her, just as the pandemic was starting to peak.
None of it was easy. She had to sell her father's house and take care of a multitude of tasks. "There are a lot of things you don't think about, such as how to turn off the cable if you're not listed on the account," she says.
Her work was complicated because her father never talked about his financial or estate plan—his power of attorney, health care proxy, advance directive and other documents. "He had all of his legal ducks in a row, but when the hospital social worker asked for his health care proxy, I didn't know who he had chosen or where the document was," she says.
Understand the financial toll
A survey by Haven Life Insurance found that 59% of sandwich generation caregivers expect to support their parents or in-laws financially as they age. And according to T. Rowe Price's 2019 Parents, Kids & Money Survey, nearly one-third of dual caregivers spend $3,000 a month or more to care for an aging parent or relative. Nearly three-fourths say they do not receive any kind of support from social services or any financial aid.
In addition, sandwich caregivers are more likely to have pulled money from retirement and college savings. That's a bad idea, says Eric D. Brotman, a certified financial planner and chief executive officer of BFG Financial Advisors. "To a great degree, each generation needs to take care of themselves before taking care of someone else," Brotman says. "Raiding your own retirement to help your kids or parents will eventually put you in need of someone else's help." Instead, he suggests borrowing against assets, such as with a home-equity loan.
What's more, to perform all of the duties required when caring for multiple generations, sandwich caregivers must often use any paid vacation or personal days they have. When those run out, caregivers may have to turn to unpaid leave or quit their jobs.
According to a MetLife study of the financial toll caregiving has on workers, women experience average lifetime losses of $324,044 in forgone wages, Social Security benefits and reduced pension benefits. For men, the figure is $283,716. Another study notes that almost 40% of caregivers leave their job to have more time to provide care.
If you have been employed for at least a year (it doesn't have to be consecutive days or months), either by a private company that has 50 or more workers or by any government agency or school (no matter how many employees), you should be covered by the federal Family and Medical Leave Act. Workers can take 12 weeks of unpaid leave in a 12-month period for qualified family needs—for the birth or adoption of a child, or to care for a child, spouse or parent who has a serious health condition. The unpaid leave can be extended if you need to take care of a military servicemember.
Since the pandemic hit, the federal government has also passed the Families First Coronavirus Response Act, which requires certain employers to give more paid leave to employees who are taking care of someone affected by the coronavirus. Among other provisions, the law requires that employers covered by the legislation pay two-thirds of a worker's salary for two weeks (or 80 hours) if the worker needs to take care of a child whose school or child care facility is closed. In some circumstances, that can be extended another 10 weeks.
Find support
Reaching out for help—ideally, before you're completely overwhelmed—is crucial. That can take the form of therapy, online peer support, professional assistance in managing logistics and finances, or all of these.
According to the Haven Life Insurance survey, caregivers say the top three types of assistance they want (which are also what caregivers think would reduce stress the most) are having access to a mental health professional, decision-making support for their family and a financial adviser.
Albright's lawyer suggested that she hire a geriatric care manager. Her case manager, who charges by the hour, assisted in finding a facility for her father and helps take care of insurance claims. "I didn't know these people existed," she says. "My case manager has been worth her weight in gold."
Albright says she also relies on the Facebook group SibNet, for siblings who have brothers or sisters with special needs. AARP, besides offering its own page for caregiving, and has its own Facebook page for family caregivers. The organization started the page a year ago, and it is now up to 3,000 members, says Amy Goyer, AARP's family and caregiving expert.
Part of the reason people don't seek support for caregiving is that they simply don't think of themselves as caregivers, says Chris Cooper, the California CFP. "You may be mowing someone's lawn, taking her to doctor appointments and the nail salon. It's a skewed idea that caregiving is just going to be care at the end of life."
The National Alliance for Caregiving report notes that 80% of sandwich caregivers help with transportation, 76% with housework and 62% with preparing meals.
Pandemic pressures
Support is always important, but during these challenging times, it's more necessary than ever. In one week in July, 300 people joined AARP's family caregiver Facebook site. Goyer says members vent and exchange advice, but most important, they reassure each other that even when life seems overwhelming, they are doing the best they can.
One of the biggest topics on the Facebook page right now, says Goyer, is being unable to see their elderly relatives. "People have now gone many months without visiting. It's agonizing," she says.
That's true for anyone who has a close relative or friend in a facility that is closed off because of coronavirus. But those who take care of multiple generations also have to balance the needs of older and younger generations. For example, should a family with children take the risk of letting them see Grandma or Grandpa?
And while some school districts plan to be completely online in the fall, others have left it up to the family to decide whether their children should return to the classroom or learn online, and some are requiring in-person classes. That adds another layer of concern—especially for those who have both generations under one roof.
Charlotte Dodge, 36, is worried that if her daughter returns to preschool, it may put her mother, who lives with them, at greater risk of catching the virus. And then there's her father-in-law, who has Parkinson's and is in his late sixties. He lives in a continuing care facility. In normal times, they shop for him and assist him with other needs.
"With the pandemic, we have a whole elaborate process of getting groceries to him," says Dodge, who is policy manager at the nonprofit Caring Across Generations and lives in Maryland. Her father-in-law also has limited capacity to use technology such as FaceTime, and less access to the professional caregivers who would typically help him with such tasks. "It has been very hard for him not to have visits with his adult children," she says. "It has been very hard for all of us."
Galluzzo says that relatively small tasks have become more difficult because of COVID shutdowns. It was hard enough to grocery shop for the seven people in her house (her family and a live-in caregiver) before the pandemic, she says. "Then COVID hit, and suddenly we were forced to have one person shop for seven people who ate every meal at home." That meant either trying to push two shopping carts at once or going to the supermarket twice.
The pandemic also affected care­givers who may have needed support and a break from intensive caregiving. Most adult day care centers and respite options—in-home care or care given in a facility—shut down in March. But as procedures have been put in place to safeguard both clients and employees, some have reopened.
Other support options
If you can find a program still operating, respite care can be invaluable to help reduce stress, says Jill Kagan, director of the ARCH National Respite Network and Resource Center, which provides respite information and a respite locator. Even in normal times, there are far too few respite programs available for those who need them. And finding them can be difficult, because they tend to exist through a patchwork of government, for-profit, faith-based and volunteer programs, Kagan says. But it is worth investi­gating options nearby.
Another option for the sandwich generation caregiver is intergenerational care. Donna Butts, executive director of Generations United, says the organization works on "supporting the oldest and the youngest and making it easier for the middle generation to do what it needs to do." The focus is not just on caregiving, but on engaging people of all ages and believing they all have something to contribute. One way to do this is via intergenerational shared sites, such as child care and adult day care (or senior centers) located in the same place. Butts says more than 100 of these multigenerational day care centers exist around the country. These also include senior housing facilities with child care or pre-kindergarten or kindergarten classrooms.
Although Galluzzo doesn't deny the difficulties of being a sandwich caregiver, she says having several generations under one roof has also been a gift. "I watch my 5-year-old doing a dance in a princess dress for Grampy, and he gets a smile on his face from ear to ear. Little moments like that make it all worth it."
How to handle the stress
Every sandwich caregiver has to discover her own ways to cope with the psychological toll. Here are more tips to cope:
Get help. If you can, find a geriatric care manager, a financial planner or another professional to help you navigate insurance, Medicare and financial planning, as well help you find potential assisted care facilities or other placements. A useful tool is Eldercare Locator, run by the Administration on Aging, an agency of the U.S. Administration for Community Living. Type in your zip code to find a wealth of resources from caregiving to housing to transportation to insurance help. If you can afford it, also outsource some of your parenting duties with child care, camp planners or college counselors.
Seek support. That can come from online peer groups via social media and in person from those who are going through the same thing you are.
Set aside time for exercise. Even if it's only a walk outside, or meditation or anything else that helps you feel calm. It may seem as if piling on one more thing to do is the last thing you need, but such activities reduce anxiety and make you more productive and calmer.
Let the kids help. Your children, especially as they get older, can help with chores, cook dinner and drive younger siblings. Giving them an opportunity to build relationships with older generations, even when it's difficult at times, can be a privilege.
Be honest. Realize that being a caregiver is a job, and sandwich caregiving is two jobs. Don't minimize it.
Contributing Writer, Kiplinger's Personal Finance
Alina Tugend is a long-time journalist who has worked in Southern California, Rhode Island, Washington, D.C., London and New York. From 2005 to 2015, she wrote the biweekly Shortcuts column for The New York Times business section, which received the Best in Business Award for personal finance by the Society of American Business Editors and Writers. Her work has appeared in numerous publications, including The Times, The Atlantic, O, the Oprah Magazine, Family Circle and Inc. magazine. In 2011, Riverhead published Tugend's first book, Better by Mistake: The Unexpected Benefits of Being Wrong.