7 Must-Listen Retirement Podcasts That Aren't About Money
Staying physically and mentally engaged in retirement is just as important as how much cash you have in the bank. Here are some of my favorite podcasts to entertain and enlighten.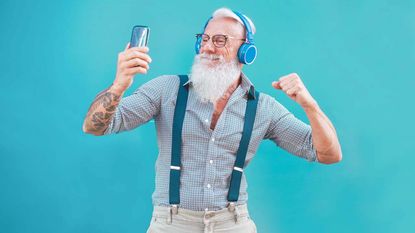 (Image credit: Getty Images)
Podcast listening isn't just for Snapchatting Millennials anymore. According to Edison Research, 20% of U.S.-based podcast listeners are 55 or older. You can find any topic you desire, pop in your earbuds, and settle in for an intimate conversation with the host.
Podcasts may seem new and unique, but they've been around for a while. Shows and their topics can range from quirky to mainstream and run anywhere from 15 minutes up to hours in length.
I'm a big fan of this medium. In fact, I host a retirement podcast called Stay Wealthy, which recently made the Apple Podcasts Top 50 list in the investing category. My experience as a podcaster gives me a front-row perspective to shows and hosts that have a unique ability for reaching, educating and entertaining their audiences.
Money is only one piece of the retirement puzzle, it's also essential to stay mentally and physically active. Podcasts that explore topics in health, current events and entertainment can help keep you engaged and motivated.
Here are seven podcasts for retirees that I highly recommend and that have (almost) nothing to do with money.
1/8
The Drive with Peter Attia
If you're interested in not only retiring financially secure but also with longevity, you should give this podcast a listen. Dr. Peter Attia is a Stanford/Johns Hopkins/NIH-trained physician (he seriously knows his stuff) who covers a vast array of health topics that should be on your radar if you're nearing or in retirement. Think serious things such as Alzheimer's, cancer, mental health, but also addicting topics such as fasting, ketosis and physical fitness.
The most entertaining and humbly authentic review I stumbled upon touts this podcast as being "not lame!" while also being educational and informative. It's the perfect podcast to settle into during a long drive or commute, most episodes are 1.5-2.5 hours with quick bonus episodes averaging 10 minutes.
Recent episodes cover an array of topics concerning COVID-19, from frequently asked questions to your mental health. You can find The Drive here and download anywhere that supports podcasts.
2/8
The Daily
Digesting the most important news topics of the day has never been easier. The Daily broadcasts quick (20-minute) episodes five days a week, helping you stay in the know with minimal effort. The Daily is part of The New York Times news suite, hosted by Michael Barbaro with stories told by top journalists.
If it's in the news, The Daily is covering it. Each episode covers one topic related to current events and features unique storytelling and interviews. It's the perfect podcast to pop on your smart speaker while getting your morning coffee together. Check out The Daily here.
3/8
The Moment with Brian Koppelman
Host Brian Koppelman has a unique gift for asking the questions you're dying to know the answers to. He also has a unique gift for writing wildly popular movies and television shows. If the name sounds familiar, it's because he's the writer behind the movie Rounders and the co-creator and executive producer of Showtime's Billions.
Brian's podcast, The Moment, is an interview-based show where guests share pivotal points in their lives that influenced the trajectory of their careers. It's the fresh perspective you need when you're lacking motivation. His guests include bestselling author Seth Godin (frequent guest), money expert Dave Ramsey, actor Edward Norton and venture capitalist Ben Horowitz.
This podcast is insightful, encouraging and provides an inside look at human decision-making. Episodes are about an hour in length, and you can find The Moment with Brian Koppelman here.
4/8
The Tim Ferriss Show
If you haven't heard of Tim Ferriss, it's time you checked out his legendary status. He is an entrepreneur, author and podcaster (3x winner of "Best of" Apple Podcasts) — he's even been called the "Oprah of Audio." His show is on the longer side, with many episodes running over two hours, and focuses on deconstructing the tools, habits and tactics of world-class performers. He has a cult-like following due to his seemingly incomparable success while retaining the ability to remain open and honest with his listeners.
While he's known for his intellectual solo episodes, his guests include Dr. Peter Attia (host of The Drive), researcher Brene Brown, Disney's Bob Iger, journalist Lisa Ling and motivational speaker Tony Robbins — to only name a few. His guest list is impressive, to say the least.
You can find The Tim Ferriss Show here.
5/8
Conan O'Brien Needs a Friend
The origin of Conan's podcast is far too relatable. After 25 years as a late-night host, he came to the realization that he, in fact, had no real friends. While I find his show to be entertaining, hilarious and extremely creative, I'm also impressed by the depth of his human connection.
His recent guests include Michelle Obama, actor Will Arnett, comedian Ali Wong and Jim Carrey. You end up leaving each episode feeling as if you know the guest as a person, not just a comedian or entertainer. This weekly podcast is about an hour in length, and you can listen to Conan O'Brien Needs a Friend here.
6/8
10% Happier
Do you want to be happier? Host Dan Harris certainly does. After suffering an on-air panic attack while appearing on Good Morning America, Dan Harris wrote a book (10% Happier) and created a meditation app (10% Happier: Meditations for the Fidgety Skeptics).
On his podcast, he talks with top experts about training your mind. He's obsessed with discovering whether it's possible to be both ambitious and enlightened. Episodes cover a mix of health, mindfulness, meditation and nutrition to help optimize your performance and happiness.
New shows are released every Wednesday and are typically 1-1.5 hours in length.
On a recent episode, he chatted with Dr. Matthew Walker about the importance of quality sleep and how meditation can help. You can find the 10% Happier podcast here.
7/8
How I Built This
How I Built This, hosted by Guy Raz, is my all-time favorite podcast. The show is part of the NPR podcasting suite, so you know you are consuming informative and engaging journalistic content.
While it's technically a business podcast, it dives deep into the narrative story of successful entrepreneurs who risked everything to build a company and solve a unique challenge.
Guy has talked to everyone from Mark Cuban and designer Kate Spade to Nolan Bushnell (founder of Atari & Chuck E. Cheese's) and Lisa Price (founder of Carol's Daughter). In a recent episode, Airbnb's CEO, Brian Chesky, shared openly about the 80% loss the company experienced in the early stages of the COVID-19 lockdown.
The weekly published episodes are relevant and entertaining and usually run around one hour. You can find How I Built This here.
8/8
Final Thoughts
Retirement isn't just about money. Without your hobbies, health and happiness, money is only a number. Having more of it definitely makes things more comfortable, but it alone will not fulfill you in your later years. Finding a few podcasts that focus on your interests — or help you find new ones — can help keep you happy and engaged. Which podcast will you check out first?

Founder and CEO, Define Financial
Taylor Schulte, CFP®, is founder and CEO of Define Financial, a fee-only wealth management firm in San Diego. In addition, Schulte hosts The Stay Wealthy Retirement Podcast, teaching people how to reduce taxes, invest smarter, and make work optional. He has been recognized as a top 40 Under 40 adviser by InvestmentNews and one of the top 100 most influential advisers by Investopedia.