Top 5 Retirement Podcasts Everyone Should Listen To
You can never be too money smart, and one easy way to boost your financial IQ is to tune into some really great, and often even entertaining, podcasts. Check out my five favorites.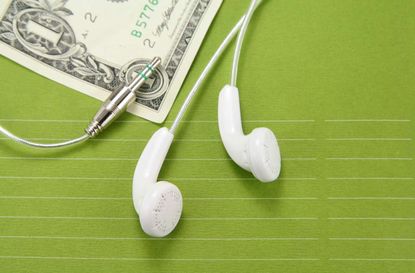 (Image credit: Feng Yu)
Personal finance isn't always exciting, but mastering its main tenets is always important. Learning the basics of investing, how to reduce your tax bill, and how to save more of your paycheck each month can help you achieve a more fruitful life — and avoid many of the financial pitfalls of today's consumer-driven society.
Fortunately, good financial information is now more accessible than ever. All kinds of blogs and websites offer up-to-date financial advice and tips. Meanwhile, you can also find numerous money podcasts that can help you stay up to speed.
But why podcasts? While consuming financial content online has been a popular option since the invention of the web, podcasts are growing in popularity for a few reasons. You can listen anywhere — even on your commute to work or at the gym — for starters, and you'll rarely come across any ads. Most podcasts also present their content in a fun and engaging format that makes you want to learn more.
Subscribe to Kiplinger's Personal Finance
Be a smarter, better informed investor.
Save up to 74%
Sign up for Kiplinger's Free E-Newsletters
Profit and prosper with the best of expert advice on investing, taxes, retirement, personal finance and more - straight to your e-mail.
Profit and prosper with the best of expert advice - straight to your e-mail.
If your goal is increasing your depth of knowledge around money, retirement and important financial trends, listening to money-themed podcasts while you work out, ride the train into the city, or take on household chores could leave you ahead.
Here are some of the best podcasts to tune into if you're ready to level up your finances this year:
Stay Wealthy Podcast
I would be remiss if I didn't mention my own podcast — Stay Wealthy — on this list. My retirement podcast covers some of the most important financial topics today — like IRAs, 401(k)s, retirement income strategies, pensions, insurance, Social Security and more. Through interviews, research and storytelling, I talk about any and all financial topics consumers should understand if their goal is getting the most out of their money. And I speak in plain English — not boring adviser speak — so you won't want to bang your head into the wall after you tune in. Specific topics I've covered recently include protecting your digital assets, retirement mistakes you should absolutely avoid, and the best time to start taking Social Security benefits.
With that being said, topics around taxes and tax planning seem to drive the most interest and generate the most downloads and engagement from listeners. Since launching the podcast, I've learned that taxes are a real pain point for people who are retired or approaching retirement. This excites me because taxes, contrary to what many think, are something we can control (unlike the direction of the stock market or interest rates). I like to remind listeners that it's very possible to have a higher tax bill in retirement than as a working professional.
My podcast episodes usually last for 45 minutes or less, so I won't take up too much of your time. If you're interested in learning how you can put yourself in a better position for retirement, click here to listen to the Stay Wealthy podcast on your favorite app.
Your Money's Worth
Kiplinger's own podcast, Your Money's Worth, offers timely and actionable advice you can use to keep more of the money you earn. Not only can you find out the best ways to save for retirement, but you can discover how to lower your tax bill in the process, where to put your money in today's uncertain market, and how to maximize a financial windfall, whether it's your tax refund or an inheritance. Most Your Money's Worth episodes are hosted by Sandy Block and Ryan Ermey, although guest experts frequently join the fun to offer their own insights and tips on today's most pressing money matters.
You can subscribe to this podcast — which airs weekly and runs for about 30 minutes — on Google Play, Apple, Spotify and RSS on this page.
Retirement Starts Today Radio
Retirement Starts Today Radio is hosted by Benjamin Brandt, a fee-only financial adviser and Iraq combat veteran whose goal is helping people retire and enjoy their lives. During weekly episodes that normally last less than 30 minutes, Brandt dives deep into myriad financial topics that affect anyone striving to retire one day, ranging from financial scams that target senior citizens to how to deal with exorbitant long-term care insurance premiums. While Brandt mostly tackles these topics on his own, he occasionally interviews experts who provide their own viewpoint.
For example, he recently covered the importance of end-of-life planning with Jonathan Braddock — the creator of the My Life and Wishes, and organizer for making your plans. If you want to retire and live well until you get there, check out Retirement Starts Today Radio here.
The Retirement Answer Man
When it comes to retirement — and specifically how to save enough to retire — everyone has questions. Roger Whitney, a CERTIFIED FINANCIAL PLANNER™ Professional also known as The Retirement Answer Man, is the guy with all the insight and the answers. Whitney's podcast, which runs weekly and typically lasts around 40 minutes, covers all kinds of retirement topics, ranging from how to live without a paycheck to determining your financial needs in retirement, common retirement hopes and fears, and traveling post-retirement in an RV. You can even learn about the non-practical side of retirement — as in, how to budget for unnecessary "extras" after you quit your 9-5 and tips for renting a vacation home.
If you are approaching retirement or simply hope to reach your "retirement number" one day, you won't want to miss it. You can check out the Retirement Answer Man podcast here.
The Money Guy Show
If you have an hour or so to burn every few days — and who doesn't? — you can parlay your free time into real financial knowledge with The Money Guy Show. Money Guy Brian Preston (a CERTIFIED FINANCIAL PLANNER™ Professional and CPA) and co-host Bo Hanson (a CERTIFIED FINANCIAL PLANNER™ Professional and CFA) provide entertaining commentary and insights on all sorts of topics that affect the average American consumer. For example, the duo recently covered the average consumer debt by age and what to do about it (while also pondering why exactly DEBT is a four-letter word). You can also tune into The Money Guy Show to learn about the best retirement accounts for the self-employed and even juicy topics like why 70% of wealthy families lose all their money.
Preston and Hanson mostly teach their listeners through storytelling and jokes, meaning they're never boring. Check out The Money Guy Show wherever you listen to podcasts or on their website.
Final Thoughts
While blogs offer a wealth of information that can help you improve your finances and save more money each year, podcasts offer another way to consume content while you drive to work, work out or work around the house. For that reason, they are often easier to commit to. But, don't take my word for it. Subscribe to any of the podcasts on this list and you may find that you're learning more and moving closer to your financial goals in no time.

Founder and CEO, Define Financial
Taylor Schulte, CFP®, is founder and CEO of Define Financial, a fee-only wealth management firm in San Diego. In addition, Schulte hosts The Stay Wealthy Retirement Podcast, teaching people how to reduce taxes, invest smarter, and make work optional. He has been recognized as a top 40 Under 40 adviser by InvestmentNews and one of the top 100 most influential advisers by Investopedia.