Biden Hopes to Eliminate Stepped-Up Basis for Millionaires
As part of his American Families Plan, President Biden wants to change the way capital assets are taxed when you die.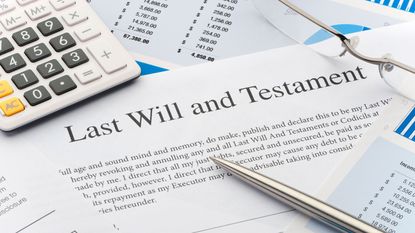 (Image credit: Getty Images)
If President Biden gets his way, many wealthy Americans will no longer be able to pass stocks, real estate, and other capital assets to their heirs when they die without paying capital gains tax. He wants to do this by changing the tax rules that allow a "step up" in basis on inherited property. This proposal, along with others designed to increase taxes on the wealthy, is included in Biden's recently released American Families Plan – a $1.8 trillion package that includes spending on childcare and education, guaranteed paid family and medical leave, tax breaks for lower- and middle-income Americans, and more.
Currently, if you inherit a capital asset that increased in value when the person who died owned it, the asset's basis is increased to the property's fair market value at the date of the previous owner's death. This adjustment is called a "step up" in basis (or "stepped-up" basis). The increase in basis also means that the person who inherits the property can sell it immediately without paying any capital gains tax, because there is technically no gain at that point to tax.
Here's an example: Susan's father bought some stock 20 years ago for $10,000. When her father dies, Susan inherits the stock – which is now worth $100,000. Susan immediately sells the stock for $100,000. The amount of gain to be taxed is calculated by subtracting the basis (typically the amount paid for the stock) from the amount received for the sale. Without a step up in basis, the gain would be $90,000 ($100,000 - $10,000), and Susan would pay capital gains tax on that amount. However, with the stepped-up basis, there is nothing to tax. That's because Susan's basis in the stock automatically jumps from $10,000 to $100,000, which means the selling price and the basis are identical. If they're the same, then there's no gain to tax ($100,000 - $100,000 = $0).
Subscribe to Kiplinger's Personal Finance
Be a smarter, better informed investor.
Save up to 74%
Sign up for Kiplinger's Free E-Newsletters
Profit and prosper with the best of expert advice on investing, taxes, retirement, personal finance and more - straight to your e-mail.
Profit and prosper with the best of expert advice - straight to your e-mail.
Biden's Plan to Eliminate Stepped-Up Basis
While the American Families Plan is light on details, the plan calls for an end to the effects of a stepped-up basis for gains of $1 million or more ($2 million or more for a married couple). According to the White House, "billions in capital income would continue to escape taxation entirely" without this change.
Property donated to charity wouldn't be taxed. Family-owned businesses and farms wouldn't be subject to capital gains tax either if the heirs continued to run the business. The existing capital gain exclusion of up to $250,000 ($500,000 for joint filers) upon the transfer of a primary residence would still apply, too. Other unspecified exceptions could also be added, such as for transfer to a surviving spouse or through certain trusts. (Note: Setting up a trust can take some time, so don't wait too long to start the process if exceptions for transfers through a trust are eventually enacted.)
While not specifically stated, any unrealized gain on capital assets would likely be taxed under the Biden plan when the property owner dies. For instance, in the example above, the $90,000 gain would be subject to tax whether or not Susan sold the stock after her father dies (i.e., the stock would be treated as if it were sold). Otherwise, the gain could continue to go untaxed indefinitely if Susan holds on to the stock, passes it along to her heirs, who hold on to it and pass it along to their heirs, etc., etc., etc. Presumably, if the stock is treated as sold and the gain is taxed when her father dies, Susan's basis in the stock would still be $100,000 to avoid double taxation on the original $90,000 gain if she were to actually sell the stock later.
Increased Capital Gains Tax Rate
Elimination of the step up in basis will be amplified if the president's proposal to raise the top tax rate on long-term capital gains is also enacted. Under the American Families Plan, the highest tax rate on long-term capital gains would shoot up from 20% to 39.6% for people earning $1 million or more for the year. Wealthy Americans wouldn't do any better with short-term gains, either. Short-term gains are taxed at the ordinary income tax rates, but Biden also wants to up the top tax rate on ordinary income to 39.6%.
There's also the 3.8% surtax on net investment income to consider. That tax applies to all sorts of investment income, such as taxable interest, dividends, gains, passive rents, annuities, and royalties. When the NII tax is tacked on, millionaires could be hit with an overall tax rate of 43.4% on their capital gains.
Will the Stepped-Up Basis Changes Pass?
The president faces an uphill battle to change the stepped-up basis rules. He shouldn't expect any Republican support in Congress, and some push back from moderate Democrats is likely as well. In fact, he'll have a tough time getting any of his personal income tax hikes approved as currently proposed. Increasing taxes on individuals is just more difficult than boosting taxes on businesses.
As a result, it's not time to hit the panic button just yet. It will take some time for Congress to sort through the president's plan, draft legislation (probably another "reconciliation bill"), debate, and vote on a final plan. More details (much needed!) about the American Families Plan could come out soon, too. We also don't expect any of the tax changes to be retroactive and apply to the 2021 tax year. And, in the end, the proposed adjustments to the stepped-up basis rules could be thrown out. So, start thinking about your overall estate plan and how the elimination of the step up in basis could impact it, but don't make any rash moves at this point.
Rocky Mengle was a Senior Tax Editor for Kiplinger from October 2018 to January 2023 with more than 20 years of experience covering federal and state tax developments. Before coming to Kiplinger, Rocky worked for Wolters Kluwer Tax & Accounting, and Kleinrock Publishing, where he provided breaking news and guidance for CPAs, tax attorneys, and other tax professionals. He has also been quoted as an expert by USA Today, Forbes, U.S. News & World Report, Reuters, Accounting Today, and other media outlets. Rocky holds a law degree from the University of Connecticut and a B.A. in History from Salisbury University.